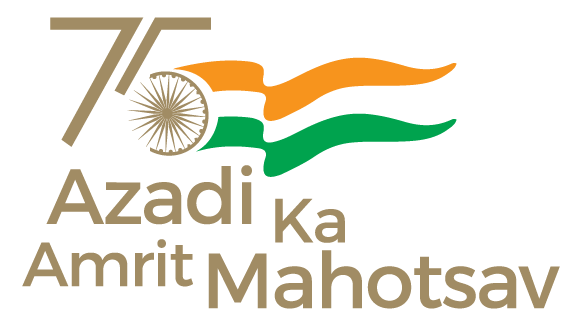 Delhi leads the way in reusing and recycling 100% C&D waste
C&D waste accounts for about 20 per cent of the total municipal waste generated across the country
C&D waste plants with a capacity ranging between 1000 to 2000 TPD are converting tons of debris from cities into bricks, tiles, paver blocks every day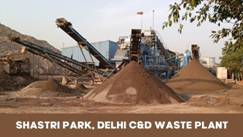 About 30,000 tons of 'Construction and Demolition (C&D)' waste is generated by various cities across the country every day. The Ministry of Housing and Urban Affairs (MoHUA) under the Swachh Bharat Mission (Urban) has taken several concrete steps to ensure the utilization of C&D waste. Over 15,000 tons of debris is being taken care of daily at nearly 400 C&D waste plants across the country. About 50 per cent of the total C&D waste generated at present is being recycled and shaped into reusable products.  Keeping in line with transforming Waste to Wealth, the C&D waste is being recycled to create bricks, tiles, paver blocks, etc. It is interesting to note that C&D waste is that it generates about 90 per cent of recyclable waste.
MoHUA felt the need to record the recycled production and use of C&D waste to guide and facilitate the stakeholders to easily understand the C&D Waste Management Rules 2016 and implement 100% utilization of the waste generated. All States have set up C&D waste recycling facilities in cities with a population of more than 10 lakh. As a convergence of schemes, aligning with the National Clean Air Program, MoHUA has included two components for 131 non-attainment cities (NCAP) and 21 cities with population of more than 5 lakhs. This takes the total to 152 cities where additional central assistance has been approved. For C&D Waste Processing Plants and mechanical sweepers for 131 non-attainment cities and 21 cities with a population of more than 5 lakh, action plans for 99 ULBs have been approved. Action plans for setting up C&D Waste processing facility have been approved for 116 ULBs with a capacity of 7,063.23 TPD. Also, procurement of mechanical sweepers has been approved for 103 ULBs with a capacity of 518 TPD.
Under Swachh Bharat Mission-Urban 2.0, all States are making reusable products in C&D waste plants so that there are no piles of debris in the open and the environment is can be kept clean. This debris is brought to the collection centers and processing plants through 'collection vehicles'.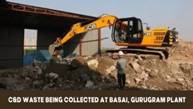 The C&D waste is segregated under five to six categories like fine soil, mixed concrete and stones, etc. During the process of sorting in the plants, most of it is done using automated machines and special safety gears for the staff are taken into account. Milano paver tiles, zig-zag tiles and dumbbell tiles of different colors and sizes are prepared by mixing the materials separated from the debris in cement. These are being used in pavements, lawns, premises, walls, etc. at new construction sites. Similarly, concrete blocks of cement and curb stones are prepared at the plants for sale. For instance, the entire office at the Shastri Park plant in Delhi has been built out of C&D waste. It is worth mentioning that recently products made from C&D waste have also been sent for the construction of the new building of the Supreme Court.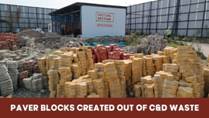 Various states are now increasingly setting up new C&D waste plants to handle the construction and demolition debris. Delhi has set up a C&D waste plant with 2000 TPD waste processing capacity in Burari. Apart from this, there are plants of 1000 TPD capacity in Shastri Park and Ranikheda, while there is also a small plant of 150 TPD in Mundka. In the NCR, a plant of 1000 TPD has been set up in Basai, Gurugram, Haryana and an 800 TPD plant in Noida, in which only 400 TPD C&D waste is being processed currently. A 200 TPD plant has also been set up in Varanasi, UP. Recently Kolkata in West Bengal got its first C&D waste plant, which has a 1600 TPD capacity and is based on 'state-of-the-art technology'. Similarly, C&D plants of small and large capacities have been set up in many states, which are redefining the unique journey of cleanliness by reshaping the debris.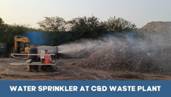 Of the remaining 10 per cent of C&D waste, plastic and paper waste is sent to the Waste to Energy plants and metal waste is reused in Waste to Wonder projects. A very small portion of the waste left in the form of silt is left in the low-lying areas to dry. Following this process, 90 per cent of the debris is being recycled and reused and is further strengthening the circular economy.
*******
RJ