The paddy procurement is progressing smoothly in Kharif Marketing Season (KMS) 2021-22 at MSP from farmers, as was done in previous years.
A quantity of 695.67 LMT of Paddy has been procured in KMS 2021-22 upto 20.02.2022 in the procuring States/UTs of Chandigarh, Gujarat, Assam, Haryana, Himachal Pradesh, Jammu & Kashmir, Jharkhand, Punjab, Uttar Pradesh, Uttrakhand, Telangana, Rajasthan, Kerala, Tamil Nadu, Karnataka, West Bengal, NEF (Tripura), Bihar, Odisha, Maharashtra, Puducherry, Chhattisgarh, Andhra Pradesh and Madhya Pradesh.
Till now about 94.15 Lakh farmers have been benefitted with MSP value of Rs. 1,36,350.74 crore.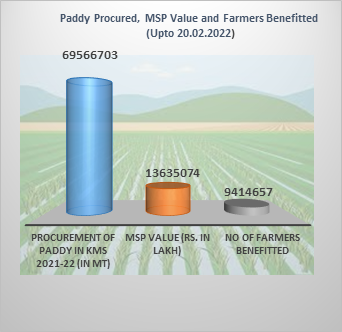 Paddy Procurement in KMS 2021-22 (upto 20.02.2022)/ As on 21.02.2022

 

State/UT

Quantity of Paddy Procurement (MTs)

No of farmers benefitted

MSP value (Rs. In Crore)

 
 

ANDHRA PRADESH

3449237

529290

6760.50

 

TELANGANA

7022000

1062428

13763.12

 

ASSAM 

35296

5593

69.18

 

BIHAR

4250220

598757

8330.43

 

CHANDIGARH

27286

1781

53.48

 

CHHATTISGARH

9201000

2105972

18033.96

 

DELHI

0

0

0.00

 

GUJARAT   

121865

25081

238.86

 

HARYANA

5530596

310083

10839.97

 

HIMACHAL PR.

27628

5851

54.15

 

JHARKHAND

307084

60445

601.88

 

J&K

40520

8724

79.42

 

KARNATAKA

73348

23737

143.76

 

KERALA

231454

91929

453.65

 

MADHYA PR.

4582610

661756

8981.92

 

MAHARASHTRA

1329901

468641

2606.61

 

ODISHA 

4937749

1070693

9677.99

 

PUDUCHERRY

46

19

0.09

 

PUNJAB

18685532

924299

36623.64

 

NEF (Tripura)

31197

14575

61.15

 

TAMILNADU

1566401

239460

3070.15

 

U.P. (EAST)

4274110

654008

8377.26

 

U.P. (WEST)

2130764

266569

4176.30

 

TOTAL UP

6404874

920577

12553.55

 

UTTRAKHAND

1156066

56034

2265.89

 

WEST BENGAL

547436

228369

1072.97

 

RAJASTHAN

7357

563

14.42

 

ALL INDIA TOTAL

69566703

9414657

136350.74

 

Source: FCI Daily Bulletin

 

 

 
 
*******
DJN/AM/NS