Indian Navy conducted a seminar on Building Collective Maritime Competence towards Security and Growth for All in the Region (SAGAR) on 4th February, 2021, during the ongoing Aero India 2021.
The seminar was attended by Defence Ministers/ Service Chiefs/ Delegations from Friendly Foreign Countries, academia, Diplomats from various Missions and media personnel in a hybrid format involving both physical and virtual participation.
Admiral Karambir Singh PVSM, AVSM, ADC, Chief of Naval Staff delivered the Welcome Remarks.
Shri Rajnath Singh, Honourable Raksha Mantri, delivered the Keynote Address. Quoting historic wisdom from our scriptures, he said "ऐक्यंबलंसमाजस्य, तद्भावेसःदुर्बलः", which clearly enunciates that, 'Unity is Strength of any Society, and a Society is weak without it', the RM lauded the topic of the seminar as chosen by the Indian Navy, which delves into building collective maritime competence.
The prominence of Indian Ocean Region in global strategy has mandated many nations establishing a presence in the region to ensure their strategic interests and assist in overcoming challenges in the maritime domain viz., piracy, maritime terrorism, human trafficking, Illegal Unreported and Unregulated Fishing, loss of bio-diversity and battling climate change. Since energy and trade are critical in geo-political strategies, any disruption and consequent turbulence in smooth flow would have strategic security implications for all of us (in the Region) and the world at large.
In order to ensure collective growth and prosperity, it is imperative that we build competence in the maritime domain, on a collective basis. India, due to its geostrategic location in IOR, quintessential maritime character, historical and cultural ties with the littoral states, considers it obligatory to keep the maritime neighbourhood safe and secure, through unity and togetherness, against menace originating from the maritime domain. We believe that, in unity lies our strength.
In recent years, India has taken a number of initiatives driven by the need for 'collective growth' in the region, which has included our initiatives of 'Look East' policy of the late nineties to the more recent 'Act East' policy and our maritime initiatives of Security and Growth for All in the Region (SAGAR). All these initiatives have underscored the need for a 'Whole of Government' approach to strengthen relations in the IOR in a mutually supportive and cooperative manner and we have identified shared concerns from our partner countries. These concerns, necessitate that our response must be synchronised and coordinated, to accomplish a common goal. 
Indian Navy has sustained its prominence as the 'First Responder' in the IOR during natural disasters and also during the testing times of COVID. 'Mission Sagar' was aimed at providing medical and humanitarian aid, food supplies to our maritime neighbours. The prompt assistance provided for arresting fire onboard Motor Tanker Diamond off Sri Lanka, assistance rendered in aftermath of the oil spill incident involving Motor Vessel Wakashio off Mauritius and search and rescue efforts undertaken off Indonesia to locate missing fisherman, were indicative of collective readiness at all times to respond to the unforeseen.
The Hon'ble RM emphasised that, "Towards maintaining a safe and secure maritime environment in the IOR, the Navies/ Maritime Agencies in the region are partnering to develop a comprehensive Maritime Domain Awareness in the IOR."
Shri Ajay Kumar, Defence Secretary provided the Closing Remarks. Quoting Mahatma Gandhi, "One Must Continue to Grow and Evolve", he drew relevance, as the Indian Navy continues to be the 'Preferred Security Partner' and eventually aims to be the 'Dependable Maritime Neighbour'.
Speaking on relevance of the IOR, the Defence Secretary stressed that, Any threat, 'whether man made or natural', emanating from within this region or from adjacent domains, would have adverse effect on the livelihood of population. The issues that plague are not limited by boundaries and not specifically against a particular sovereign state. Therefore, the Navies/ maritime agencies which are also not limited by boundaries, and are work horses of the maritime domain, need to aim at working together by 'Keeping Station' with each other.
During the Seminar, two panel discussions were held on Identifying Common Maritime Security Challenges and Building Collective Maritime Competence to Overcome Security Challenges. Details are given below.           
Panel 1-         Identifying Common Maritime Security Challenges
Moderator –    RAdm SJ Singh, NM, Commandant Naval War College, Goa
Panelists:-
Maj Gen Abdulla Shamaal, MA, MSC, NDU, OPSC, Chief of Defence Force, Maldives

Dr Frederic Grare, Nonresident Senior Fellow, South Asia Program, Carnegie Endowment for International Peace, Washington DC (Virtual)
VAdm Pradeep Chauhan (Retd), Director General National Maritime Foundation, New Delhi  (Virtual)

Mr PS Raghavan, Former Chairman NSAB

Adm Ravindra ChandrasiriWijegunaratne, WV, RWP & Bar, RSP, VSV, USP, NI(M), NDC, PSN, Former Chief of Defence Staff, Sri Lanka
Panel 2 – Building Collective Maritime Competence to Overcome Security Challenges
Moderator – RAdm Sudhir Pillai (Retd), NM
Panelists:-
Adm Aurangzeb Chowdhury, NBP, OSP, BCGM, PCGM, BCGMS, NDC, PSC. Former CNS Bangladesh Navy

RAdm VK Saxena (Retd), Chairman and Managing Director, Garden Reach Shipbuilders & Engineers Ltd, Kolkota

Ms Jane Chan, Senior Fellow and Coordinator of the Maritime Security Programme at the S. Rajaratnam School of International Studies (RSIS), Singapore (Virtual)
Timothy Walker, Maritime Project Leader and Senior Researcher, Institute for Security Studies (ISS), Pretoria (Virtual)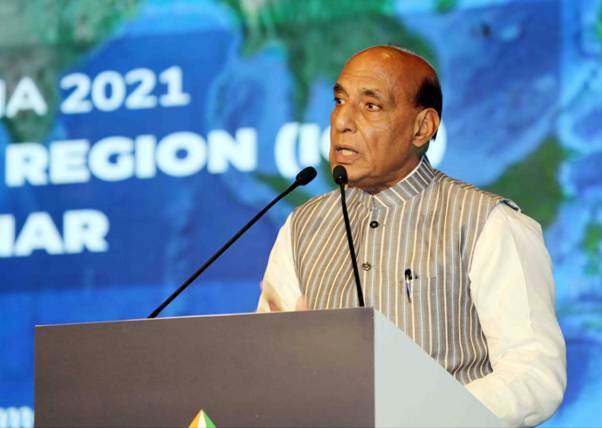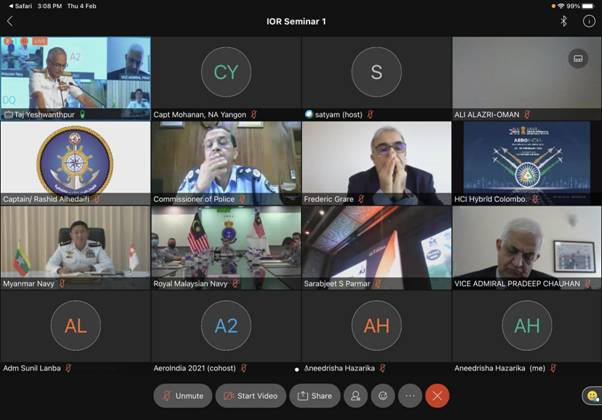 ***
ABBB/VM/MS