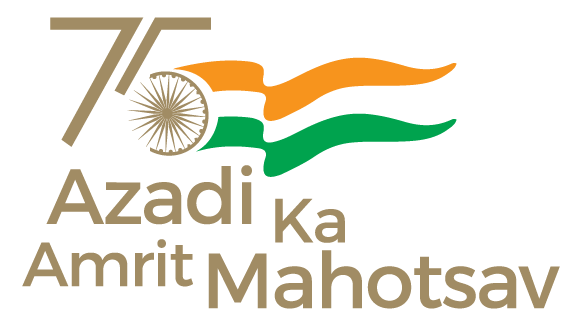 The 1st All India Annual States' Ministers Conference on "Water Vision@2047" which began yesterday in Bhopal, Madhya Pradesh concluded today with a valedictory session. The conference witnessed enthusiastic participation from various States/UTs following Prime Minister, Shri Narendra Modi's mantra of Cooperative federalism with a 'Whole of Government Approach'. Prime Minister addressed the conference yesterday via video message providing a vision and direction for the entire conference and highlighted the importance of the Conference of Water Ministers of the country.
Addressing the valedictory session of the two days conference, the Union Minister for Jal Shakti, Shri Gajendra Singh Shekhawat said "when this conference was conceptualised, it was not known how many states will participate but I am overwhelmed by the enthusiasm exhibited and wholehearted participation by the states". Shri Shekhawat thanked the States especially Madhya Pradesh for hosting this conference. The Union Minister stated "All will agree that under the leadership of Prime Minister Shri Narendra Modi, the nation has taken huge strides towards becoming a developed nation. We have entered Amrit kaal and have discussed various ways to increase water availability and efficient utilisation of water resources and all states have worked hard in this regard. Together, we need to ensure that water availability does not become a hindrance to our development".
Shri Shekhawat further stated "The kind of challenges we have discussed, we all have agreed that water will be a big challenge in the coming years due to increased population, climate change, rapid industrialisation and urbanisation, and economic boom which have increased the water requirements of the nation. Yesterday also, I stated, we will surpass the harvestable component of water resources and therefore we need to plan towards 2047 and since water is state subject, it is the responsibility of the states to work towards overcoming this challenge". Shri Shekhawat asserted "today, when we are becoming a developed nation under the leadership of Prime Minister Shri Narendra Modi, we cannot work in contingency mode, we have been working proactively and not waiting for problems to become big. Till some years back, we were working under compulsion but now we are all working with conviction".
Talking about the thematic sessions of the conference, the Union Minister said "a plenary session and 5 thematic sessions were held on various challenges and targets for 2047. Through the conference, a seed has been implanted in all our minds on how to work towards 2047. All states provided their keen insight over the past two days and this conference is where we have seen PM's mantra of 'cooperative federalism' and 'whole of govt approach' in action as we all have worked together, learning from each other's best practices and we all have got takeaways from this conference and learnt new things".
Shri Shekhawat said that through this Bhopal dialogue, the key takeaways include reduction in water losses during conveyance; promoting micro irrigation which has huge potential for regions to avail the Central governments corpus fund for water use efficacy; harnessing technology to boost irrigation and water efficiency; ensuring people's participation as highlighted by Prime Minister Shri Narendra Modi that anything is achievable through 'Jan Bhagidari' which is much needed in the water sector; Water regulatory authority at state level; Water quality; Using Technology such as geo-sensing geo-mapping & 3D modelling to identify and manage water resources; Ground water recharge and; Circular economy of water through recycle & reuses of water. He further asserted that "we need to remove the terminology waste water as all water is an asset and we need to stop calling it waste. It is all recyclable and reusable, its new water and we need to utilise it efficiently".
Talking about the priority given by Prime Minister Shri Narendra Modi on ensuring water quality, the Union Minister for Jal Shakti said "It is for the first time that the government has given priority to water quality, till now people did not have trust on government, they were forced to put their own water filters and those too without reliability of water quality but now, following Prime Minister's vision and mission, we have created a robust environment including creating over 2000 Water Quality testing laboratories, training 4 lakh women for using Field Testing Kits to take water testing down to the grass roots, using Internet of Things based sensors for water quality testing".
Talking about the urgent need for water conservation and efficient utilisation, Shri Shekhawat said "today the kind of challenges we see, if we do not work on this with conviction, our future generations will be forced to use recycled water. It is our responsibility to hand over resources to our future generations as we have got them from our ancestors, by using resources in a sustainable manner. Therefore, we all have an opportunity to leave our footprints in the water sector and we need to look for innovative ways to make opportunities out of challenges. Best practices from international community can be adopted suitably for increasing our water resources".
The Union Minister also highlighted topics where immediate action can be taken, including increasing storage facility over and above the ground; reducing sedimentation in reservoirs; achieving more crop per drop; changing water use allocation by prioritising drinking water; Inter basin transfer for which all states have to increase water cooperation and take water from surplus to deficit regions; Making Jal Shakti Abhiyan a people's movement and; flood zone planning. Shri Shekhawat urged that all states have different challenges but we have to work with a big heart together as a nation. He concluded by saying, "WaterVision@2047 was a seed and we all have begun thinking about this vision. All should take this seed back and plant & nurture it to ensure that water does not become a hindrance to our nation's development"
Earlier in the day, the Union Minister for Jal Shakti, Shri Gajendra Singh Shekhawat and Chief Minister of Madhya Pradesh, Shri Shivraj Singh Chouhan along with Minister of State, Shri Prahlad Singh Patel, State Ministers and other dignitaries planted a sapling at the 'Water Vision Park'. The Chief Minister, Shri Shivraj Singh Chouhan, during the inaugural session, had proposed the innovative idea of creating 'Water Vision Park' by planting saplings to make the conference a historic & memorable moment and to promote the idea of afforestation as a means to achieve the goal of water conservation. 'Water Vision Parks' are proposed to be established in all states as a tribute to the historic conference.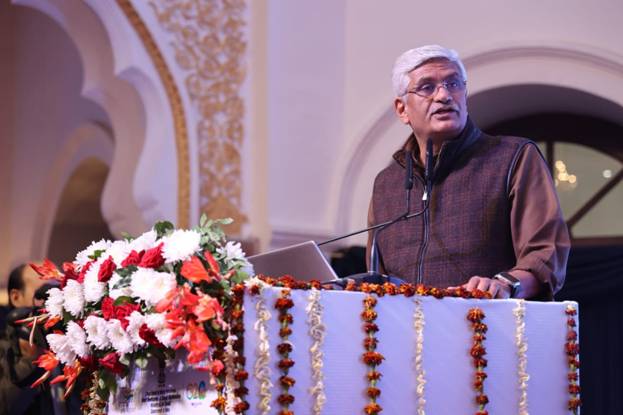 Union Minister for Jal Shakti Addressing the Valedictory Session of the 1st All India States Ministers' Conference on 'WaterVision@2047'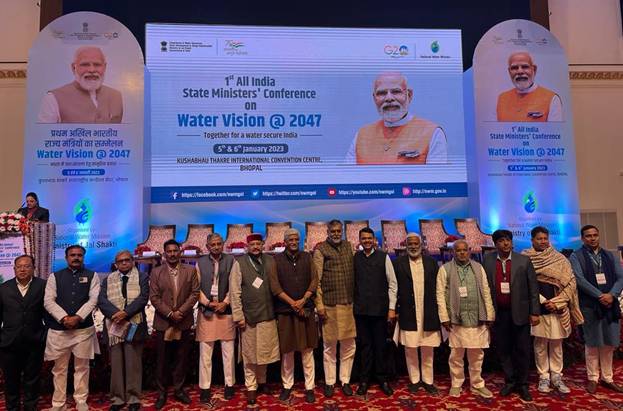 The 1st All India Annual States' Ministers Conference on "Water Vision@2047" witnesses enthusiastic participation from States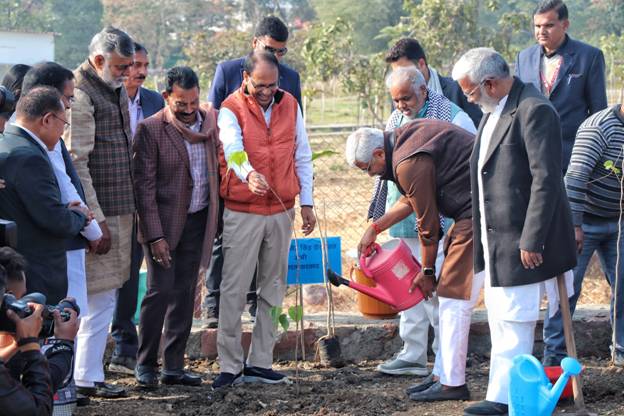 Union Minister for Jal Shakti, Shri Gajendra Singh Shekhawat along with Chief Minister of Madhya Pradesh, Shri Shivraj Singh Chouhan and other dignitaries planting saplings at the 'Water Vision Park'
भोपाल में आयोजित प्रथम अखिल भारतीय राज्य मंत्रियों के सम्मेलन का आज समापन हुआ।

वॉटर विजन 2047 का लक्ष्य साथ मिलकर हासिल करना हमारा उद्देश्य है। यह आयोजन अपने उद्देश्य में सफल रहा।#WaterVision2047 pic.twitter.com/fZO2dacYst

— Gajendra Singh Shekhawat (@gssjodhpur) January 6, 2023
मप्र के मुख्यमंत्री श्री शिवराज सिंह चौहान जी ने 'वॉटर विजन@2047' सम्मेलन के संकल्प को यादगार बनाते हुए भोपाल के एक उद्यान को 'वॉटर विजन पार्क' का नाम दिया है। #MadhyaPradesh pic.twitter.com/9JqOM9r1k0

— Gajendra Singh Shekhawat (@gssjodhpur) January 6, 2023
******
AS