The Office of the Principal Scientific Adviser (PSA) along with several scientific ministries and departments of the Government of India will organize a webinar titled "Technology-enabled development" on March 2, 2022.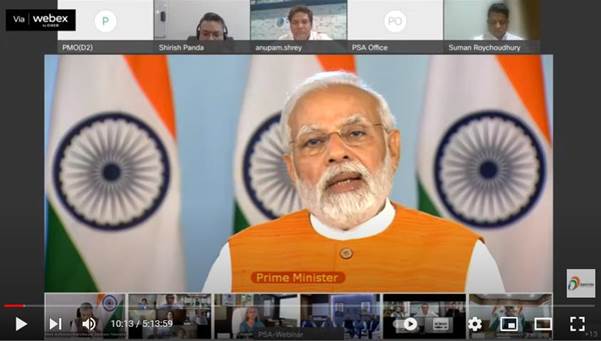 Prime Minister, in the inaugural address, encouraged stakeholders to fully implement the themes of the budget in a timebound manner. He emphasized on how to make maximum use of technology for the Ease of Living. He also stressed on the roadmap for 5G ecosystem and PLI schemes for making Aatmnirbhar Bharat. The Prime Minister gave a clear direction to the stakeholders to provide practical suggestions in the areas like use of optical fibres in the citizen services, e-waste management, circular economy, and electric mobility.
Shri K. Vijay Raghavan, the PSA to Prime Minister also made a brief presentation on 'Towards AtmaNirbhar Bharat in Science and Technology' during the inaugural session. After inaugural session, four thematic breakaway sessions were led, one each, by Ministry of Electronics and Information Technology (MeitY), Department of Telecommunications (DoT), Department of Scientific and Industrial Research (DSIR), and Department of Science and Technology (DST).
The breakaway session on the theme 'Emerging Technologies for Sustainable Development' was organised by MeitY and as a part of this, two panel discussions were held.
The panel discussion on topic 'Energizing Startups & Deep Tech with Data & AI' witnessed the deliberations from esteemed panellist comprising Dr. Rajendra Kumar, Additional Secretary-MeitY, Ms. Debjani Ghosh, President-NASSCOM, Dr. Inder Gopal, CEO-India Urban Data Exchange-IISc Bangalore, Shri Shekar Sivasubramanian, Head-Wadhwani AI, Shri Srikanth Velamakanni, Co-founder-Fractal Analytics. The session was moderated by Shri Abhishek Singh, P&CEO, NeGD, MeitY. The panel suggested design principles (that are innovative, inclusive and secure), INR 10,000 Cr Investment (5000 Cr Investment in AI Use-cases & 5000 Cr Investment in Deep Tech Startups), 5 Million new jobs creations (through skilling and reskilling), Data Exchange, Approach for adopting AI at scale, DATA Policy support (for Data Governance Framework, Data sharing culture, & Quality Data Creation) and API Setu (for Integration of central and state level systems through IT bridges).
It was followed by another panel discussion on topic 'Making India Global Hub for Data Centre and Cloud', where, an intense discussion was held by esteemed speakers comprising Dr. Rajendra Kumar, Additional Secretary-MeitY, Dr. Neeta Verma, Director General-NIC, Shri Sridhar Vembu, Founder and CEO-Zoho Corporation, Shri Rahul Sharma, President-Amazon Internet Services Pvt. Ltd, Shri Suresh Rathod, Founder and CEO-CtrlS DataCenters Ltd. The key recommendations of the panel include emphasis on the need for large scale augmentation of Data Centre and Cloud infrastructure, review of government procurement, skilling at mass scale, policy to promote use of indigenous equipment, capex support, dark fiber access and fast tracking of NOCs and clearances for setting up of Data Centres.
In the closing plenary session, the respective Ministry/Departments presented the key take aways discussed during the breakaway sessions.
Shri Rajeev Chandrasekhar, Minister of State for Skill Development and Entrepreneurship; and Electronics and Information Technology in his address thanked the leadership of Hon'ble Prime Minister as India, today, has become one of the world's pre-eminent nations in the use of tech not just in conventional areas of R&D, tech development & innovations, but in the use of tech to empower & transform citizen's lives. Technology and Innovation have assisted the Government to become resilient, citizenry become resilient, and the economy become resilient, he added. Speaking on Budget 2022, Mr Rajeev Chandrasekhar termed it as budget that reaffirms, re-establishes, reiterates the PM's vision & strategy around deeper embedding of tech in our economy & the way we work as a Govt. He has coined the word #Techade which aptly describes what the next 10 yrs ought to be as a nation. On the roadmap ahead, he said that there is urgency to tap the accelerated digitalization opportunities. He further emphasized on the outcome-based research, collaboration between Government and Industry and need for India to go for leadership role in setting global tech standard.
Dr. Jitendra Singh, Minister of State (I/C) for Science and Technology, Minister of State (I/C) for Earth Sciences and Minister of State for Prime Mister's Office, Personnel, Public Grievances and Pensions, Atomic Energy & Space shared his experience of visiting all breakaway sessions. He highlighted the reforms taken in unlocking of space and in relaxation of drone policy. He further said that 25% of Defense R&D budget is earmarked to private sector. He recommended that Indian data should be used for Indian solutions and same should be scaled.
Shri Ashwini Vaishnaw, Minister of Railways, Communications, Electronics & Information Technology gave the concluding the remarks. He said that manufacturing, use of spectrum, bigger role of private in R&D, and design led manufacturing have been the force reckoner that weaved together all breakaway sessions. He encouraged Industry to take benefits of PLI and PMA schemes and to come up with innovative ideas to do more in electronics manufacturing.
The webinar ended with a vote of thanks from Shri K. Vijay Raghavan, the PSA to Prime Minister.
******
RKJ/M