The Central Board of Indirect Taxes and Customs (CBIC) today observed the International Customs Day, 2021. The theme for this year as given by World Customs Organisation (WCO) is "Customs bolstering Recovery, Renewal and Resilience for a sustainable supply chain".
The main programme was held at the Ministry of Finance, North Block and organised through virtual mode which was attended by Chairman CBIC, Sh. M Ajit Kumar, Members of the Board, senior officers and all field formations and Directorates under CBIC. The programme commenced with the reading out of message of Union Minister for Finance and Corporate Affairs Smt. Nirmala Sitharaman appreciating that there has been a paradigm shift in the working of Indian Customs as focus shifted to Ease of Doing Business and Trade Facilitation. The Finance Minister added that adopting a people centric approach would further augment the transformative process of Customs functioning.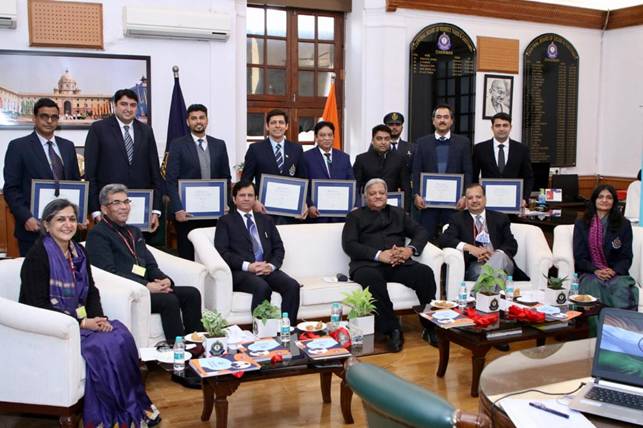 Minister of State for Finance and Corporate Affairs Sh. Anurag Singh Thakur in his message noted that as we emerge from the pandemic, the role of Customs become even more important in safeguarding our borders. Finance Secretary Dr. Ajay Bhushan Pandey in his message highlighted that Customs plays a prominent role across the International Supply Chain which is the focus behind WCO's theme for 2021. He added that Indian Customs has always met economic and social challenges with aplomb and served our nation with dedication. He also congratulated the officers being awarded with WCO Certificate of Merit for their exemplary contribution.
Chairman CBIC, while congratulating the awardees of WCO Certificate of Merit highlighted recent key initiatives taken by the Customs for enhancing trade facilitation and ensuring Ease of Doing Business. He lauded the efforts of Customs officers in this pandemic year to ensure hassle free movement of goods especially COVID relief material working 24*7. During lockdown, Customs being an essential service took up the challenge to ensure uninterrupted supplies and sustained revival of economy. Ease of Doing Business and Trade Facilitation were the driving force to ensure making of an Aatma Nirbhar Bharat.
Member Customs Sh. Sandeep Bhatnagar said that CBIC has taken several steps last year under the umbrella of next generational Turant Customs programme which focusses on Faceless, Contactless and Paperless Customs clearance processes. Zonal Member Ms. Sungita Sharma in her welcome address said that Indian Customs armed with automation and new technologies has adapted to the new mode of working very well and equipped to meet any challenge.
The WCO Certificate of Merit was awarded to eight officers present in Delhi at the programme in North Block and rest of the officers were awarded by their head of the Department at respective locations virtually observed by all the attendees.
Ms. Ranjana Jha, Principal Chief Commissioner of Customs, Delhi Zone presented the vote of thanks.
The following officers received the WCO Certificate of Merit for the year 2021.
Sh. Gaurav Singh, Deputy Secretary, Tax Research Unit-I, CBIC.

Sh. R. Gopalsamy, Additional Commissioner, Customs, Chennai Zone.

Sh. Samaya Murali, Additional Commissioner, Customs, Chennai Zone.

Smt. Priyadarshika Srivastava, Joint Commissioner, Customs, Mumbai Zone-I.

Sh. Vinit Kumar, Deputy Director, NACIN, Faridabad.

Sh. Aditya Singh Yadav, Deputy Commissioner, Customs, Delhi Zone.

Sh. Manudev Jain, Deputy Commissioner, Directorate of International Customs.

Sh. Nikhil Goyal, Officer on Special Duty, Tax Research Unit-I, CBIC.

Dr. Vikram Singh, Deputy Commissioner, NCTF.

Sh. S.A. Ansari, Under Secretary, AD-II, CBIC.

Dr. Mahesh Kumar, Chemical Examiner, Grade-l, CRCL, Vadodara.

Sh. Neeraj Babu Jain, Assistant Director, DGHRD, New Delhi.

Sh. Rajesh Kaushal, Superintendent, Customs, Ludhiana.

Sh. Jitender Maindoliya, Superintendent, WCO Cell, New Delhi.

Sh. Gagandeep Singh, Superintendent, Single Window, New Delhi.

Sh. Rajendra Prasad Samariya, Appraiser, Customs (Preventive), Jodhpur.

Sh. Ashish Malik, Inspector, DGHRD, New Delhi.
****
RM/KMN