The Bank of China launched a yuan-denominated bond in London for the first time as it seeks to internationalise its currency.
The debt sale worth 5.0 billion yuan (690 million euros) for one-year bonds was heavily oversubscribed.
The auction for the bonds offering a yield of 3.15 percent coincided with the start of a four-day visit to Britain by Chinese President Xi Jinping.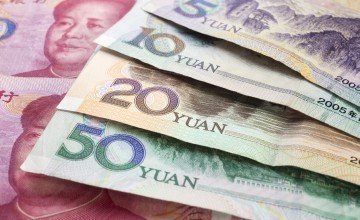 It is seen as a major boost for London as an international financial centre and the main western trading hub for the yuan.
The bonds were six times oversubscribed, which pushed the final yield to 3.1% from a marketed rate of 3.3%. Following the resounding success of the auction, China's finance ministry is expected to launch a second longer dated yuan-denominated bond issue.
Spencer Lake, one of the banks that arranged the sale, described the bond issue as a milestone in the internationalisation of the yuan.
The UK and China have also implemented initiatives to link their financial markets, including formally connecting the London and Shanghai stock markets.
Industrial and Commercial Bank of China, and HSBC were the joint global co-ordinators for the sale. ABC, Bank of China, Bank of Communications, China Construction Bank and Standard Chartered were the joint bookrunners and lead managers.
A highlight of China-UK economic relations is London's potential role as a top offshore renminbi centre in Europe. This will further strengthen London's position as a predominant global financial centre.
It is said to be the first time that a yuan-denominated bond auction has taken place outside of China and Hong Kong.
China has become the world's second largest economy and a leading player in world trade; its currency is making progress toward internationalization and may be on its way to achieving leading world currency status.
As the Chinese government has been relaxing currency restrictions and renminbi yuan bonds have begun trading in Hong Kong and UK.
Read – Measures to Contain Pulses Prices in India
The Bank of China launched two initiatives aimed at boosting foreign investors' use of the renminbi (RMB) and grabbing a bigger chunk of a burgeoning offshore market in the currency in London.
The RMB Bond Trading Index, launched simultaneously in London, Shanghai and Singapore, is another attempt at increasing foreign holdings in the world's third largest bond market.