India's Cumulative COVID Vaccination Coverage has achieved the landmark milestone of 44 crore (44,10,57,103), as per the 7 pm provisional report today. The new phase of universalization of COVID-19 vaccination commenced from 21st June. Also, in another significant achievement today, Maharashtra became the first state to vaccinate more than 1 Crore people with both doses of COVID-19 Vaccine. More than 57 lakh (57,48,692) Vaccine Doses have been administered today, as per the 7 pm provisional report.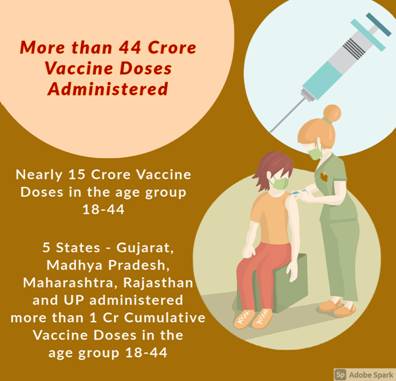 27,20,900 vaccine doses were administered as first dose and 3,49,496 vaccine doses given as second dose in the age group 18-44 years today. Cumulatively, 14,19,55,995 persons in the age group 18-44 years across 37 States/UTs have received their first dose and total 6572678 have received their second dose since the start of Phase-3 of the vaccination drive. Five States namely Gujarat, Madhya Pradesh, Maharashtra, Rajasthan and Uttar Pradesh have administered more than 1 Crore Cumulative Doses of COVID-19 Vaccine in the age group 18-44 years. Also, Andhra Pradesh, Assam, Chhattisgarh, Delhi, Haryana, Jharkhand, Kerala, Telangana, Himachal Pradesh, Odisha, Punjab, Uttarakhand and West Bengal have vaccinated more than 10 lakh beneficiaries of the age group 18-44 years for the first dose of COVID vaccine.
The table below shows the cumulative vaccine doses administered to 18-44 years age group till now.
| | | | |
| --- | --- | --- | --- |
| S.No. | State | 1st Dose | 2nd Dose |
| 1 | A & N Islands | 83277 | 105 |
| 2 | Andhra Pradesh | 3299785 | 146075 |
| 3 | Arunachal Pradesh | 352416 | 695 |
| 4 | Assam | 4072285 | 161558 |
| 5 | Bihar | 9237436 | 276564 |
| 6 | Chandigarh | 299979 | 3019 |
| 7 | Chhattisgarh | 3592056 | 115610 |
| 8 | Dadra & Nagar Haveli | 235273 | 212 |
| 9 | Daman & Diu | 163970 | 853 |
| 10 | Delhi | 3595850 | 244322 |
| 11 | Goa | 496209 | 13440 |
| 12 | Gujarat | 10397468 | 417617 |
| 13 | Haryana | 4220591 | 244965 |
| 14 | Himachal Pradesh | 1449803 | 3862 |
| 15 | Jammu & Kashmir | 1407756 | 55486 |
| 16 | Jharkhand | 3372425 | 131451 |
| 17 | Karnataka | 9605225 | 396077 |
| 18 | Kerala | 3247060 | 275766 |
| 19 | Ladakh | 87864 | 22 |
| 20 | Lakshadweep | 24702 | 146 |
| 21 | Madhya Pradesh | 13174742 | 608733 |
| 22 | Maharashtra | 10595465 | 483277 |
| 23 | Manipur | 517233 | 2214 |
| 24 | Meghalaya | 428242 | 690 |
| 25 | Mizoram | 348752 | 1307 |
| 26 | Nagaland | 341574 | 802 |
| 27 | Odisha | 4521128 | 337960 |
| 28 | Puducherry | 251304 | 2195 |
| 29 | Punjab | 2377748 | 89137 |
| 30 | Rajasthan | 9913107 | 478680 |
| 31 | Sikkim | 298694 | 290 |
| 32 | Tamil Nadu | 8234313 | 423261 |
| 33 | Telangana | 5131314 | 479268 |
| 34 | Tripura | 1061875 | 18755 |
| 35 | Uttar Pradesh | 17344129 | 676397 |
| 36 | Uttarakhand | 1867696 | 45884 |
| 37 | West Bengal | 6307249 | 435983 |
|   | Total | 141955995 | 6572678 |
****
MV
HFW/COVID Vaccination/26th July/5