Cyclone Chapala could become the strongest on record in the Arabian Sea and may make an unprecedented landfall at hurricane strength along the coast of Yemen or southwest Oman in the days ahead.
Chapala has rapidly intensified and is currently estimated to have winds of Category 4 hurricane intensity and may reach Category 5 intensity soon.
Cyclone Chapala has intensified in the past 10 to 12 hours to become a very severe cyclonic storm with wind speeds of 140-160 km/hr.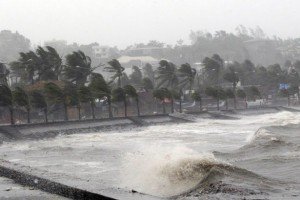 According to India Met Department this is the ultimate level it may grow to, but it would have reached to within a sniff away from being classified as a class-topping super cyclone.
Chapala has spun far away from the coast of India, and approach North Yemen and adjoining Oman coast for landfall after winding down a round back into a very severe cyclone by Monday noon.
Continued intensification is possible, due not only to warmer-than-average Arabian Sea water along its path, but also due to an impressive upper-atmospheric outflow channel stretching hundreds of miles to the east-northeast of Chapala from an upper-atmospheric low-pressure area over northern India.
The rapid intensification of the storm has left the North-East monsoon over peninsular India in a state of thrall, having been forced to cede a good part of the moisture to the former.
The result has been that a low-pressure area that would have brought heavy rain to Coastal Tamil Nadu has weakened, persisting this morning as a cyclonic circulation over Sri Lanka and the adjoining seas.
But the residual southerly flows from this circulation are still forecast to bring rain into Tamil Nadu, Kerala and Coastal and South Interior Karnataka during the the next two to three days.
Only Kerala, Coastal Karnataka and Konkan-Goa have received normal rainfall during the season until last evening. Tamil Nadu and Puducherry, Rayalaseema, North and South Interior Karnataka are in deficit.
Monsoon watchers are keeping an eye on the Bay of Bengal for signals of an easterly wave with a likely storm-head, which is forecast to emerge in Southeast of Andaman Islands in another five to six days.
Tropical cyclones in the Indian Ocean, which includes the Arabian Sea, are known as "cyclones" or "cyclonic storms".