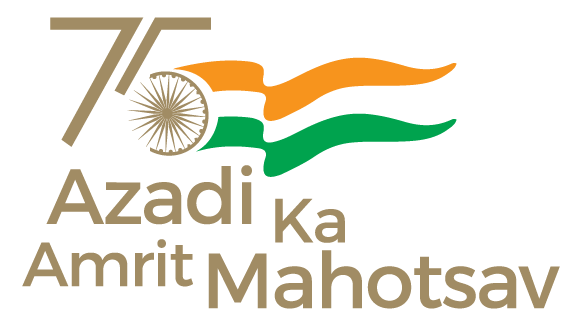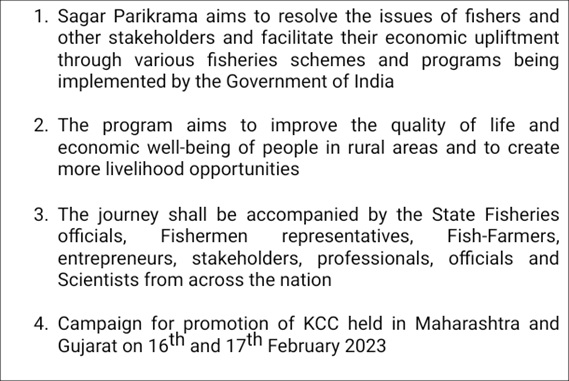 Sagar Parikrama is an evolutionary journey envisaged in the sea across the coastal belt demonstrating solidarity with all fisherfolk, fish farmers and concerned stakeholder's as a spirit of 75th Azadi Ka Amrit Mahotsav saluting our great freedom fighters, sailors, and fishers. It is an initiative of Government of India, aiming to resolve the issues of the fishers and other stakeholders and facilitate their economic upliftment through various fisheries schemes and programs being implemented by the Government of India such as PMMSY.
Phase-III 'Sagar Parikrama' shall begin from Surat, Hazira Port, Gujarat on 19th February 2023 with Media interaction, followed by journey towards coastal belt of Maharashtra. Covering the coastal areas of northern Maharashtra namely, Satpati, Vasai, Versova, Sasson Dock, and other areas of Mumbai during 20-21 February 2023.
Maharashtra State has 720 Km of coastline covering 5 coastal districts Thane, Raigad, Greater Mumbai, Ratnagiri, and Sindhudurg. Fisher folk, vendors, and industries have a direct stake in the development of the fisheries sector in economic value, especially exports.
The Department of Fisheries, Ministry of Fisheries, Animal Husbandry and Dairying, Government of India, and National Fisheries Development Board along with the Department of Fisheries, Government of Gujarat , Commissioner of Fisheries, Government of Maharashtra, Indian Coast Guard, Fishery Survey of India, Gujarat Maritime Board and fishermen representatives shall take part in the event. Shri Parshottam Rupala, Union Minister of Fisheries, Animal Husbandry and Dairying, Shri Jatindra Nath Swain, Secretary (Fisheries), Government of India; and senior officials of Department of Fisheries, Govt of India, National Fisheries Development Board, Govt of Gujarat, Govt of Maharashtra, Fishery Survey of India, and Indian Coast Guard shall grace the occasion. The journey shall be accompanied by the State Fisheries officials, Fishermen representatives, Fish-Farmers, entrepreneurs, stakeholders, professionals, officials and Scientists from across the nation.
During the event, certificates/sanctions related to Pradhan Mantri Matsya Sampada scheme, KCC& State Scheme shall be awarded to the progressive fishermen, especially coastal fishermen, fishers and fish farmers, young fishery entrepreneurs etc. Literature on PMMSY scheme, State schemes, e-shram, FIDF, KCC etc. shall be popularised through print media, electronic media, videos, digital campaign through jingles among fishers for wide publicity of schemes.  A song on Sagar Parikrama in Marathi shall also be launched.
The journey of Sagar Parikrama shall focus on the sustainable balance between the utilization of marine fisheries resources for the food security of the nation and livelihoods of coastal fisher communities and the protection of marine ecosystems, to bridge the gaps of fisher communities, and their expectations, development of fishing villages, upgradation and creation of infrastructure such as fishing harbours & landing centres to ensure sustainable and responsible development through an ecosystem approach.
Sagar Parikrama program shall be celebrated in all coastal States/UTs through a pre-decided sea route down right from Gujarat, Diu, Maharashtra, Goa, Karnataka, Kerala, Tamil Nadu, Andhra Pradesh, Odisha, West Bengal, Andaman & Nicobar, and Lakshadweep Islands to have interaction program with fishermen, fisher communities and stakeholders in these locations in order to know the problems of Coastal Fisher folk. To improve the quality of life and economic well-being of people in rural areas and to create more livelihood opportunities, a holistic approach has been adopted by the Government of India to meet Sustainable Development Goals (SDGs).
The journey of "Sagar Parikrama" has started with the theme of "KRANTI se SHANTI" as Phase-I on 5th March 2022 from Mandvi, Gujarat (Memorial of Shyamji Krishna Varma) to Okha-Dwarka, and completed at Porbandar on 6th March 2022 covering 3 locations. The program was a huge success, with more than 5000 people physically attending the event, and the program was live-streamed on various social media platforms such as YouTube, and Facebook which was watched by around 10,000 people.
The journey continued as Phase-II program from 23rd to 25th September 2022. The program covered 7 locations from Mangrol, Veraval, Diu, Jafrabad, Surat, Daman & Valsad and interacted with fishermen to know the problems of Coastal Fisher folk, during the program and travel in IFB & ICG ship.A song on Sagar Parikrama  in Gujarati sung by Shankar Mahadevan was launched. More than 20000 people has physically attended the event and program was live streamed in various social media platforms such as YouTube, Facebook around 15000 people watched the event.
Campaign for promotion of KCC was held in Maharashtra and Gujarat on 16th and 17th February 2023 by Department of Fisheries, Government of India. A team of officers from Department of Fisheries, GoI Dr. Niyati Joshi, Shri. Nikhil Kumar and Shri Sagar Kuveskar, Dr. Sandeep P. Jadhav from state Government of Maharashtra met and had a camp meeting at Vasai on 16th February 2023. The Fishers and Fish farmers were made aware about KCC for fisheries, registration & its benefits.
KCC campaign for fishermen and fish farmers for Mumbai city and Mumbai suburban at Sasson Dock, Mumbai officers for DoF, GoI and State fisheries Department, Government of Maharashtra, Lead Bank representative, Bank of India, representative from Mumbai District Bank and around zoo fishermen and fish farmers participated in the camp on 17th February 2023. All tried to understand the issues of the fisherman & fish farmers. Back representatives explained the details of KCC for fishermen and fish farmers and its benefits.
Healthy oceans and seas are essential to human existence and life on Earth. They cover 70 percent of the planet and provide food, energy and water. Thereby providing a massive arena for emerging complex and interconnected development issues such as livelihoods, climate change, commerce, and security. Ocean plays major role in mitigating climate change and improving its impacts. The Indian Ocean is vital to the economies, security, and livelihoods of its coastal states.
The Country has a coastline of 8118km, covering 9 maritime States &4Union Territories and providing livelihood support to 2.8 million coastal fisher folk. India contributes 8% of the global share of fish production and is ranked 3rd largest fish producer in the world. The total fish production of the nation is 162.48 lakh tonnes, of which 121.21 lakh tonnes are from inland and 41.27 lakh tonnes from marine. The value of fisheries exports stood at INR 57,586.48 crores. The sector shows a steady growth rate in GVA accounting for a 6.72% share of Agriculture GDP and contributing to about 17% of agriculture exports.
***
SS/IG