On the second day of the Department of Food and Public Distribution's(DFPD) Iconic Week of AzadiKaAmritMahotsav, a webinar was organised here on Tuesday. Shri Ashwini Kumar Choubey, Minister of State for Consumer Affairs, Food and Public Distribution and Environment, Forest and Climate Change launched a short film on Procurement operations including DBT operations.
Shri Atish Chandra, CMD, FCI welcomed MoS on his maiden visit to FCI Headquarters and briefed him about FCI's operations on procurement, storage, movement and distribution of foodgrains across the country.
While addressing the webinar, Shri Choubey said that the Centre government is working tirelessly to ensure that Minimum Support Price (MSP) reaches the farmers.
"The Government aims that the benefit of Minimum Support Price (MSP) should reach all farmers of paddy and wheat in each state, especially to those who are small and marginal farmers. Minimum Support Price provides a basis to the farmers from which they get not only the cost price of their crops, but also a reasonable profit," Shri Choubey said.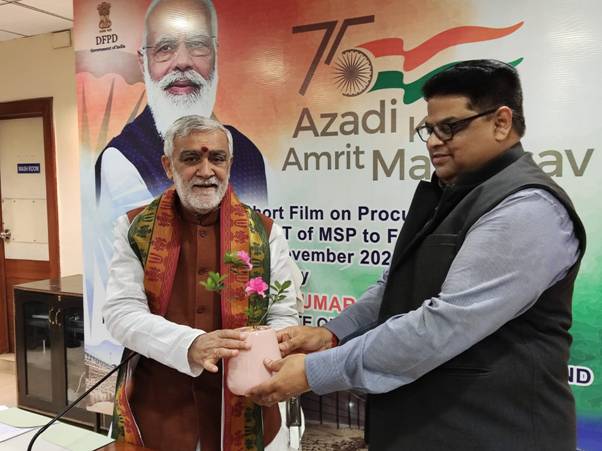 He said that the Food Corporation of India (FCI), the Central Nodal Agency of the Government of India, procures Paddy and Wheat at Minimum Support Price in the Central Pool in coordination with the State Government Procurement Agencies across India. It is then stored and sent to the states, so that there is a continuous supply of food grains to the needy under the National Food Security Act.
He said that while on one hand, efforts are being made to provide economic benefits to the farmers by increasing the MSP year by year, on the other hand, similar efforts are made to connect with more and more farmers with this scheme.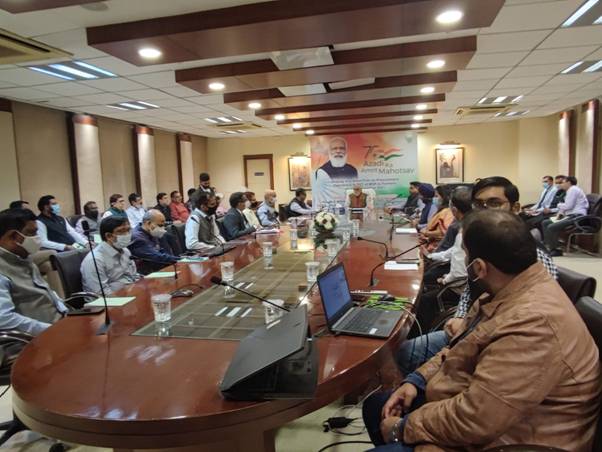 "In 2016-17, around 76.85 lakh paddy farmers were benefited from the MSP of about Rs. 86 thousand crore and 20.46 lakh wheat farmers were benefited from the MSP of about Rs. 35 thousand crore.  About 1.3 crore paddy farmers were benefited from MSP of about Rs. 1.69 lakh crore. In 2021-22, around 49 lakh wheat farmers were benefited from MSP of about Rs. 86 thousand crore," he added.
The Minister also lauded this year's efforts of FCI for procuring highest ever food grains under Central Pool i.e. wheat and paddy and also for transporting highest amount of food grains during Covid-19 pandemic across the country. He said when others were inside homes, FCI staff and officers worked day and night to make food grains available to every needy citizen under NFSA (National Food Security Act) allocation and PMGKAY (Prime Minister's GaribKalyan Anna Yojna). FCI has ensured that all beneficiaries of PMGKAY get 5 kg free food grains per month for 15 months.
Adding on he said that due to the efforts of the Centre that with the help of latest technology, farmers are directly linked with the procurement process, thereby, curbing the role of middlemen, and fake farmers. "Taking concrete steps in this direction, the Central Government has decided to directly transfer the Minimum Support Price (MSP) into the accounts of farmers across India from the year 2021-22 through DBT, so that farmers can buy their crops without any cuts and delays and avail immediate benefits," he pressed.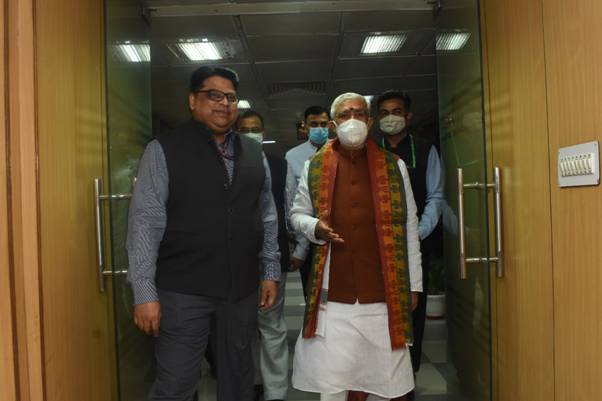 Besides, the Centre has taken concrete steps to integrate the online procurement portal of all the state governments and link it with the land records, online registration of farmers etc. so as to curb the purchases being made in the name of middlemen and fake farmers.
An interaction with farmers and beneficiaries at procurement centre through field offices of FCI was also done.
During interaction Shri Satpal Singh of Shahwaz Nagar informed that he sold about 82 quintals paddy and got the payment at MSP within 24 hours into his account. Similarly, Shri Ashok Kumar Pandey sold 32 quintals and got his full payment within 24 hours.
Another farmer Shri Dharmendra Singh informed that many farmers of his village got benefited by this scheme of Direct Benefit Transfer (DBT) of MSP into farmers' account. Similarly, Shri Navneet Kumar of Himachal Pradesh informed that he sold about 60 quintals of paddy at MSP for the first time and got his payment within 24 hours into his account. The procurement of paddy in Himachal Pradesh at MSP is taking place for the first time, that too with DBT into farmers account. 
***
DJN/NS