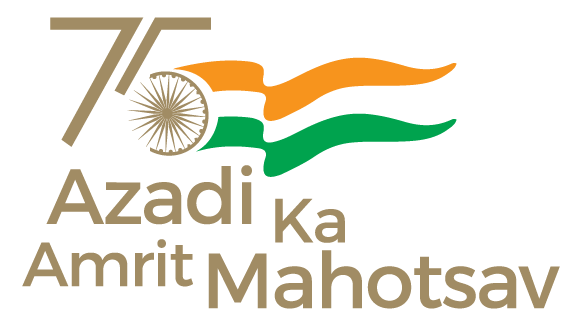 Union Minister of Health and Family Welfare, Dr Mansukh Mandaviya interacted with around 150 representatives of private medical colleges in the presence of Dr Bharati Pravin Pawar, Union Minister of State for Health and Family Welfare, at Vigyan Bhawan today.
Speaking on the occasion, Dr Mandaviya said that "the aspiration and vision of Govt for medical education reform can be fulfilled only when the Medical Colleges are active partners. To create this atmosphere, consultation and samvaad is very important. He stated that there is a need to create an eco-system & environment where NMC and Medical Colleges share a goal for superior quality medical education.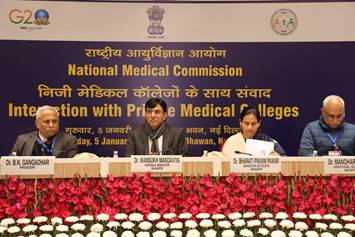 Highlighting the need to transform and regulate medical education, the Union Health Minister sought the partnership of NMC and Medical Colleges for strong medical education and cautioned those who do not share the vision of providing superior medical education. He also suggested for reforms like biometrics attendance in medical institutions.
He gave a strong message that the Govt is committed to ensuring best medical colleges and medical education. He informed that the government has increased the number of medical colleges to 648 from 387 medical colleges in 2014.
Dr Bharati Pravin Pawar noted that image of Indian doctors abroad has strengthened the recognition of medical education sector of India. She stated that "India's remarkable growth story has raised expectation from various sectors of India of which health forms a crucial component". "As Hon'ble Prime Minister has always stressed the country can grow strong with "sabka prayaas". The role of private medical colleges is crucial for bringing a paradigm shift in medical education. We should move strongly for "India Brand" of medical doctors and education which epitomizes quality and credibility", she further stated.
Various initiatives taken by NMC for reforming medical education at UG level were presented to the participants. This included steps for equal distribution of colleges following Prime Minister 's vision of "One District, One Medical College"; introduction of yoga module; village outreach through Family Adoption Program; medical education in bilingual languages; anti-raging cells; academic calendar for 2022-23 batch.
The issues discussed regarding Medical Assessment Rating Board covered themes such as recognition of backlogs and clearing renewals; friction free assessments; assessment in a window period or timeframe; reduction in mismatch between assessor and specialty; availability of teachers in pre and para- clinical courses; face recognition and Aadhar Enabled Biometric System (AEBMS); feasibility of skill labs to compensate fewer clinical load; concerns regarding crowding by medical colleges in some areas; reduction in repeated assessments of medical colleges; increase in validity period of recognition etc. Dr Mandaviya encouraged the Academy and researchers to collaborate with the private sector in research and innovation. He also welcomed any suggestion from the audience for improving the health sector in India.
The representatives from the private medical colleges thanked the Union Health Minister for interacting with them and for providing this opportunity to share their feedback, insights and suggestions on crucial aspects of medical education.
During the 'Samvaad' which lasted for nearly two hours, representatives from private medical colleges raised issues and proffered suggestions related to NEET PG, NEXTT, admissions, retirement age of faculty, journal publications, bond for rural posting, district residency program, super specialty courses, internship in community medicine, less faculty in some streams such as forensics, etc.
Dr Manohar Agnani, Addl, Secretary, MoHFW, Dr B N Gangadhar, President NMC, Dr Aruna Vanikar, President UGMEB (UG Medical Education Board), Dr Vijay Oza, President PGMEB (PG Medical Education Board), and other members of NMC were present at the interaction, along with senior officers of MoHFW.
****
MV
HFW/HFM Interaction with Representatives of Private Medical Colleges/ 05January2023/3