Children with imaginative minds can come up with innovative solutions to problems in and around them.Government efforts are triggering this imagination and broadening the base of the pyramid of innovation that encourages children to come up with solutions for day to day problems based on science and technology. Such ideas are being solicited by the Department of Science and Technology (DST), and meritorious ideas are rewarded with the award money of Rs 10,000 with option of showcasing it to district, state, and national level exhibition along with mentoring support.  
Lakhs of children from remotest parts of India are coming up with innovative solutions for problems they encounter – be they be safe kitchen devices, sustainable bio-toilets, or waste management solutions.
The Million Minds Augmenting National Aspirations and Knowledge (MANAK) programme was launched by the Department of Science and Technology (DST) in partnership with the National Innovation Foundation (NIF) in 2017. It emphasises on the power of ideas in young minds to create a pipeline of innovative students who can recognise problems and find solutions to them. 
Aiming to harness the power of bright minds spread across 6 lakhs school in the country, DST invites students from government and private schools to send original and innovative ideas having potential to solve common problems.
These ideas go through a tough screening and mentoring process at the school level, district, and state level to be selected for the National level competitions.
Some very bright ideas often come from the remotest of places. Last year an award-winning submission was by Sulochana Kakodiya, a class 8 student from Govt. MS (Girls) Ashram Bichhua in Chhindwara, District in Madhya Pradesh. Realizing that people suffered health-related issues due to unhygienic manual cleaning of toilets, she came up with an idea of developing an automatic toilet cleaning machine. The brushes for cleaning the toilet are fixed inside the toilet itself, and they can automatically clean the toilet by rotating them.
A personal problem triggered the innovative spark in Sayan Akhtar Shaik, a class 9th student of Government Senior Secondary School, Neil Island of South Andaman. His mother suffered a cut in her finger while she was trying to open the plastic cap by pulling the nylon thread, which is attached with the LPG cylinder. To resolve this problem, encountered in most households once and for all, he developed a plastic (safety) cap opener of LPG cylinder.
More than 3.8 lakh students from all States and Union Territories of the country have submitted their ideas in 2019, and the number is increasing every year. Out of these, a few are provided with financial support of Rs 10,000 each for developing prototypes. After a series of DLEPC (District Level Exhibition and Project Competition) and subsequent SLEPC (State Level Exhibition and Project Competition), some of them are selected to exhibit their ideas at a national level competition.
This year online nominations for 2020-21 have resumed from 1st June 2020. Since students are not able to attend schools due to COVID 19, DST has encouraged them to use this time for generation of innovative ideas which can be submitted to the online portal www.inspireawards-dst.gov.in.
As India rises rapidly in the global innovation index, government efforts are rapidly promoting a culture of innovation among young people who are daring to experiment with their ideas. The movement that has been sparked is fast spreading to the remote parts of India's with dreams for a bright future for the country.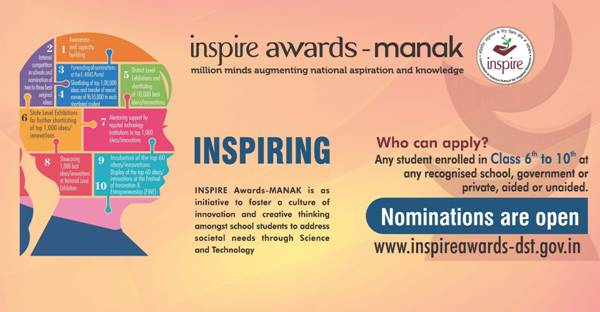 *****
NB/KGS/(DST Media Cell)