New Delhi/Mumbai, June 17, 2021
Fourteen Cross Disability Early Identification and Intervention Centres (CDEIC) located at various parts of the country have been virtually inaugurated by the Union Minister For Social Justice and Empowerment Dr. Thawar Chand Gehlot today. These Centres are located at seven national institutes in Delhi, Mumbai, Chennai, Kolkata, Dehradun, Secunderabad and Cuttack, and seven Composite Regional Centres (CRCs) in Sundernagar, Lucknow, Bhopal, Rajnandgaon, Patna, Nellore and Kozhikode. These Centres will be unique in providing facilities such as developmental screening, assessments of cognition, hearing, vision and speech and therapeutic management of various disabilities in a child-friendly ambience. Dignitaries present at the virtual inauguration also included Ministers of State in the Social Justice and Empowerment Ministry, Shri Krishan Pal Gurjar and Shri Ramdas Athawale, along with Secretary, Department of Persons with Disabilities, Ms Anjali Bhawra.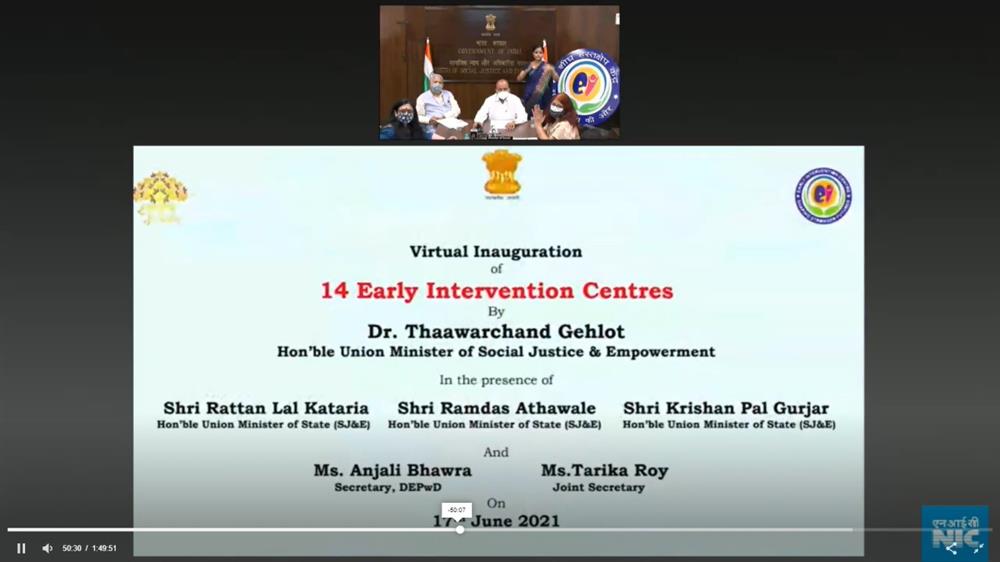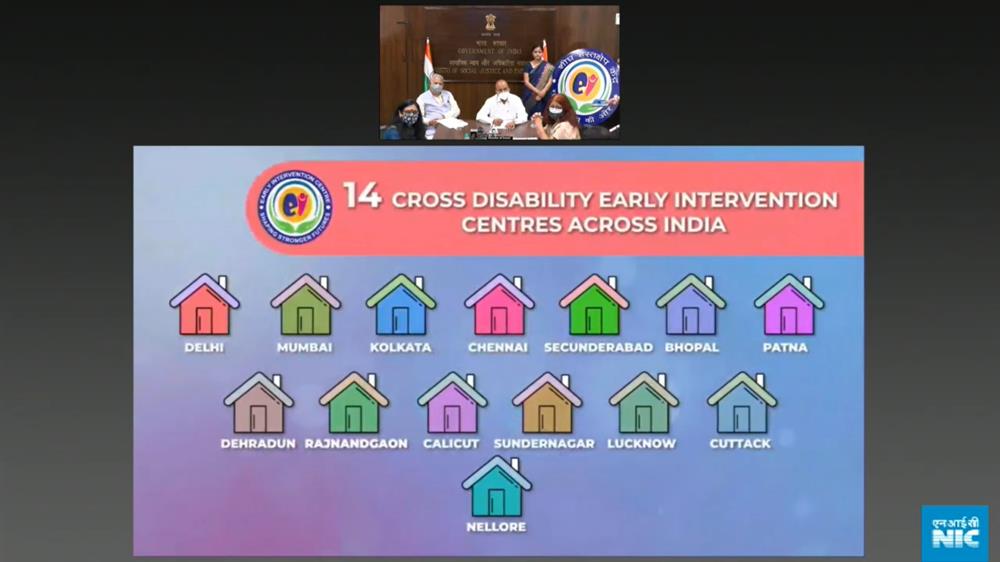 Speaking on the occasion, the Minister Shri Gehlot said, Divyangjans have always been at the top of priorities of the Government headed by PM Narendra Modi, and will continue to remain so. The Rights of Persons with Disabilities Act 2016 has also been implemented for empowering Persons with Disabilities. It is important to identify children with disabilities or such children who have some signs of disability, early and assist them, so that an environment conducive for their development can be ensured and their disabilities can be better handled. The family members of these specially-abled children also need special skills to mingle with them and assist them. Keeping these requirements in mind, Union Social Justice and Empowerment Ministry has decided to set-up 14 Cross Disability Early Identification and Intervention Centres in the first phase. Shri Gehlot also stated that the Ministry is working to establish such Centres in all CRCs by 2022. As a result, all the States and UTs will have CDEIC facilities soon.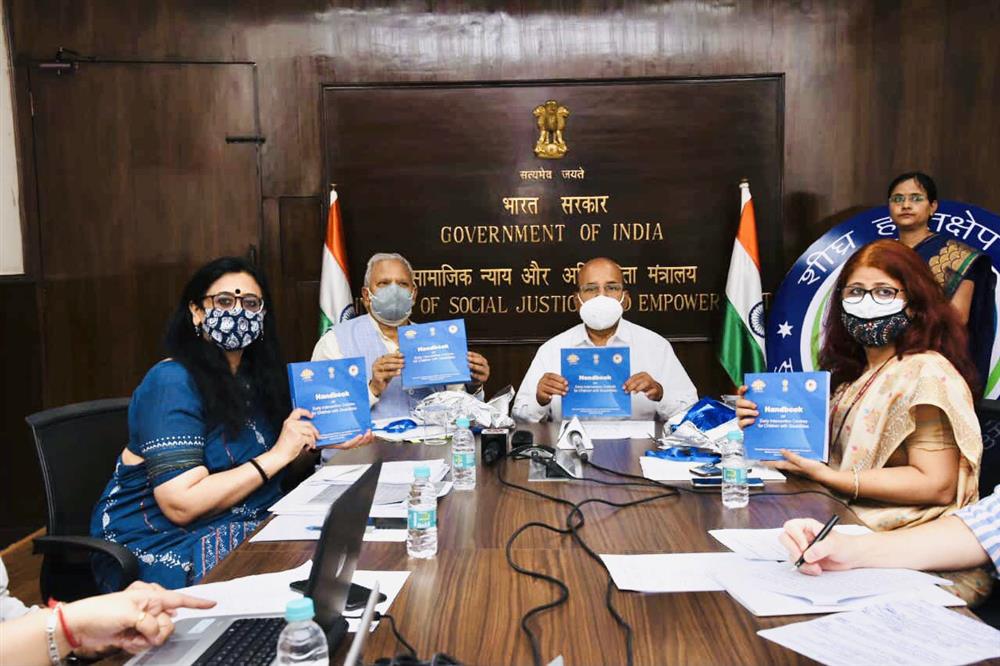 MoS Shri Ramdas Athawale, who attended the inaugural programme via video conference from Ali Yavar Jung National Institute of Speech & Hearing Disabilities (AYJNISHD (D) at Bandra in Mumbai, said that disability in new-borns will be detected and treated immediately in the Early Intervention Centers across the country. He appealed to all parents to get their new-born babies' health examined in these Centres. This facility will reduce the inconvenience to children with disabilities in the future, as with early treatment, a baby may be able to recover from the disability, he added.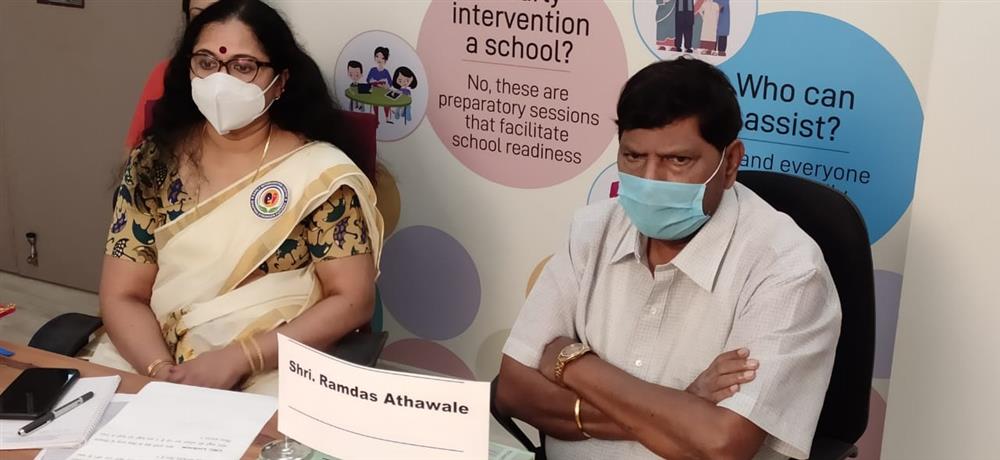 MoS Shri Krishan Pal Gujjar said, as per the Government's policy of "Sabka Saath, Sabka Vikas", importance has been attached to ensure inclusivity and full participation of persons with disabilities in our society.
In each of the CDEICs, there are specific facilities of intervention for occupational and physiotherapy, speech therapy, early educational intervention and preparatory classes for school readiness. A special toys and books library is designed to provide the children with an interactive ambience. These centres will promote a 'healthy baby and healthy childhood' program and exclusive breastfeeding rooms and play area are also available. The parent and professional partnerships form the core of CDEIC and hence a special 'Family Education room' is available for the needy beneficiaries at the centre.
These centres will be catering to infants and children below 6 years of age as the new-born infant's brain, is said to develop up to 90% by five years of age following a global approach to provide early stimulation to young children helps in reducing the effects of their impairments and also averts disabling conditions in their life. So 'catch them young is the 'mantra' of these centres facilitating inclusive education for children with multiple disabilities. These centres are the result of the decision of the Dept. of Empowerment of persons with disabilities under the Ministry of Social Justice & Empowerment (MSJ&E) Govt. of India to set up a 'one-stop arrangement' where all the disability services from assessment to intervention will be available for varying disabilities under one roof.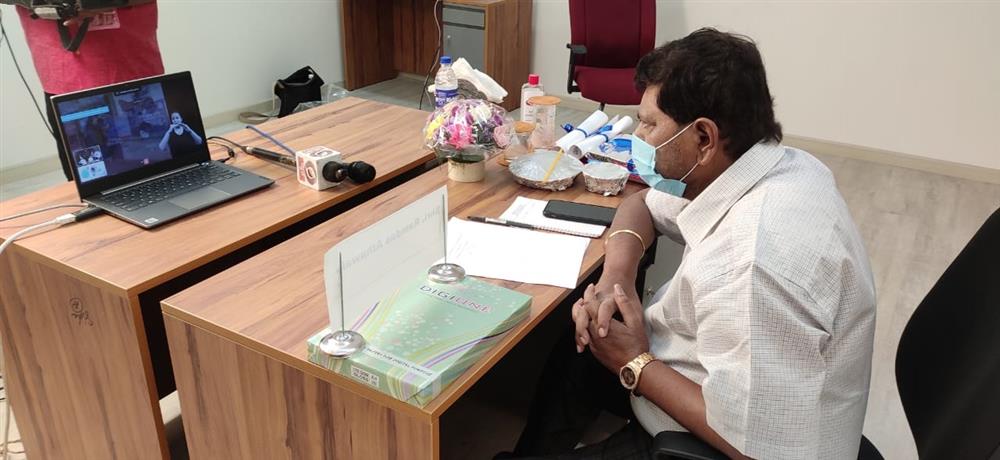 There are 21 disabilities listed in the Rights of Persons with Disabilities (RPWD) Act of 2016. The CDEICs aim to provide the services for all the different forms of disabilities, under one umbrella.
The setting up of these Centres also involved community participation. Mumbai's AYJNISHD(D) received two strong supports – Mazgaon Dock Ship Buildrers Ltd., who provided support in form of funds and IES College of Architecture in Bandra, Mumbai provided their support in planning and designing the entire Early Intervention Centre.
***
RT/SC/PK
Follow us on social media: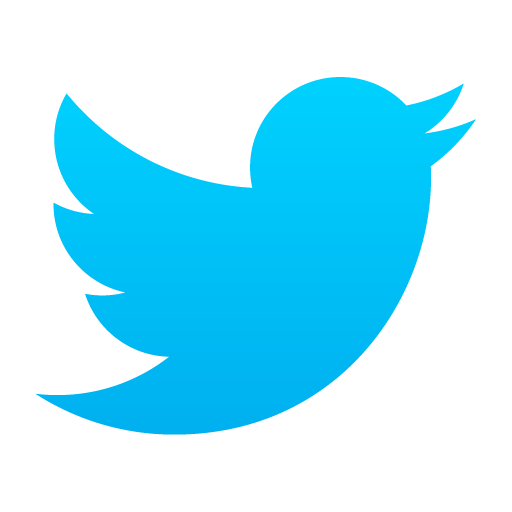 @PIBMumbai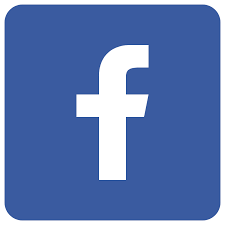 /PIBMumbai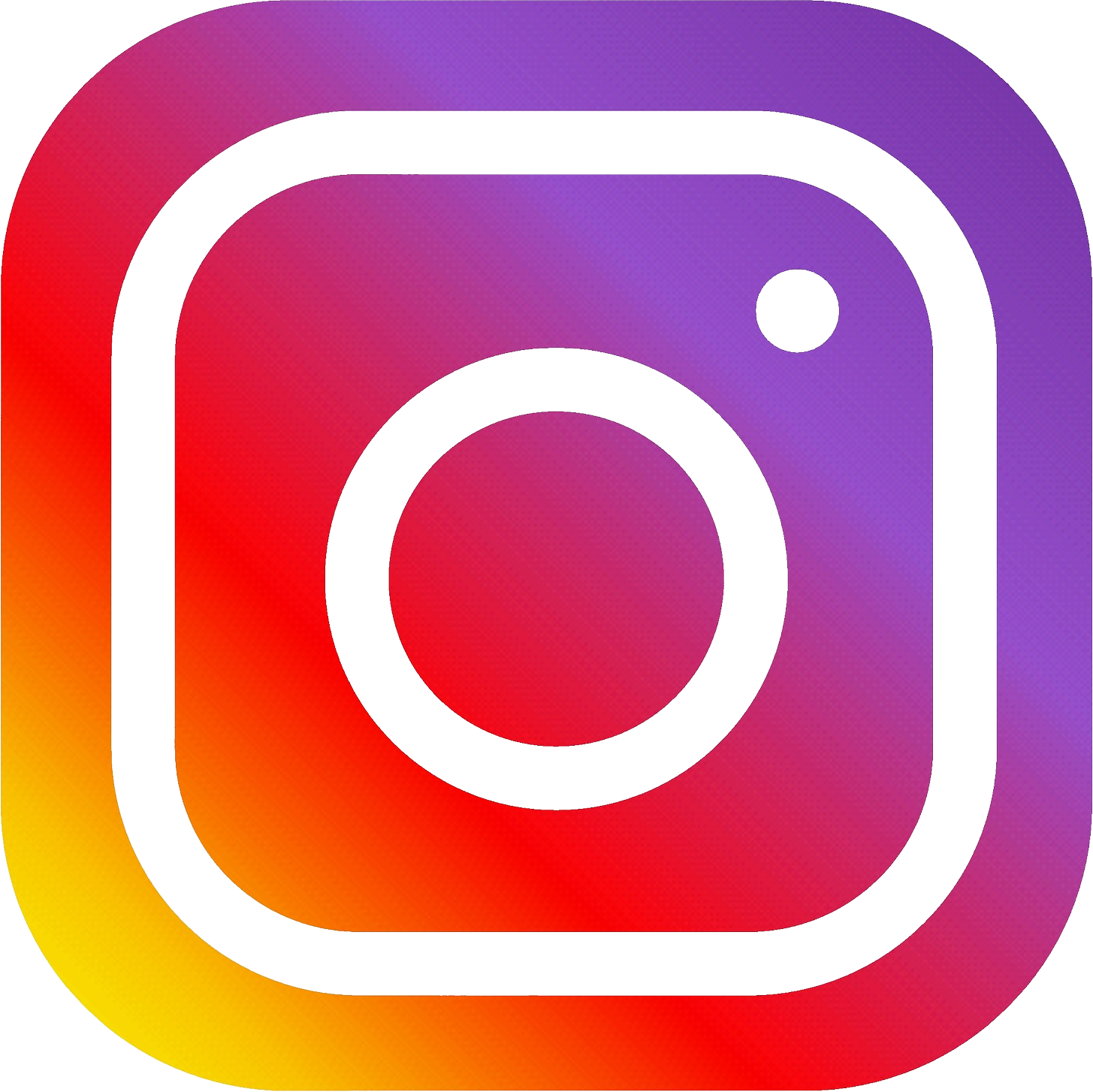 /pibmumbai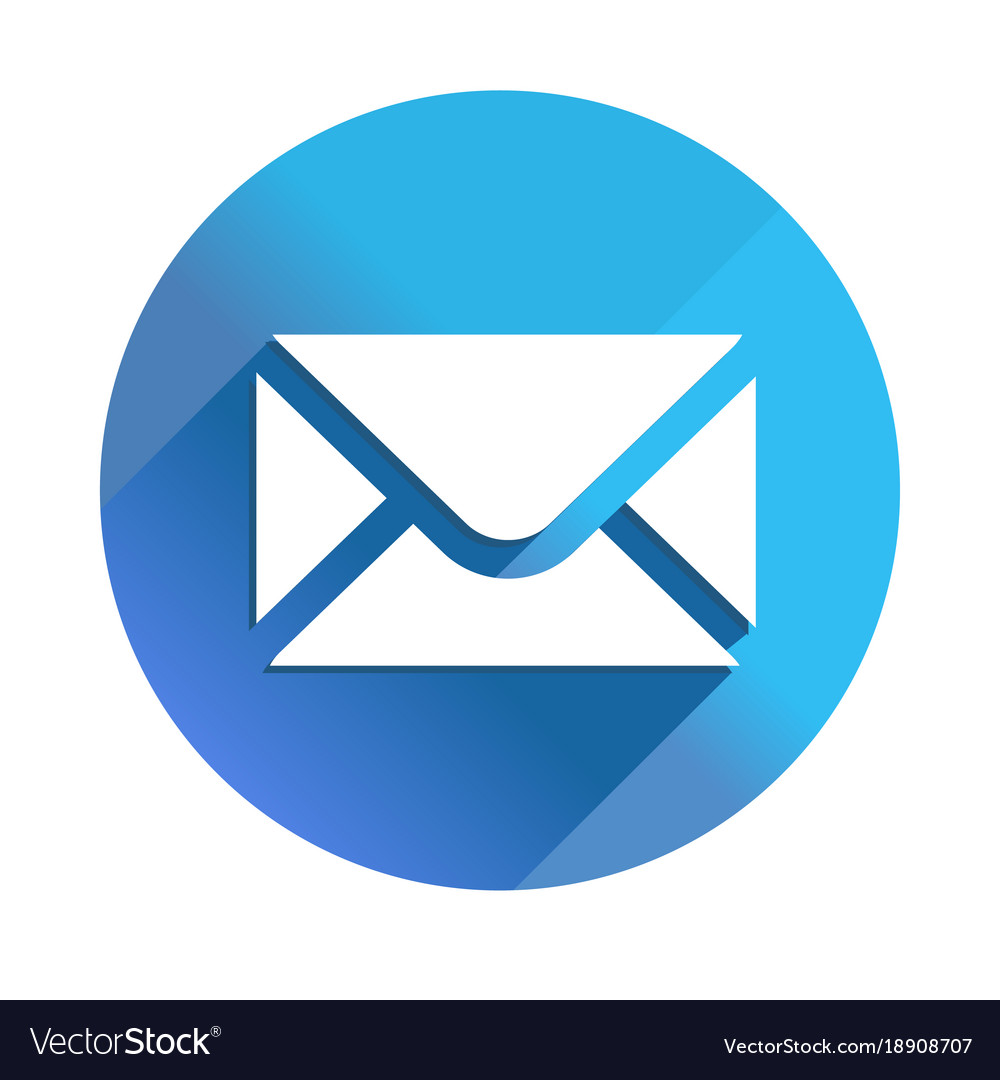 pibmumbai@gmail.com