Union Minister of Road Transport & Highways and Shipping Shri Nitin Gadkari launched the Green Highways (Plantation, Transplantation, Beautification & Maintenance) Policy, 2015 in New Delhi . The aim of the policy is to promote greening of Highway corridors with participation of the community, farmers, private sector, NGOs, and government institutions.
A green highway is a roadway constructed per a relatively new concept for roadway design that integrates transportation functionality and ecological sustainability. An environmental approach is used throughout the planning, design, and the construction. The result is a highway that will benefit transportation, the ecosystem, urban growth, public health and surrounding communities.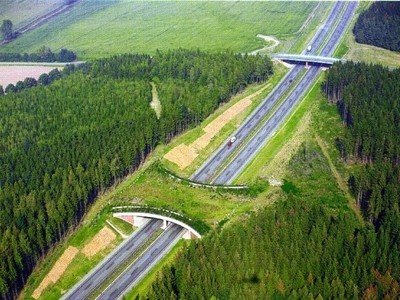 1% of the total project cost of all highways projects will be kept aside for the highway plantation and its maintenance. About Rs. 1000 crore per year will be available for plantation purpose.
This policy will generate employment opportunities for about five lakh people from rural areas. There will be strong monitoring mechanism in place by using ISRO's Bhuvan and GAGAN satellite systems. Every planted tree will be counted and auditing will be done. The agencies performing good will be awarded.
1200 road side amenities will also be established. The Green Highway Policy will help in making India pollution free. It will also help in curtailing the number of road accidents in India. The vision of the policy is to provide dignified employment to local people and communities.
National Forest Policy envisages 33% of the geographical area should be under forest or tree cover, but the notified forest cover is only about 22%. The implementation of new Green Highways Policy can help in bridging this gap. The emphasis is not only on the trees planted, but also on how many of them survive and are useful for the local communities.