Union Ministry of Health & Family Welfare's National Telemedicine Service eSanjeevani has rapidly shaped into country's most popular and the largest telemedicine service. eSanjeevani has been widely adopted by patients as well as doctors, and specialists across the country. In a record time the National Telemedicine Service has conducted more than 1 Crore (i.e. 10 million) tele-consultations across India. That eSanjeevani has been quickly adopted by patients, doctors and specialists across the country is evident from the fact that it has shown astounding growth of over 1000% in last 10 months. The National Telemedicine Service which was used for 160,807 tele-consultations in the month of September in 2020 enabled 1,650,822 tele-consultations in the month of July 2021.
It is noteworthy that even when the internet penetration in the country is below 50%, this innovative digital health initiative of the Union Health Ministry has been able to defeat the tyranny of geography, distance, and time and establish itself as a parallel stream of healthcare services delivery. eSanjeevani has also alleviated numerous challenges typically linked with healthcare delivery, such as higher costs and fatigue pertaining to seeking an in-person consultation with a doctor besides controlling the ongoing pandemic that had burdened the country's healthcare infrastructure like never before.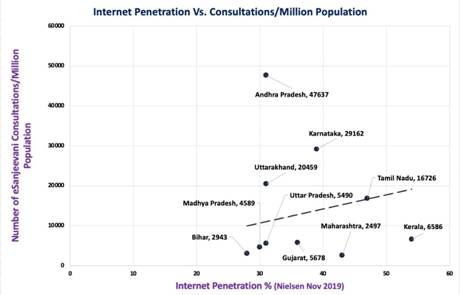 Union Ministry of Health and Family Welfare, in 2018, had conceptualised the use of telemedicine to aid implementation of Ayushman Bharat – the world's largest govt. owned health insurance scheme. Accordingly, eSanjeevani – the flagship telemedicine technology of Govt. of India developed by the Mohali branch of Centre for Development of Advanced Computing (C-DAC) was customized and eSanjeevaniAB-HWC was rolled out in 2019 as a Doctor-to-Doctor telemedicine platform. After the COVID-19 pandemic touched Indian shores, and all the OPDs in the country were closed because of national lockdown, the Union Ministry of Health and Family Welfare in sync with the release of Telemedicine Practice Guidelines by Govt. of India in March 2020conceptualized another version of eSanjeevani for Patient-to-Doctor telemedicine. Accordingly, owing to the strong coordination between the Union Ministry of Health and Family Welfare and the eSanjeevani team in C-DAC Mohali, eSanjeevaniOPD was developed and deployed rapidly across the country. On 13th April 2020, eSanjeevaniOPD was launched to facilitate provision health services for patients in the confines of their homes.
eSanjeevaniOPD – the second variant of union health ministry's mammoth telemedicine initiative was initially rolled out as a minimalistic platform with one general OPD per State. Andhra Pradesh, Tamil Nadu, Kerala, Himachal Pradesh, Uttar Pradesh, Uttarakhand etc were the early adopters of this first of its kind of telemedicine initiative. In less than a month, over half the States in the country had adopted eSanjeevaniOPD and had rolled out remote consultation services for their populace. Considering the uptake of eSanjeevaniOPD by the populace, forward-looking health administrations in the States & Union Territories asked for ramping up the capacities of eSanjeevaniOPD for enabling them to roll out multiple concurrent specialty and super-specialty onlineOPDs. Premier institutions and agencies like AIIMS in Bathinda, Bibinagar, Kalyani, Bilaspur, Rishikesh, Lady Harding Medical College (New Delhi), Safdurjung Hospital (New Delhi), King George Medical University (Lucknow), Central Govt. Health Scheme (CGHS), Cancer Research Centres in Kerala etc.  are also offering their specialty and super-specialty services remotely. During the second wave of COVID 19, the Defence Ministry too had roped in ex-AFMS doctors to launch national online defence services OPD on eSanjeevaniOPD that provided health services remotely to patients across India. In many States eSanjeevaniOPD is enabling provision of health services delivery for more than 12 hours a day, 7 days a week. eSanjeevaniOPD services can been accessed through web browser as well as Android application and the iOS application is scheduled to be launched very soon.
The National Telemedicine Service of Ministry of Health & Family Welfare has rapidly evolved into country's largest OPD service. The eSanjeevani network is currently serving around 75,000 patients on daily basis it is hosting 439 onlineOPDs, 43 of these are general OPDs and 396 are specialty and super-specialty OPDs. On the other hand, following a Hub & Spoke model, eSanjeevaniAB-HWC has been implemented at around 27,000 Health & Wellness Centres as spokes and over 2200 Hubs in States. By the end of 2022, eSanjeevaniAB-HWC is slated to be implemented at 1,55,000 Health & Wellness Centres nationally. Over 60,000 specialists, doctors and paramedics have been on boarded on the National Telemedicine Service.
In order to extend the reach of the delivery of contactless, risk-free and safe health services, the State governments are complimenting the efforts of the Union Ministry of Health and Family Welfare by establishing a robust digital health ecosystem comprising IT savvy human and infrastructural resources. Considering the potential, benefits and widespread acceptance of eSanjeevani initiative of the Health Ministry in the country and in wake of the impending third wave of COVID 19 the central Government in its Emergency Response and Health System Preparedness Package has earmarked financial support for expanding eSanjeevani initiative to boost its capacities to provide 5 lakh teleconsultations per day.  The eSanjeevani team at Centre for Development of Advanced Computing in Mohali has already initiated the process to scale the platform. This financial support would also enable States and UTs to boost IT infrastructure at the Covid Care Centres (CCCs) and the Hubs for eSanjeevani Tele-consultation in all the districts of the country.
eSanjeevani has been used by public in 701 districts across India and over 56% of the patients on eSanjeevani are females. Of the 1 Crore patients served by eSanjeevani around 0.5% are 80 years and older, around 18% of the patients are 20 years or younger.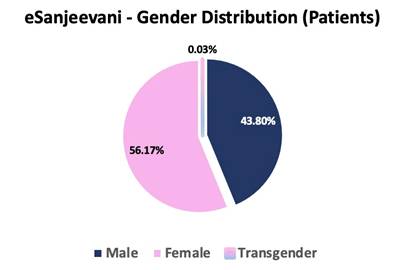 It has been noted that the National Telemedicine Service is relatively more popular in tier II and tier III cities. The top 10 districts with highest consultations are Chittoor, East Godavari, Guntur, Nellore, West Godavari, Krishna, Prakasam, Anantapur, Kurnool in Andhra Pradesh and Salem in Tamil Nadu.        
 
The leading districts in adoption of the National Telemedicine service are as follows: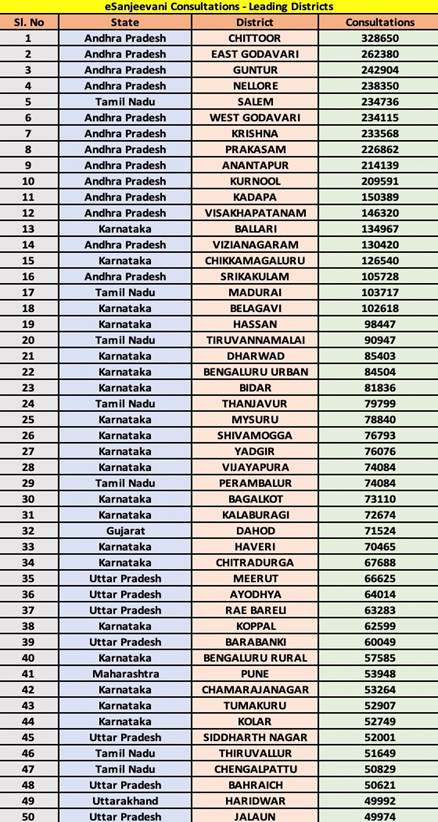 The top ten States which have registered highest consultations through eSanjeevani and eSanjeevani OPD platforms are Andhra Pradesh (2751271), Karnataka (1939444), Tamil Nadu (1476227), Uttar Pradesh (1232627), Gujarat (416221), Madhya Pradesh (369175), Bihar (343811), Maharashtra (331737), Kerala (237973), Uttarakhand (226436).
eSanjeevani Consultations

Sl. No.

24-Aug-21

TOTAL

eSanjeevaniAB-HWC

eSanjeevaniOPD

 

INDIA

10006340

5240274

4766066

1

Andhra Pradesh

2751271

2729528

21743

2

Karnataka

1939444

714326

1225118

3

Tamil Nadu

1476227

117118

1359109

4

Uttar Pradesh

1232627

193511

1039116

5

Gujarat

416221

57034

359187

6

Madhya Pradesh

369175

363963

5212

7

Bihar

343811

329620

14191

8

Maharashtra

331737

251082

80655

9

Kerala

237973

3

237970

10

Uttarakhand

226436

662

225774

11

Assam

158500

138177

20323

12

Himachal Pradesh

103348

99398

3950

13

Chhattisgarh

90398

89848

550

14

Punjab

59727

56302

3425

15

Haryana

53460

8185

45275

16

Rajasthan

44818

85

44733

17

Jammu & Kashmir

28141

0

28141

18

Delhi

25298

0

25298

19

West Bengal

77663

69853

7810

20

Odisha

17232

16984

248

21

Jharkhand

8062

631

7431

22

Manipur

5708

0

5708

23

Chandigarh

3292

0

3292

24

DNH & DD

2848

2795

53

25

Mizoram

1183

994

189

26

Telangana

861

0

861

27

Arunachal Pradesh

427

0

427

28

Goa

134

49

85

29

Meghalaya

117

110

7

30

Ladakh

73

0

73

31

Tripura

63

0

63

32

Puducherry

39

1

38

33

Lakshadweep

15

15

0

34

Sikkim

8

0

8

35

Nagaland

3

0

3
****
MV/AL
HFW/HWC e-Sanjeevani1Cr/24th August 2021/5