Become IAS Officer is a dream of lakhs of youth in India. There put all their efforts to crack IAS Exam, but only very few of them able to clear this UPSC exam. There are some established methods and ways by which you can get success in IAS Exam soon.
Firstly, don't run for IAS mains exam. Just focus initially on IAS Prelims exam. Why we are saying this is because, majority of the students put their efforts in preparing IAS Mains but they are not able to clear IAS Prelims in their 1st or 2nd attempt. Most of the coaching classes that students join also run Pre-cum-Mains batches. Therefore students take prelims lightly and consider it a piece of cake. But it is only after their successive failures in Preliminary Exam, that they realize the importance and become focused and clear Prelims in second or third attempt.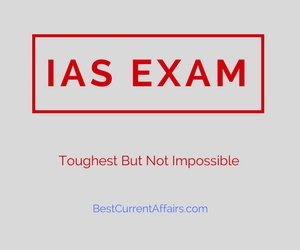 When you study for IAS Preliminary Exam, you read a lot of information. (You study all about Geography, History, Government Programmes, and Current Affairs etc).
As you know IAS Mains is all about writing. You have to write answers in a range of 50 to 200 words of each question asked. For answer writing, you require only two things: 1. Information and 2. Structuring of Answers (in order to score more).
Once you cleared IAS Prelims, you already have a lot of information with you. After success in IAS Prelims, you need to focus more on structuring of answers and revision of what you studied for your IAS Prelims.
Answer writing is intensely required after Prelims result, till the beginning of IAS Mains. Just remember one thing, that in IAS Mains, no matter how much you read, you will not know the answers of all the questions in GS Papers. This is a fact. You have make or create answers of the questions asked in Mains papers. Even people who get first rank in IAS exam actually do not know the answers of all questions in General Studies Papers.
The only thing that you should master the art of writing answers of about 200 words on any topic, even if you don't know the exact answer. Once you get this trick, you will able to score good marks in IAS mains exam.
Every Answer whether small or large has the following components: Small Introduction, Content Part (What is asked), Brief Analysis, Powerful Concluding lines at the end.
When you study for IAS Prelims, you study exhaustively, and in that process, you gain a lot of information. This information helps you in writing the 'CONTENT PART' of the question. The other three parts comes with writing practice. Try to write some model answers.
Introduction/Conclusions can be learned from government documents/press releases/Newspaper reading etc. Analysis part remains in news and on social media now-a-days.