Highlighting the role of media,Shri Bharat Lal, Additional Secretary & Mission Director, National Jal Jeevan Mission said, "The media has a very important role in generatingawareness about Jal Jeevan Mission and in engaging communities to own, operate and manage their in-village water supply system for ensuring regular and long-term clean tap water supply in rural homes." He was delivering keynote address in a national media interaction organized by UNICEF in New Delhi today.
In his Independence Day address on 15th August, 2021, Hon'ble Prime Minister emphasized that for schemes like Jal Jeevan Mission benefits of the scheme must reach to everyone and 'no one is left out'. The Prime Minister added, "We have to move ahead with a mindset of cent-percent achievement. When the Government operates with a target to reach the person in the last line, only then there is no discrimination and there is no scope for corruption."
Recognizing media as an important partner in delivering Jal Jeevan Mission's community-oriented messages to provide tap water, improve health and provide ease of living to rural population especially women and children in rural India, Shri Bharat Lal urged mediapersons to make people aware of various aspects of clean tap water and help in making Jal Jeevan Mission a JanAndolan.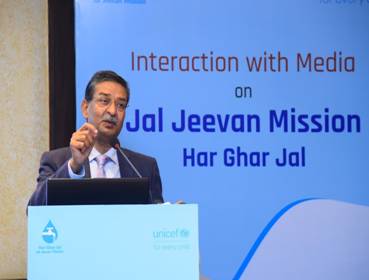 Over 80 national and state-level media representatives from print, online, radio and TV participated in 'Interaction with media on Jal Jeevan Mission' programme focussed on the vision, objectives, priorities and achievements of the mission in providing clean tap water supply to all rural homes. Shri Nicolas Osbert, Chief, WASH, UNICEF Indiaand Ms. Zafrin Chowdhury, Chief, Communication, Advocacy and Partnership, UNICEF India were also present in the programme.
Elaborating mission's motto that 'no one to be left out' and developing a responsive and responsible leadership to manage tap water supply in every village, Shri Bharat Lal said that the aim is to make every village 'WASH enlightened village'. To ensure transparency and accountability in implementation of Jal Jeevan Mission, he said that all information about Jal Jeevan Mission is in public domain and the JJM dashboard can be accessed at https://ejalshakti.gov.in/jjmreport/JJMIndia.aspx   Demonstrating use of deep technology, digital governance and sensor based iOT system through the JJM dashboard, he emphasised on how the lives of millions of rural households across India are being transformed by providing them clean tap water and removing age-old drudgery from the lives of women and children. Shri Bharal Lal said, "the focus under mission is to ensure clean tap water supply to all rural households as well as every school, AWCs, PHCs, CHCs, community centers, etc."
Nicolas Osbert, Chief, WASH, UNICEF India, invited media to participate actively in the JJM, seizing the opportunity of this outstanding investment on public health by providing clean tap water supply to every home and thus empowering communities, and promoting hygiene, cleanliness and environmental sustainability.
Announced by the Prime Minister Shri Narendra Modi on 15th August, 2019, Jal Jeevan Mission is implemented in a decentralized manner following the 'bottom-up' approach, wherein the local village community plays a key role starting from planning to implementation and from management to operation and maintenance. To achieve this, the State undertakes activities like strengthening the Village Water & Sanitation Committee (VWSC) or Pani Samiti and developing Village Action Plan (VAP) in the Gram Sabha wherein the community deliberates on water concerns affecting their daily lives. VAPs have the components of drinking water source strengthening/ augmentation, water supply infrastructure, grey water treatment & reuse, and operation & maintenance of in-village water supply system. The mission mandates that half of the members of VWSC/ Pani Samiti are women, thus encourages women participation these discussions being the primary water managers in any household. The States are organizing intensive training and skilling programmes, especially on water quality surveillance to 5 persons mostly women in every village and local persons as masons, plumbers, electricians, motor mechanics, fitter and pump operators.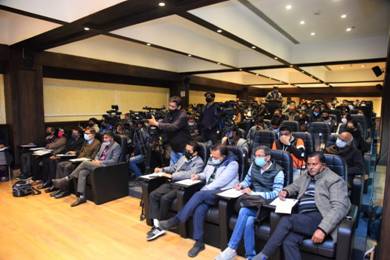 With Government's focus on water supply and improved sanitation, 15th Finance Commission allocated Rs. 26,940 Crore tied grants to RLBs/ PRIs in 2021-22 for supply of drinking water, rainwater harvesting and water recycling, and sanitation and maintenance of ODF status. There is assured fund of Rs. 1.42 lakh Crore for the next 5 years from 2021-22 to 2025-26. This will supplement the ongoing efforts under JJM. All out efforts are to be made for judicious use of this grant by rural local bodies by focusing on activities viz. rainwater harvesting, strengthening of drinking water sources, improving water supply, grey water management and regular operation & maintenance.
At the start of the mission in 2019, out of 19.20 Crore rural households in the country, only 3.23 Crore (17%) had tap water supply. Despite challenges faced due to COVID-19 pandemic and subsequent lockdowns, over 5.44 Crore (28.31%) households have been provided with tap water supply since the launch of the mission. Presently, 8.67 Crore (45.15%) rural households have been provided tap water supply. Goa, Telangana, Andaman & Nicobar Islands, Dadra & Nagar Haveli and Daman & Diu, Puducherry and Haryana have become 'Har Ghar Jal' i.e., tap water supply have been provided to all rural households in these States/ UTs.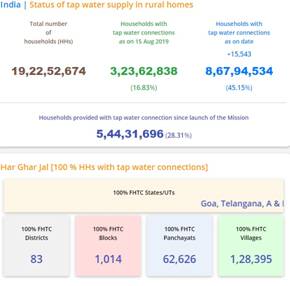 So far in 4.5 lakh villages VWSCs or Pani Samiti have been formed and Village Action Plan has been prepared for 3.37 lakh villages. More than 8.5 lakh women volunteers have been trained to test the quality of water by using Field Test Kits (FTKs). They collect samples and test its quality to ensure that the water supplied is as per the prescribed parameters. The test report of FTK is uploaded on JJM portal. Today, the country has more than 2,000 water testing laboratories which are open for public at a nominal cost to test quality of water.
Under Jal Jeevan Mission, priority is accorded to water-scarce areas, quality-affected villages, Aspirational districts, SC/ST majority villages and Saansad Adarsh Gram Yojana (SAGY) villages.The tap water supply to JE-AES affected districts has gone up from 8 lakh (3%) households to 1.19 Crore (39.38%) households and in aspirational districts it has gone from 24 lakh (7%) households to 1.28 Crore (38%) households. 
To ensure safe tap water to children in schools, ashramshalas and anganwadi centres in the country, Prime Minister Shri Narendra Modi announced 100-days campaign, which was launched by the Union Minister Shri Gajendra Singh Shekhawat on 2nd October 2020. Tap water provided in learning centres is used by children and teachers for drinking, cooking mid-day meal, hand washing and in toilets. Till now 8.33 lakh (81.33%) schools and 8.76 lakh (78.48%) anganwadicentres have been provided tap water supply in their premises. All schools in States/ UTs of A&N Islands, Andhra Pradesh, D&NH and D&D, Goa, Gujarat, Haryana, Himachal Pradesh, Jammu & Kashmir, Karnataka, Kerala, Puducherry, Punjab, Sikkim, Tamil Nadu, Telanganaand Uttarakhand have been provided with tap water supply.
Following the Prime Minister's vision of 'SabkaSaath, SabkaVikas, SabkaVishwas, SabkaPrayas', the motto of the mission is that 'no one is left out' and every rural household is provided with tap water connection. At present, every household in 83 districts and more than 1.28 lakh villages are receiving tap water supply.
                                                                        ***
BY/AS