India features among top six for global executives. According to the annual global CEO survey by PwC, the top two markets from the growth point of view are the US, as voted by 43 per cent of respondents, followed by China (33 per cent).
Others in the pecking order are Germany (17 per cent), UK (15 per cent), Japan (8 per cent) and India (7 per cent).
Last year, India was among the top five most promising markets globally.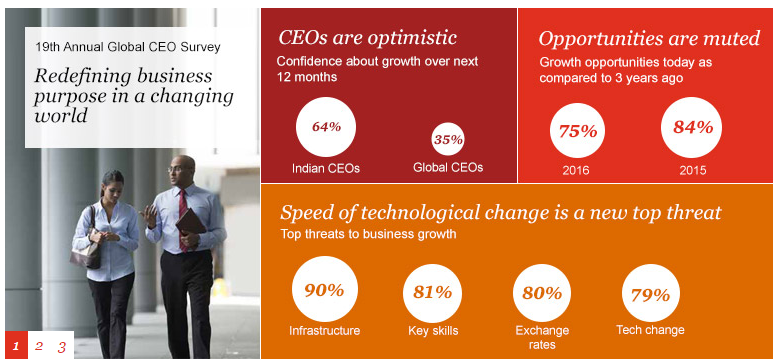 Main Findings of the Survey:
As per the findings, the changeability of markets, exacerbated by currency volatility, has caused CEOs to turn to a greater mix of countries.
This year's study shows that the US, Germany and the UK have become bigger priorities while willingness to invest in Brazil, India, Russia and Argentina has lessened from three years ago.
CEOs around the world feel they have plenty to worry about in the year ahead. Their confidence in companies' growth prospects and outlook for the global economy are back on the rise.
Globally, 38 per cent of CEOs are very confident about their companies' growth prospects in the next 12 months while 29 per cent believe that global economic growth will pick up in 2017.
While business leaders are more positive in their outlook, their levels of concern about economic uncertainty, over-regulation and availability of key skills remain very high.
Also, worries about protectionism are growing, with 59 per cent of CEOs concerned about protectionism, whereas the figure stands at 64 per cent in the United States and Mexico.
A significant 71 per cent of India's CEOs are very confident of their companies' growth in the next 12 months, a 7-point increase over last year's and 33 points above this year's global average (38 per cent).