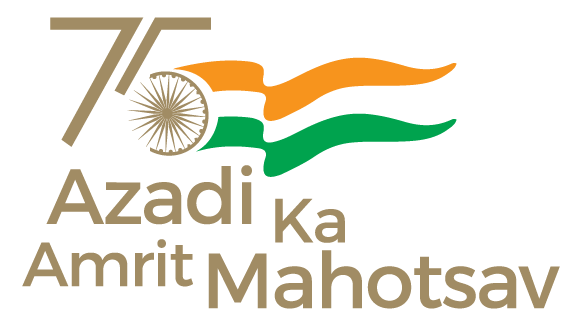 The Indian Institute of Corporate Affairs (IICA), a think tank under the Ministry of Corporate Affairs, Government of India launched today the third batch of IICA Valuation Certificate Program (IVCP) – the Gold Standard in Valuation Education.
The virtual programme organized on 28th January, 2023 had the august presence of Joint Secretary, Ministry of Corporate Affairs and Board Member of Insolvency and Bankruptcy Board of India, Ms Anita Shah Akella as the Chief Guest. Shri Praveen Kumar, Director General and CEO, Indian Institute of Corporate Affairs; Ms Veni Thapar, Board Member Bank of India & IICA; Shri Rajiv Singh FCA, leading valuation practitioner and adjunct faculty, IICA and Prof (Dr) Naveen Sirohi, Founding Head, School of Finance, addressed the participants at the inaugural ceremony.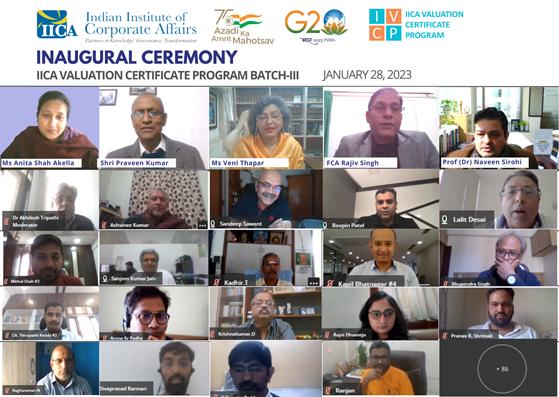 Addressing the participants, Ms Anita Shah Akella emphasised the importance of Valuation in economic growth and stability. She added that government is seriously contemplating strengthening the valuation ecosystem in the country and complimented IICA for its contribution in augmenting valuation ecosystem by soft (i.e. knowledge) infrastructure development through the course.  She shared that IBBI has been working to bring the entire valuation of an entity through more transparent, uniform and India-centric valuation standards and desired that IICA, with its developed competencies in valuation field and network of experts, can effectively contribute objectivity since IICA is not involved in providing valuation services, directly or indirectly.
Recalling her experience as a participant of the founding batch of IVCP course, Ms Veni Thapar opined that the course curriculum is not merely a compilation of valuation number-crunching exercise but a combination of multiple short courses to offer a holistic, inter-disciplinary understanding of valuation. She revealed that the ICVP programme emphasises learning through granular understanding of different perspective of valuation knowledge, assumptions and their correct and appropriate applications.
Shri Praveen Kumar, Director General and CEO of IICA, said that as a think tank IICA is actively engaged in capacity building, education, research, advocacy and advisory services on contemporary issues of the business community and the focus areas of the Government with valuation being one. The institute identifies proactively areas ahead of what the industry demands and offers unique solutions. He congratulated the participants for opting to the valuation course and asked them to approach the learning with a seeker's mindset.
Shri Rajiv Singh FCA, valuation expert of repute and adjunct faculty, IICA said that IVCP is designed as one of the most extensive valuation courses globally. The Course contents has many dimensions not covered by any other course internationally like valuation for arbitration concept, transfer-pricing valuation issues, financial instrument valuation, fair value measurement standards and behavioural finance.
Prof Naveen Sirohi, Founding Head School of Finance, IICA and Course Director, mentioned that the course has a true holistic approach to improve valuation ecosystem. The course is aligned to International Valuation Standards giving it a global flavor which is necessary in the present interconnected world. The faculty consists of global experts drawn from academia, industry and regulatory bodies. The heterogeneous group of participants facilitates peer learning and formation of holistic perspective of valuation related issues.
The event was attended by 100+ participants of batch-III from diverse educational and professional background and working with regulatory bodies, public sector undertakings, banks, financial institutions, registered valuers and professionals. Dr Akhilesh Tripathi, Mr Narendra Saun and Mr Abhijit Chakbrabarty were also present in the event.
IICA Valuation Certificate Program (IVCP) is a flagship course by IICA that has earned the distinction of 'Gold Standard in Valuation Education'. Launched in 2019, 250+ participants from diverse backgrounds have registered for the course with average experience of 20+ years. The course is recognized by International Valuation Standards Council (IVSC) and is recommended by Insolvency and Bankruptcy Board of India (IBBI) to all Registered Valuers (RVs), Department of Financial Services (DFS) to all Public Sector Banks (PSBs) and Financial Institutions (FIs) and Department of Investment and Public Asset Management (DIPAM) to all Central Public Sector Enterprises (CPSEs).
****
RM/PPG/KMN