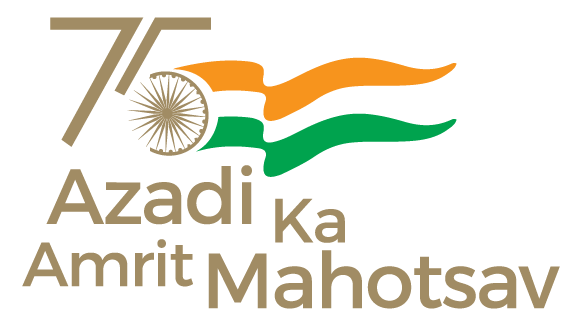 The Investor Education and Protection Fund Authority (IEPFA), in partnership with the National Council of Applied Economic Research (NCAER), successfully conducted a significant webinar under the theme 'Investor Protection Framework in India: Challenges and Road Ahead'. The webinar witnessed the convergence of diverse stakeholders including government entities, academic institutions, and industry experts.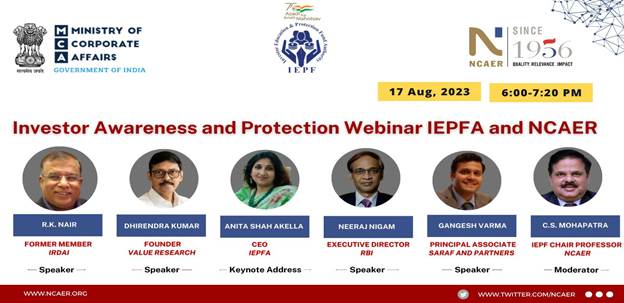 The keynote address was delivered by Ms. Anita Shah Akella, CEO, IEPFA and Joint Secretary at the Ministry of Corporate Affairs (MCA). Ms. Akella's address underscored the critical importance of financial education and protection in the rapidly evolving financial landscape. As financial markets undergo transformation, the paramount significance of informed decision-making and safeguarding investor interests, Ms. Akella highlighted.
Ms. Akella emphasised that financially enlightened individuals wield the potential to create substantial economic impacts through astute financial decisions and elaborated on the concept of a "financially educated" individual, encompassing a comprehensive understanding of economic fundamentals, adept money management, and insightful decision-making spanning budgeting, savings, investments, and consumer choices. This holistic understanding empowers individuals to navigate the intricate realm of financial resources, assets, credit, insurance, taxes, and make prudent choices that resonate beyond individual households, creating positive impacts on communities and societies, Ms Akella said.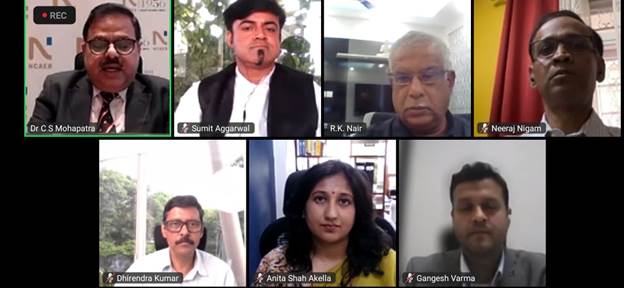 The event's highlight was a stimulating panel discussion on "Investor Protection Framework in India: Challenges and Road Ahead". Esteemed panelists shared their expertise on various topics, including insurance, digital initiatives, cybercrime awareness, evolving banking systems, and the pivotal role of regulatory bodies in fostering investor awareness.
The distinguished panelists included:
Mr. Dhirendra Kumar: Founder of Value Research. Mr. Kumar delved into the practicality of insurance tools and the need for simplified and comprehensive information disclosure to investors prior to making investment decisions.
Mr. R.K. Nair: Former Member of the Insurance Regulatory and Development Authority of India (IRDAI). Mr. Nair elaborated on insurance matters, emphasizing the practicality and transparent information disclosure about insurance tools to investors.
Mr. Neeraj Nigam: Executive Director at the Reserve Bank of India (RBI). Mr. Nigam provided insights into evolving banking systems and RBI's role in promoting investor awareness in modern times.
Mr. Gangesh Varma: Principal Associate of Technology and Policy at Saraf and Partners. Mr. Varma discussed digital initiatives for investor awareness and the indispensable need to educate investors about cybercrime prevention.
The engaging panel discussion was adeptly moderated by Dr. C.S. Mohapatra, IEPF Chair Professor at NCAER.
Concluding the event, Mr. Sumit Agarwal, AGM at IEPFA, extended a vote of thanks, acknowledging the invaluable contributions of all participants, speakers, and attendees. He underscored the collaborative spirit of the webinar, aligning stakeholders towards the shared goal of enhancing financial literacy and safeguarding investor interests.
The resounding success of the webinar reflects the collective commitment to fostering financial awareness and safeguarding investor interests amidst a rapidly evolving financial landscape. As global economies embrace digital transformation and financial inclusivity, the event illuminated the pivotal role of financial literacy in unlocking the true potential of these advancements. The webinar sets the stage for sustained collaboration and initiatives that will undoubtedly shape a prosperous financial future for all.
About IEPFA
The Investor Education and Protection Fund Authority (IEPFA) was set up on September 7, 2016, under the aegis of the Ministry of Corporate Affairs, Government of India, for administering the Investor Education and Protection Fund for making refunds of shares, unclaimed dividends, and matured deposits/debentures, among other things, to investors.
About NCAER
NCAER is India's oldest and largest independent economic think tank, set up in 1956 to inform policy choices for both the public and private sectors. It is one of a few independent think tanks world-wide that combines rigorous economic analysis and policy outreach with deep data collection capabilities, particularly for large-scale household surveys. NCAER is led by its Director General, Dr Poonam Gupta, the institution's first woman head, who assumed office on 1 July 2021, and it is governed by an independent Governing Body currently chaired by Mr Nandan M. Nilekani.
****
PPG/KMN