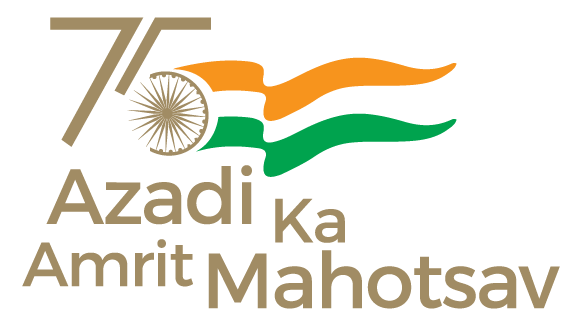 On 3rd day of the weeklong celebrations, Dr. Mansukh Mandaviya, Union Minister of Health & Family Welfare and Chemicals & Fertilizers, and Shri Ashwini Vaishnaw, Minister for Railways, Communications, Electronics & Information Technology were flagged off a Jan Aushadhi Train (Chhattisgarh Samparkranti Express) New Delhi today.  This train has been wrapped with branding of Jan Aushadhi scheme to spread the awareness about Jan Aushadhi Generic medicines which are available through more than 9000 Kendra at affordable prices. This train will travel to more than 4 States for 2 months. Also, the similar train from Pune to Danapur has been flagged off covering 4 States for 2 months for generating awareness amongst the general public about Jan Aushadhi scheme.
The third day of Jan Aushadhi Diwas, 2023 was observes as 'Jan Aushadhi – Ek Kadam Matri Shakti Ki Ore' across the country. women beneficiaries attended at large number at 34 locations in all States/UTs at Jan Aushadhi Kendras where interaction was conducted in the presence of women public representatives, women doctors, NGO's and information sharing about Health benefits of Jan Aushadhi medicines were done. Special discussions about menstrual health were also conducted. Kits containing women-centric products were distributed to more than 3500 women at designated locations.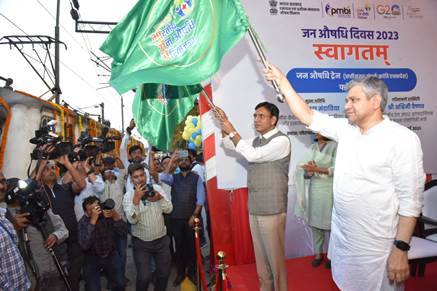 On this occasion, Dr. Mansukh Mandaviya said that Jan Aushadhi Kendras provide quality and affordable medicines. More than 9000 Jan Aushadhi kendras are working to ensure that people would get quality medicines at affordable prices and these Kendras are gaining popularity amongst public. Dr Mandaviya further stated that Railways is also carrying a special campaign for the publicity of the affordable generic medicines which in turn will create awareness among the public and will also save their money.
Union Minister informed that Railways Ministry has decided to open Jan Aushadhi kendras at some big railway stations. This will prove beneficial for the commuters as they can buy medicines from these kendras at stations and they don't need to go anywhere. The Minister also informed that Jan Aushadhi Kendra can be opened by any private individual. 20% commission is provided to him so that he can not only get a medium of employment, but also of service. He further said, while inexpensive and quality medicines are available at Jan Aushadhi Kendras throughout the country, these Kendras are also providing sanitary pads to women at the price of just Re 1 per pad.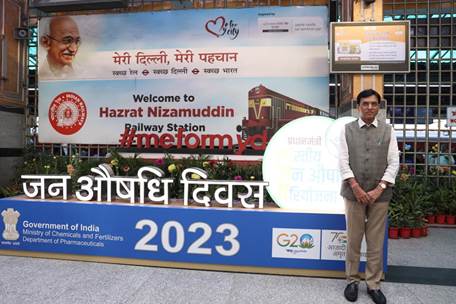 Department of Pharmaceuticals has planned various events in different cities starting from 1st of March 2023 to 7th March 2023 which will focus on awareness about the Jan Aushadhi Scheme. Seminars, participation of children, women and NGO's, Heritage walks and Health camps and many other activities engaging PMBJKs owners, Beneficiaries, State/UT officials, Public Representatives, Doctors, Health Workers, Nurses, Pharmacists, Jan Aushadhi Mitras at different locations across the country covering all State/UTs.
This scheme ensures easy reach of affordable medicine to the people in every nook and corner of the country. The Government has set a target to increase the number of Pradhan Mantri Bhartiya Janaushadhi Kendras (PMBJKs) to 10,000 by the end of December 2023. Product basket of PMBJP comprises 1759 drugs and 280 surgical instruments. Further, new medicines and nutraceuticals products like protein powder, malt-based food supplements, protein bar, immunity bar, sanitizer, masks, glucometer, oximeter, etc. have been also launched.
Medicines available under PMBJP are priced 50%-90% less than that of branded prices. During the financial year 2021-22, PMBJP has achieved sales of Rs. 893.56 crores (at MRP). This has led to savings of approximately Rs. 5360 crores of the common citizens. In the current financial year i.e. 2022-23 till 15.02.2023, Pharmaceuticals & Medical Devices Bureau of India (PMBI), the implementing agency of PMBJP has made sales of more than Rs. 1000 Crore which has further led to savings of approximately Rs. 6000 Cr. to the citizens. At present three IT enabled warehouses of PMBJP are functional at Gurugram, Chennai, Guwahati and Surat. 36 distributors have been appointed across the country to support the supply of medicines to remote and rural areas.
In last 8 years, PMBJP has achieved a tremendous growth and unbeatable success due to quality medicines being available at cheaper cost to the people of the nation. It has drastically cut down the out of the pocket expenditure of the lower- and middle-class people of India. This has saved more than Rs. 20000 crores of citizens on cost of medicines. This wider acceptance of people has given PMBJP further impetus to enhance its outreach in every corner of the country.
#JanAushadhiDiwas2023 #GenericMedicinesForAll#JanAushadhiJanChetna https://t.co/3rWGxjBnLE pic.twitter.com/3Yg7s4Z9S0

— Ministry of Health (@MoHFW_INDIA) March 3, 2023
MV/SK