According to latest Japan government data, the number of births fell below 1 million last year in Japan. It is the fastest pace of decreasing population since 1968.
As of on January 1, the number of Japanese people dropped a record 308,084 from a year earlier to 125,583,658. It was the eighth straight year of decline.
The number of births stood at 981,202, while that of deaths hit a record-high 1,309,515.
The "natural population loss" — calculated by subtracting deaths from births — totaled 328,313.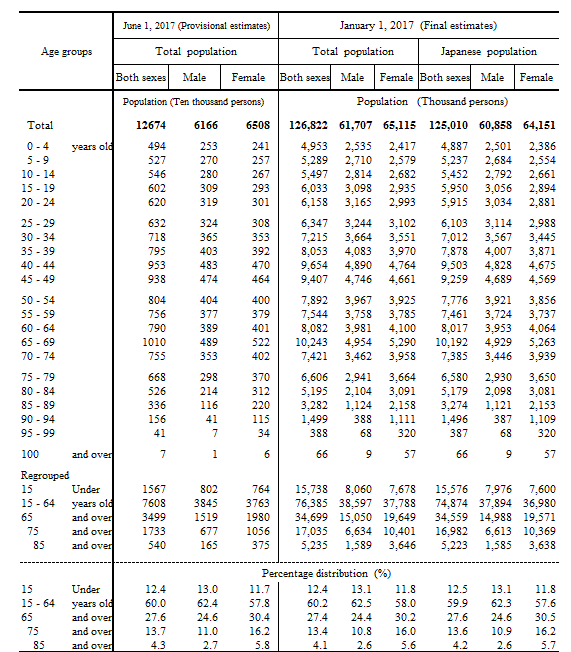 Japan's population is declining, but that doesn't mean the death rate is increasing. In fact, Japanese people are living longer, healthier lives than ever before.
While most of the cities in Japan witnessed decreasing population, Tokyo saw an increase of 77,400, or 0.60 percent.
Hokkaido suffered the largest population decline — 33,593. In terms of the pace of decline, Akita Prefecture ranked first at 1.34 percent, followed by Aomori and Kochi prefectures.
By age, people 65 old or older accounted for a record-high 27.17 percent of the country's population.
The overall population of both Japanese and foreign residents dropped 159,125 from a year before, to 127,907,086.
Main Reasons for Declining Birth Rate in Japan:
– Women are marrying later.
– Women have more options besides homemaking.
– Young professionals in Japan have been family-averse for the past 20 years.
– Unmarried women are less likely to have kids. Marriage is still the most socially acceptable way to have children.
The biggest problem for Japan may be the rate at which its population is aging. The number of people age 65 or older in Japan has reached 33 million.
Lower population means fewer people spending money, and a greater pressure on Japan's GDP and wages. There's also falling land prices and exchange rate appreciation.
The government estimates the population will drop to 86.7 million by 2060, with people over 65 making up 40% of the country.
Though the problem of falling birthrates and aging population is particularly acute in Japan, a similar problem is also brewing in Europe and the U.S.