: Panaji, January 23, 2021
"A film on the last surviving joint family of a city. The inter-personal relations between the various characters of the family come to the fore during the course of a road journey". This is how Director Mangesh Joshi describes his IFFI 51 Indian Panorama Feature film 'Karkhanisanchi Waari'. He was addressing a press conference in Goa today, January 23, 2021, following the screening of the film at the 51st International Film Festival of India (IFFI) yesterday. Actor Geetanjali Kulkarni, who acted in the film said: "It shows the complexities of life and relationships in an Indian middle-class family in a very quirky manner.
The eldest patriarch in Pune's Karkhanis family passes away, following which his siblings and son undertake an eventful journey to disperse his ashes as per his final wish. At the same time, the son's pregnant girlfriend follows the family on her Royal Enfield, trying to convince the son to marry her. On the other hand, the patriarch's wife, compelled to take control of her husband's finances, takes a sojourn from Pune to Dehu village, which leads her to unravel a scandalous secret, kept hidden ingeniously for decades.
The film has been shot extensively in different locations of Maharashtra. The road-trip brings to light the flaws and day-to-day challenges of every character. In a light-hearted manner, the film gives a chance for the viewer to self-introspect as an individual and also at a societal level, said Kulkarni. "In the road-trip, they explore their relationships and the kind of identity they want in life", she added.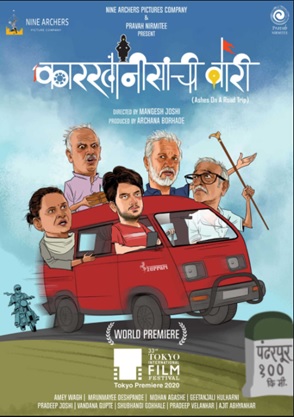 The Director Mangesh Joshi himself comes from Pune, where the film's story is based. "The characters have been inspired by people I have come across in the Pune city. The story has been shaped by a personal experience following a death in the family."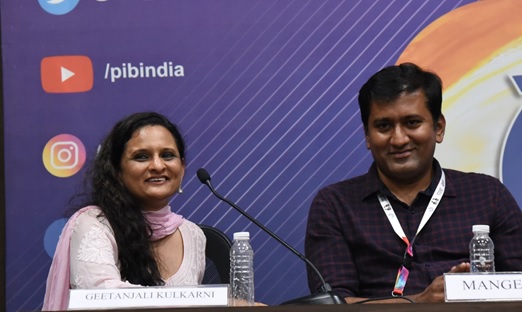 Why has been a pregnant woman shown to ride a Royal Enfield? Screenplay writer and producer Archana Borhade, who was also present for the press conference, said that the character has been based on a group called 'biker-girls'. "For them, it is not about showcasing empowerment, but just about enjoying biking, an activity predominantly in the male domain."
Joshi had made his directorial debut with the 2011 film 'He', produced by NFDC. He wrote, produced, and directed 'Lathe Joshi' in 2016, which won 15 awards.
Thanking IFFI for the very well-organized physical screening during the time of the pandemic, actor Kulkarni said: "It's really a very nice experience to watch a film with the audience in a theatre on a big screen. We were really longing for this occasion for so many days."
***
DJM/SC/IFFI-66