The Assam government has initiated a project to make river island Majuli the country's first carbon neutral district by 2020.
The project titled 'Sustainable Action for Climate Resilient Development in Majuli' (SACReD, Majuli) has been initiated by Assam's Department of Environment and Forest and was launched by Additional Principal Chief Conservator of Forest at Majuli.
The project has been initiated to combat climate change and reduce greenhouse gas emissions.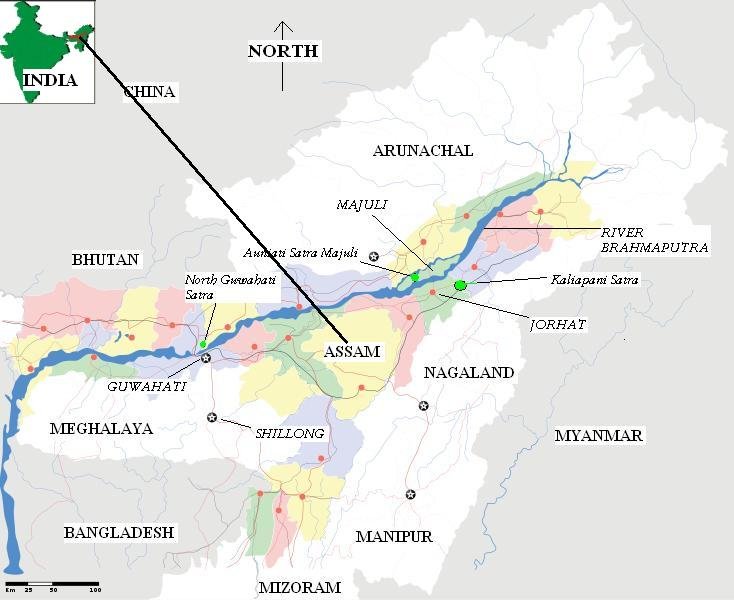 About Majuli Island:
Majuli is the biggest river island in the world in the Brahmaputra River, Assam, India and also 1st island district of the country.
The island had a total area of 1,250 square kilometres (483 sq mi) at the beginning of the 20th century, but having lost significantly to erosion it had an area of only 352 square kilometres (136 sq mi) in 2014.
Majuli has shrunk as the river surrounding it has grown. However it is recognised by Guinness Book of World Records as World's Largest River Island.
The island is formed by the Brahmaputra river in the south and the Kherkutia Xuti, an anabranch of the Brahmaputra, joined by the Subansiri River in the north.
Mājuli island is accessible by ferries from the city of Jorhat. The island is about 300-400 kim east from the state's largest city —Guwahati. It was formed due to course changes by the river Brahmaputra and its tributaries, mainly the Lohit.
Mājuli is the abode of the Assamese neo-Vaisnavite culture.
Formation of Majuli Island:
Originally, the island was a long, narrow piece of land called Majoli (land in the middle of two parallel rivers) that had the Brahmaputra flowing in the north and the Burhidihing flowing in the south, till they met at Lakhu.
Frequent earthquakes in the period 1661–1696 set the stage for a catastrophic flood in 1750 that continued for 15 days, which is mentioned in historical texts and reflected in folklore.
As a result of this flood, the Brahmaputra split into two branches — one flowing along the original channel and the other flowing along the Burhidihing channel and the Mājuli island was formed.
The Burhidihing's point of confluence moved 190 km east and the southern channel which was the Burhidihing became the Burhi Xuti.
The northern channel, which was previously the Brahmaputra, became the Luit Xuti.
In due course, the flow in the Luit Xuti decreased, and it came to be known as the Kherkutia Xuti; and the Burhi Xuti expanded via erosion to become the main Brahmaputra River.