A 'SamajikAdhikaritaShivir' for distribution of aids and assistive devices to 'Divyangjan' under the ADIP Scheme and to Senior citizens under 'RashtriyaVayoshri Yojana' (RVY Scheme) of the Ministry of Social Justice and Empowerment, Government of India was organized by the Department of Empowerment of Persons with Disabilities (DEPwD) in association with ALIMCO and District Administration today at Anandamayi Auditorium, Srikakulam, Andhra Pradesh.
The inaugural function was attended virtually by Union Minister for Social Justice and Empowerment Dr. ThaawarchandGehlot,  asthe Chief Guest. Shri Dharmana Krishna Das, Deputy CM, Revenue and Registration Stamp, Govt. of Andhra Pradesh, and Shri Ram Mohan Naidu Kinjarapu, Member of Parliament, Srikakulam attended the function physically.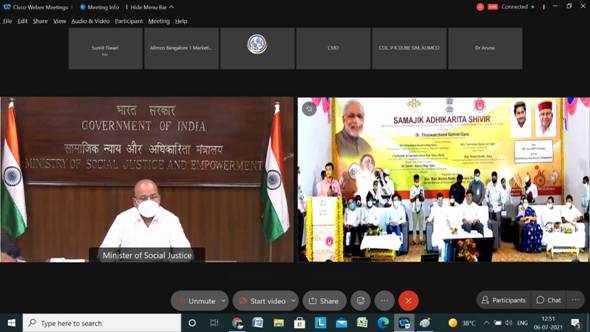 A total of 4874 aids and assistive devices valued at Rs. 2.90 crore will be distributed free of cost to 2206 Divyangjan and 432 Senior Citizens at Block/Panchayat levels by following the SOP prepared by the Department in view of COVID-19 Pandemic.
Speaking on the occasion, Shri ThaawarchandGehlot said that under the leadership of Prime Minister central government has done unprecedented work for welfare of Divyangjanand Senior citizensconsistently during the years with the motive of 'SabkaSaathSabkaVIkas'. Mentioning about the initiative taken by Government in the state of Andhra Pradesh union Minister said, CentralGovernment has released Rs. 29.68 Crore of fund in state of Andhra Pradesh under Scholarship program benefitting 1755 Divyangjanbeneficiaries. Rs.1.59 crore have been released to09 District Disability Rehabilitation Centers in Andhra Pradesh. "Unique ID for Persons with Disabilities" project is being implemented with a view of creating a National Database for PwDs, and to issue a Unique Disability Identity Card to each person with disabilities, Minister informed that about 11.11 Lakh UDID cards have been issued in Andhra Pradesh. Informing about the initiatives taken by Ministry under Accessible India Campaign Union Minister of State informed that 35 International and 55 Domestic Airports, 709 Railway Stations, 10175 Bus Terminals and 683 websites have been covered to provide accessible environment for persons with disabilities. Further informing about the initiative of Ministry the Minister said that, Indian sign language dictionary with 10,000 terms has been launched and 24×7 hrs helpline in 13 languages for Mental Health Rehabilitation has also been started.
Shri Dharmana Krishna Das, Deputy CM, Revenue and Registration Stamp, Govt. of Andhra Pradesh expressed his gratitude for organizing the camp and applauded the efforts made organizers and district administration for implementing the welfare schemes to empower divyangjans.
In view of COVID 19, out of total 2638 pre-identified beneficiaries, Aids and Assistive Devices will be provided to as much as approx 50 beneficiaries of Srikakulamcity block in the inaugural distribution camp at main venue of function in the presence of Dignitaries. Balanced identified beneficiaries will be provided their prescribed assistive devices subsequently at the nearest respective Blocks at their location in a series of follow-up distribution camps in Srikakulam Districts.
Among the high end products which are to be distributed in the camp includes 255 Battery operated Motorised Tricycles shall be provided to the eligible orthopedically impaired Divyangjan under ADIP scheme. The cost of one Motorised tricycle is  Rs.37000/- each out of which Rs.25,000/- is covered under the subsidy provided under ADIP scheme and balanced amount is either provided by beneficiaries or may be sponsored/contributed from other sources like MPLAD fund, State Governments etc.
255 Motorised tricycles which are to be distributed in the Srikakulam Parliamentary Constituency under this camp are support by fund amounting Rs. 30 Lakh 60 Thousand (Rs 12000/- per Motorised tricycle) provided from the MPLAD fund of ShriRam Mohan Naidu Kinjarapu, Member of Parliament, Srikakulam (Andhra Pradesh).
Different type of assistive devices which are to be distributed among the         identified beneficiaries registered during assessment camps at Block Level includes 255 Motorized Tricycle, 526Tricycle, 690 Folding Wheel Chair, 30C.P.Chair, 726 Crutch, 484 Walking Stick, 78 Smart Cane, 12 Smart Phone, 20 Braille Kit, 96 Braille Cane, 04 Braille Slate, 88Rolator, 48 Walker, 02 Tetrapod, 11A.D.L.Kit, 11 Cell Phone, 1486  B.T.E. (Hearing Aid Machine), 192          MSIED Kit and 115Prosthesis &Calliper
The camps was conducted under the Scheme of Assistance to Disabled Persons (ADIP) for Purchase/Fitting of Aid/Appliances (ADIP) for providing assistive aids & appliance to Divyangjans andto senior citizens under RashtriyaVayoshri Yojana (RVY) of government of India and the camp was organized by Artificial Limbs Manufacturing Corporation of India (ALIMCO), a Public Sector Undertaking under the Ministry of Social Justice and Empowerment which has been identified as the implementing agency of the ADIP and RVY scheme in association with states/districts authorities.
*******
NB/SK