Minister of State for Culture Smt Meenakashi Lekhi met Minister of Culture, Sports and Tourism of Vietnam Mr. H.E. Nguyen Van Hung accompanied by Mrs. Nguyen Phuong HoaDirector General, International Cooperation Department, MoCSTon 17th December, 2021 in New Delhi during his visit to India from 15th-19thDecember, 2021 as member of Vietnamese delegation.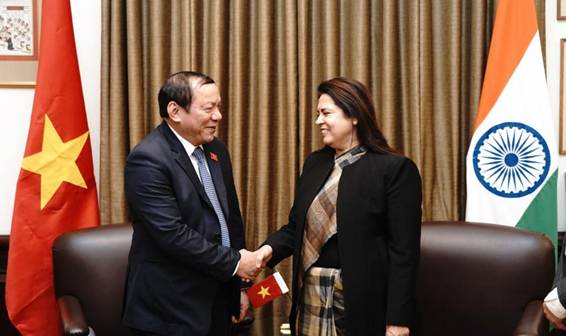 MoS Culture Smt. Meenakashi Lekhi with her counterpart Mr.H.E. Nguyen Van Hung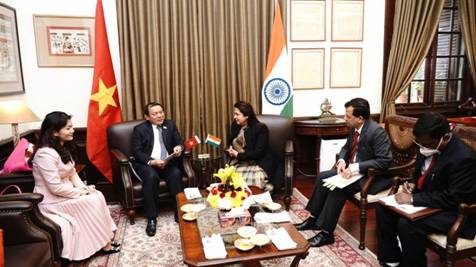 Pleasure to meet with Minister of Culture, Sports & Tourism of Vietnam H.E. Nguyen Van Hung. Discussed areas of mutual cooperation in the fields of art & culture. Will continue to extend cooperation & deepen our collaboration, based on our deep rooted history & common heritage. pic.twitter.com/j34WANyirl

— Meenakashi Lekhi (@M_Lekhi) December 17, 2021
The Ministers acknowledged the unique historical and friendly relationship of India and Vietnam, and reiterated their commitment to deepen and strengthen this relationship. Discussion was held on various cultural cooperation issues. On this occasion a book titled "Cham Sculptures from Vietnam and their Interface with the Indian Art (from the Collection DàNẵng Museum of Cham Sculptures)" co-authored by Indian and Vietnamese experts was presented by Minister of State for  Culture Smt. MeenakashiLekhi to her Vietnamese counterpart as a testimony to cultural bonding between the two nations. The book has been published under Memorandum of Understanding signed between the National Museum Institute of India (NMI) and the Da Nang Museum of Vietnam in 2013.
******
NB/SK