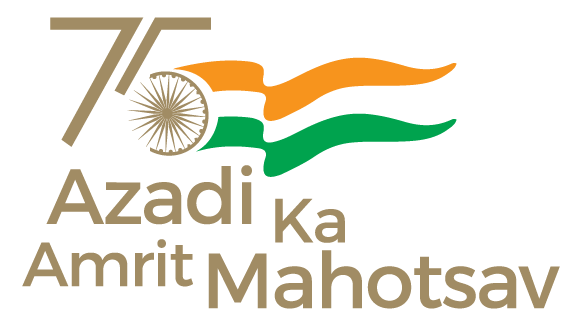 The President of India, Smt. Droupadi Murmu presided over the Swachh Bharat Diwas-2022 event of the Department of Drinking Water and Sanitation (DDWS), Ministry of Jal Shakti, to commemorate the birth anniversary of swachhata inspiration and Father of the Nation, Mahatma Gandhi. This year, to encourage and commend the efforts of the States/UTs, accelerating the ODF Plus and Har Ghar Jal momentum and strengthening the people's movement – Jan Andolan towards comprehensive sanitation, awardees for both Swachh Bharat Mission – Grameen (SBM-G) and Jal Jeevan Mission (JJM) were felicitated by President. The Union Minister for Jal Shakti Sh. Gajendra Singh Shekhawat along with Minister of Rural Development & Panchayati Raj , Sh. Giriraj Singh, Minister of State for Jal Shakti & Tribal affairs, Sh. BishweswarTudu and Minister of State for Jal Shakti & Food Processing Industries Sh. Prahlad Singh Patel, also conferred the awards to best performing States/UTs for Swachh Survekshan Grameen (SSG) 2022, Swachhta Hi Sewa 2022, Sujlam 1.0 & 2.0, JJM Functionality Assessment, Har Ghar Jal Certification and winners of Start-up Grand Challenge for innovative technology for Solid and Liquid Waste Management (SLWM), National film competition for Gram Panchayats on various components of ODF +, National Wall painting competition on SBM(G). The President was presented the first copies of Swachh Survekshan 2022 and JJM Functionality Assessment 2022 reports by Union Minister of Jal Shakti Sh. Gajendra Singh Shekhawat.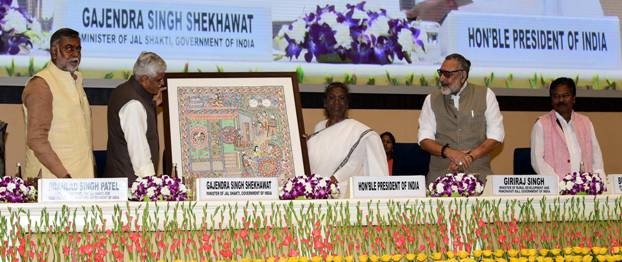 The President, Smt. DroupadiMurmu gave the Swachh Survekshan Grameen 2022 awards under large state category to Telangana, Haryana & Tamil Nadu; under Small States & UT category to A&N Islands, DNH D&D and Sikkim in that order and to Bhiwani (Haryana) as overall Top Performing District. This was followed by the President conferring the awards for Jal Jeevan Mission Functionality Assessment. In the more than 60% tap water coverage category, Puducherry and Goa were felicitated; in less than 60% tap water coverage category Tamil Nadu and Meghalaya secured the first and second position. Smt. Murmu also gave the award to Burhanpur District, M.P for being the first  'Har Ghar Jal' certified district in the country, where all the villages through Gram Sabhas declared themselves as 'Har Ghar Jal'.
In her speech, the President remembered Gandhiji and expressed that his thoughts were eternal. Like truth and non-violence, he also insisted on cleanliness. Celebrating his birthday as 'Swachh Bharat Diwas' is a befitting tribute to him. Gandhiji was of the thought that if we inculcate the habit of cleanliness in children, from the very beginning, then they will remain conscious of cleanliness throughout their life. Sanitation, for centuries, has been an integral part of Indian culture and way of life. Since the launch of 'Swachh Bharat Mission (Grameen)', more than eleven crore toilets have been constructed, and about 60 crore people have changed their habit of open defecation. She further said that through this mission, India has achieved the Sustainable Development Goal 6 (SDG-6) set by the United Nations in 2015, eleven years ahead of the deadline of 2030.
During the global pandemic of Covid-19, everyone realized that individual toilets, the habit of washing hands with soap and the convenience of water supply through taps in the house, acted as a shield during the calamity.
Talking about Jal Jeevan Mission, she stated that at the time of announcement of the Mission in 2019, only 3.23 rural households in the country have provisions of tap water connection which has now increased to 10.27 Crore in the last  3 years. Due to the facility of water supply in homes, there have been a significant decrease in the water borne diseases. She further added that we have to set an example in the fields of water management and sanitation to the world.
The rest of the awards for both Swachh Survekshan Grameen 2022 and for Jal Jeevan Mission Functionality Assessment were presented by Union Minister of Jal Shakti Sh. Gajendra Singh Shekhawat along with Ministers of State for Jal Shakti – Sh. BishweswarTudu& Sh. Prahlad Singh Patel. The panel of Ministers also gave the awards to winners of other categories. The complete list of winners across all different categories is available here ( link for list of awardees.).
In his address, Union Minister Sh. Gajendra Singh Shekhawat said that Swachh Bharat Mission became more than just a government program and metamorphosed into a people's movement – a Jan Andolan, which has completely transformed the picture of rural India.  Sh. Shekhawat also thanked the people for their participation and 'shramdaan' in the Swachhta Hi Sewa (SHS) 2022 fortnight campaign; and congratulated the best performing states in SHS 2022. Moving onto Jal Jeevan Mission (JJM), he said that our aim is not only to provide tap water, but also to ensure appropriate quality and quantity. Commending the efforts of the States/UTs, he congratulated Andaman & Nicobar Islands for beoming the 1stSwajal and Swacch Pradesh i.e all the villages of the UT are now 'Har Ghar Jal' certified and ODF plus verified. He reiterated the Prime Minister's "4 Ps mantra" of making any program successful i.e Political Will, Public Funding, People's Participation and Partnership.
Also present at the occasion, Union Minister for Rural Development & Panchayati Raj, Sh. Giriraj Singh, said, to realize the Mahatma Gandhi's dream, our visionary Prime Minister Sh. Narendra Modi has launched various schemes like Swachh Bharat Mission, Ujjwala yojana and Jal Jeevan Mission which has  benefitted the people of rural India and has also become janandolan.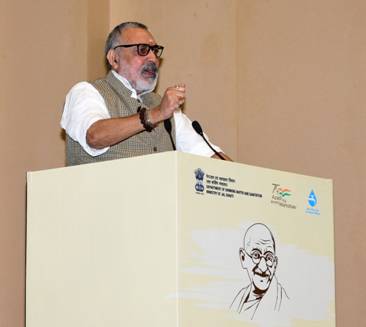 Shri Prahlad Singh Patel, MoS for Jal Shakti and Food Processing Industries in his speech  exhorted the people to the make Swachhta as resolution and the goal of their lives. He further stressed the importance of grey water management in rural areas.
Shri BishweswarTudu, MoS for Jal Shakti and Tribal Affairs in his speech has appreciated the good works being done under various Government programmes. He stressed upon community participation and better coordination among the various stakeholders for making the schemes successful.
The following categories of awards were presented at the event. 
Swachh Survekshan Gramin 2022

: It aims to undertake ranking of States and Districts on the basis of their performance attained on key quantitative and qualitative parameters of SBM-G phase II. The survey covered 17,559 villages in 709 Districts in 33 States/UTs (excluding the 3 UTs of Chandigarh, Delhi and Lakshadweep) across India. More than 1.75 lakh households were interviewed for their feedback on SBM(G) related issues.
Swachhta Hi Sewa (SHS) 2022

: States/UTs which conducted and reported the maximum number of activities i.e. people participated in shramdaan and cleaning activities, public places and institutional buildings cleaned, legacy waste sites cleaned, trees planted around water bodies, GPs passed resolution for 'single used plastic' ban, Sarpanches participated in Sarpanch Samvaad on ODF Plus elements, people participated in awareness activities, waste collection and segregation sheds constructed and people participation in other SHS activities; were selected as winners.

Jal Jeevan Mission – Functionality assessment

: Under JJM, to assess the performance of various local water utilities in States/ UTs, a functionality assessment exercise is undertaken every year to understand the status of water service delivery to households. Tap water connection is referred to as functional if it meets following parameters: (i) Supply of adequate water @55 lpcd or more; (ii) Supply of water potable water/ prescribed quality (BIS:10500); (iii) Supply of water on regular basis, i.e. daily basis or as per schedule. The functionality assessment exercise was carried out for all 33 States/ UTs in 712 districts with 3.01 lakh households and 22,596 village level institutions in 13,299 sample villages.
Start-up Grand Challenge

was carried out to scout technologies that could support sustainable, affordable, scalable, and responsive solutions to the solid and liquid waste management challenges in rural areas.  The crowd sourcing challenge was launched on 10th September 2021 and hosted live on the DDWS Website upto 1 month after the launch. Total 372 applicants had registered of which 62 applications were selected based. Cash prizes of INR 2 lakhs and INR 1 lakh were awarded to the winners.

Har Ghar Jal States/UTs & Districts:

Special award given to Burhanpur, Madhya Pradesh for being the first 'Har Ghar Jal' certified district in the country. Awards were also given to 31 districts who had its 100% villages certified, i.e, people from all the villages have declared their village as 'Har Ghar Jal' through a resolution passed by Gram Sabha, certifying that all households in the villages have access to safe drinking water through taps, ensuring that 'No One is Left Out'.

Sujlam 1.0 & 2.0:

Sujlam was a 100 day campaign launched to manage grey-water through soak pits, leach pit, magic pit to ensure minimal stagnation of waste water and check its discharge in the village pond. States/ UTs had to report the number of household and community soak pits constructed during the campaigns, on the national portal. A total of 23,04,029 pits were constructed and the top performing states were given the awards.
National film competition:

National Level Competition for making films at Gram Panchayat-level, was held from 15th December 2021 to 15th May, 2022 on various components of ODF plus. 33 films were recommended by States. Awards were given in 3 different categories i.e. hilly terrains, Islands and Union Territories and States.

National Wall painting competition

: Competition on wall painting was held on ODF Plus themes in rural areas,           from 15th August 2021 to 15th October 2021. 3 best performing States were awarded for each the 5 themes (Bio-degradable Waste Management (BWM), GOBARdhan, Plastic Waste Management (PWM), Grey Water Management (GWM) & Faecal Sludge Management (FSM) from each of the 6 zones (North Zone, North East Zone, Central Zone, East Zone, West Zone and South Zone). 
On this occasion, Union Jal Shakti Minister released Swachh Survekshan Grameen (SSG) 2022 report and JJM Functionality Assessment 2022 report and handed over the first copies of these reports to the President of India.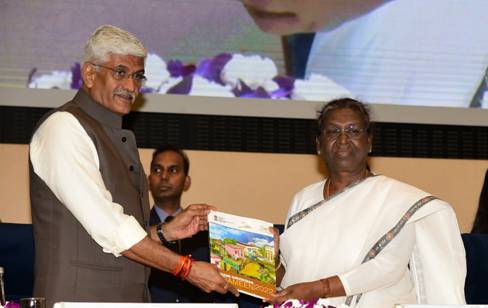 During this event the Union Minister of Jal Shakti also announced Swachh Survekshan Grameen (SSG) 2023 and Jal Jeevan Survekshan (JJS) 2023.  Further, the Department also launched the following campaigns on this occasion:
"Retrofit to Twin Pit Abhiyan" for promoting twin pit toilets in households towards improved faecal sludge management.

'Swachh Jal Se Suraksha': The campaign on water quality will help create awareness on the importance of clean and safe drinking water and also help to monitor the quality of water supplied in rural households
The event was attended by dignitaries across the States/UTs i.e. Ministers, State/UT Government Officials and officials from Central Government, Development Partners, etc.
***
AS