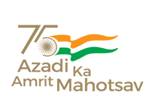 To mark India's 75th Year of Independence, Government is celebrating the 'Azadi ka Amrit Mahotsav'. Several citizen centric interactions were organized by the Ministry of New and Renewable Energy (MNRE) during the week 23rd to 27th August 2021. Beneficiaries under MNRE Schemes and public in general participated in these programmes and shared their experiences and feedbacks. Sessions were organized in cooperation with State Nodal Agencies (SNA) and bilateral cooperation agencies like Deutsche Gesellschaft für Internationale Zusammenarbeit (GIZ).
On 25th August 2021, sessions on Off-grid & Decentralized Solar PV Applications Programme were organized. In the morning session, as part of the event, Shri J.K. Jethani, Director MNRE interacted with students of the Rajkeeya Balika Inter College in the Sonbhadra district, where solar study lamps were distributed under Off-grid and Decentralised Solar PV applications Programme Phase III. Sonbhadra district is one of the LWE affected district of Uttar Pradesh. Students informed that they are happy with the solar study lamps and it has helped them significantly in their studies during late evening hours, in the events when grid supply is not available. It has also helped them in getting to know about solar energy and its benefits.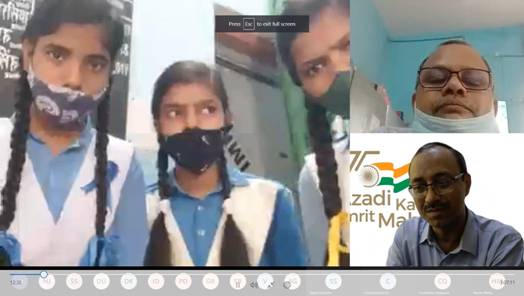 Subsequently, Ministry officials interacted with the local beneficiaries/ beneficiary agencies and invited their feedback on solar street lights (SSLs) installed under MNRE Programme. Beneficiaries, particularly from the States of Assam and Jammu & Kashmir shared their views. Beneficiaries from Kanihama village famous for handicrafts in Badgam District of J&K stated that installation of SSLs has changed their life. It has really given freedom to their women and children now they can safely walk in the streets during late evening hours. In addition, locals and Sarpanches from the villages of Miran Sahib and Saloni participated and shared their experiences regarding the community benefits of the installed SSLs, the future necessities of their villages.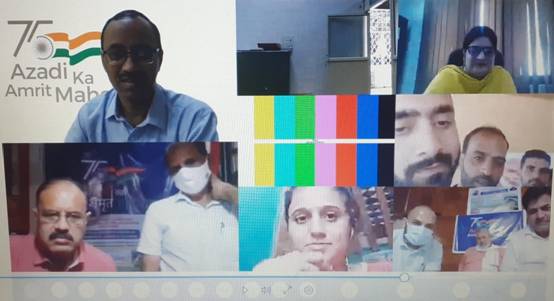 Beneficiaries from Bongaigaon Municipality in Assam also shared their experiences regarding benefits of these solar street lights to the local communities, particularly highlighting that solar street lights has improved women and child safety. 
Subsequently, a session was organized in collaboration with GIZ on Akshay Urja Trainings showcasing digital trainings provided under Access to Energy Project of GIZ to the women entrepreneurs for dissemination of information and market development for decentralized renewable energy products for livelihood generation. The session showcased the contribution towards 'Atma Nirbhar Bharat' where rural women capacity building promoting DRE products using a digital platform and invited many women beneficiaries to share their experiences.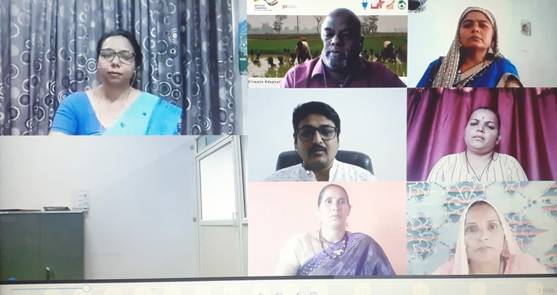 Another session was organized on 'DRE Powered Productive Application in Livelihood Promotion and Value Enhancement' in association with GIZ and CLEAN Network. Four field partner organizations under the GIZ supported project shared their experiences of working with farm and non-farm products for livelihood promotion and value enhancement. The session highlighted the opportunity and demand for deployment of DRE-powered livelihood applications across a farm and non-farm livelihoods.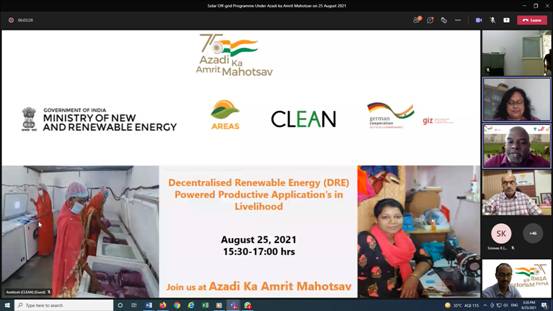 On 26th & 27th August 2021, sessions on Pradhan Mantri Kisan Urja Suraksha evam Utthaan Mahabhiyaan (PM-KUSUM) were organized. First session on 26th August 2021 was organized on Communication and Public Awareness aspects of PM-KUSUM Scheme. Shri Amitesh Sinha, Joint Secretary, MNRE underlined the need to have an effective communication strategy and to increase public awareness on the Scheme. GIZ shared hoarding designs and audio-visuals developed by them for publicity and increasing awareness on PM-KUSUM Scheme. State Implementation Agencies shared the communication strategies being implemented by them.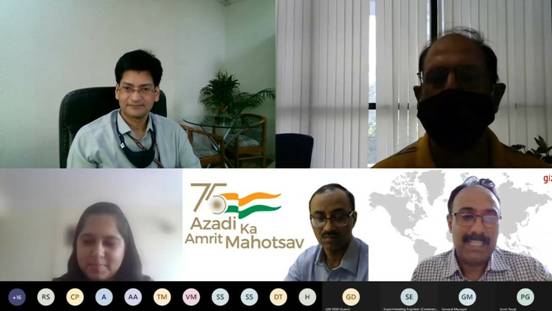 Second session on 26th August 2021 was organized on 'PM-KUSUM: Maximising Productive Outcomes, wherein participants from International Water Management Institute (IWMI), Indian Council of Agriculture Research (ICAR), NGOs & Citizen Organizations and solar pumps manufacturers participated. Farmers from the States of Bihar and Gujarat also participated in the meeting. During the session, solar pump sizing tool developed by IWMI, CCAFS (CGIAR Research Program on Climate Change, Agriculture and Food Security) and ICAR with support from GIZ, was showed and explained to the participants. Strategies for wider adoption of Universal Solar Pump Controller (USPC), to enable use of solar power for running other agriculture appliances when irrigation is not required, was also discussed during the session.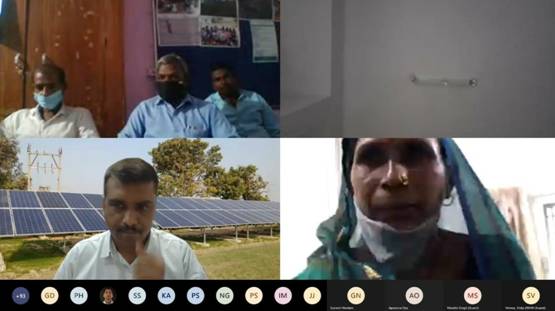 Subsequently, a webinar on "Unleashing the potential of PM-KUSUM Scheme" wherein key stakeholders from different states, Discoms, and civil society participated. Session focussed identifying solutions to the state-level challenges in grid-based solarisation approaches and finding innovative models and implementation strategies for off-grid solar pumps. Session was attended by Principal Secretary (Energy), Government of Rajasthan, CEO, HIMURJA, Executive Engineer, JVVNL, Project Director, JOHAR, Department of Rural Development, Government of Jharkhand, Director, Shakti Sustainable Energy Foundation (SSEF) and members from Council on Energy, Environment and Water (CEEW). Interactions with beneficiaries were also held during the session.
Sessions on 27th August 2021 started with interaction with beneficiary farmers from the States of Rajasthan, Haryana, Punjab, Madhya Pradesh, Uttar Pradesh and Jharkhand participated in the session. Farmers shared their experiences and feedbacks related to PM-KUSUM Scheme. Innovative approaches adopted by farmers were also shared during the session. A large number of women farmers attended from Khunti, Jharkhand and shared their experiences.  Farmers were very happy with performance of the standalone pumps and requested for more allocations in their States/ districts. Farmers under Component-A and Component-C also attended the meeting and shared their feedback. Under Component-A, farmers requested for easier availability of financing and reduced rate of interests.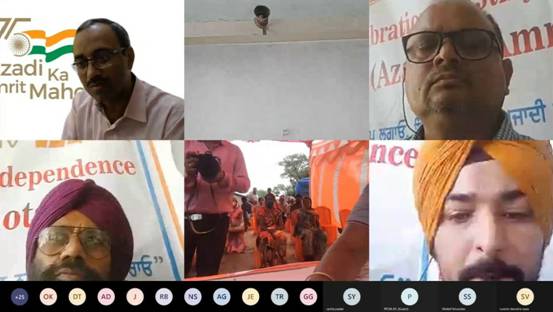 Subsequently, a session on financing under PM-KUSUM Scheme was organized in cooperation with GIZ which was attended by representatives from banks, SECI, kfW, IREDA, Deloitte and beneficiary farmers. Participating organizations and beneficiaries shared their feedback and inputs for devising financial products and strategies for larger adoption of PM-KUSUM Scheme. Farmers provided their feedbacks on their expectations regarding financial products under PM-KUSUM Scheme.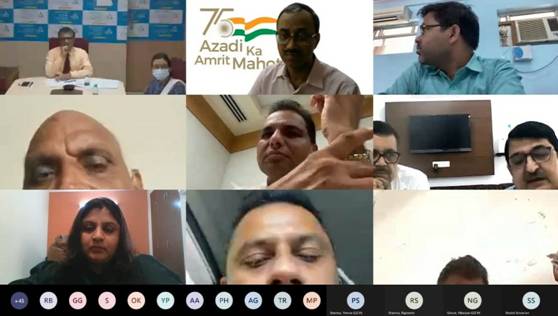 A feedback session with beneficiaries on impact of community level clean energy interventions was also organized in collaboration with GIZ. Session was attended by mini/microgrid operators, NGOs working in the field and beneficiaries of such systems. Beneficiaries shared their experiences on how installation of community level renewable energy projects such as micro/minigrids affected their lives.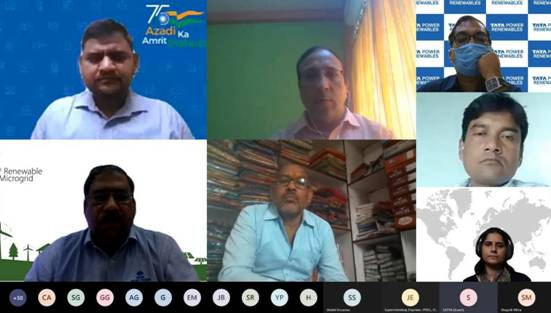 MNRE also organized a quiz on PM-KUSUM Scheme wherein a number of State Implementation Agencies participated. Separate quizzes were organized for each component of the Scheme.
Concluding session on PM-KUSUM Scheme was held at 5:00 pm wherein State Implementation Agencies and Installers that have shown exemplary efforts in implementation of PM-KUSUM Scheme were felicitated.
***
MV/IG