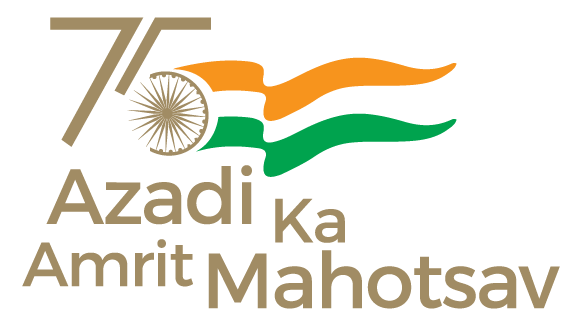 Indian Oil Corporation Limited today hosted a Seminar and Exhibition on a Biofuels Perspective for North East India at Guwahati. The seminar was held in connection with the GoI's Azadi Ka Amrit Mahotsav by Ministry of Petroleum and Natural Gas, an initiative to celebrate and commemorate 75 years of our independence and progress and achievements made in this period. This is one of AKAM's iconic events and held with a focus on Biofuels, a sector with immense potential in North East India. The event was chaired by Sh. K V Ramanamurthy, CGM (IOAODSO) and graced by speakers from Government (Secretary, Industry & Commerce, Govt. of Assam) Industry (Assam Biorefinery Pvt. Ltd. (NRL), Indian Oil), government bodies like Assam Energy Development Agency, NECTAR (North East Centre for Technology Application & Reach) and senior faculty from Tezpur Central University.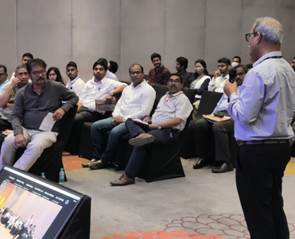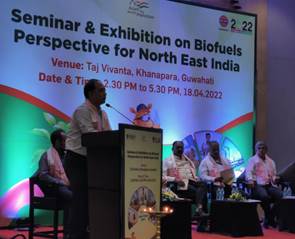 The seminar explored potential, current status and way forward for biofuels such as Ethanol & Compressed Biogas from different biomass sources, Biodiesel from Used Cooking Oil (UCO) and Bio-hydrogen. The event also saw active participation from senior officials from OMCs like HPCL, BPCL; government bodies like FSSAI, industry bodies like CII, LOI holders of SATAT program, potential entrepreneurs and research scholars from IIT Guwahati's Green Cell, Tezpur University and Cotton University.
During the seminar speakers explored the immense untapped potential of NER to contribute to the nation, including in the field of biofuels. With the current estimated biomass availability of 20,000 TMT in the region, there is a scope to produce ~ 1000 TPD of Compressed Biogas (CBG). There is also a need to explore localized solutions and utilize untapped resources like bamboo, unutilized paddy straw, waste from animal husbandry and plantations. ABRPL detailed their preparations for setting up the bamboo based ethanol biorefinery and their experience thus far in the process.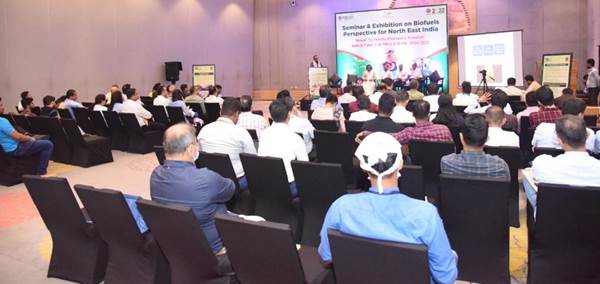 Indian Oil also presented efforts made by OMCs in the field of biofuels. Indian Oil is following a policy of 10% ethanol blending in petrol from Sep'21 in the NER and is fully geared up to meet the central government's target of 20% by 2025. In addition, Indian Oil is also making concerted efforts to give a boost to Compressed Biogas (CBG) here under the SATAT scheme (Sustainable Alternatives for Affordable Transportation) which targets production of 15 MMTPA of CBG and 50 MMTPA nationally. Indian Oil is collaborating with industry, entrepreneurs, academia and state government to achieve these targets.
**********
RKM