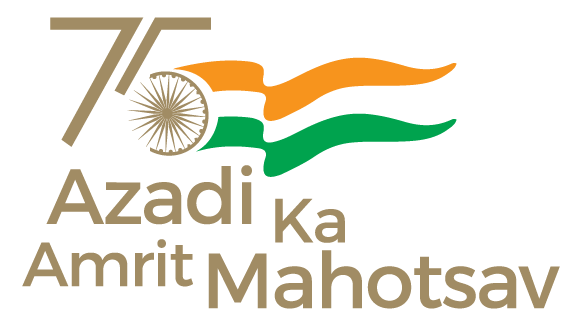 The Minister of State for Electronics & Information Technology and Skill Development & Entrepreneurship, Shri Rajeev Chandrasekhar presided over an inter school art and painting competition organized at Karnataka Public School, Uttarahalli, in Bengaluru today. The competition was organized on the theme of 'exam warriors' to motivate students for the end of session examinations. The Minister also interacted with students and teachers as a part of this competition organized under the 'Pariksha Pe Charcha' programme. The Minister mentioned that the youth of today are our growth engines and will play an important role in the shaping of New India.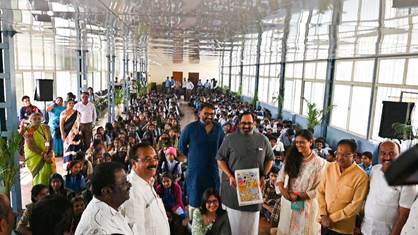 Shri Rajeev Chandrasekhar at Karnataka Public School, Uttarahalli, Bengaluru
"The aim of the 'Pariksha Pe Charcha' initiated by the Prime Minister is to reach out to students, teachers and parents and discuss ways to make exams stress-free and about the opportunities for their future growth," said Shri Rajeev Chandrasekhar, while addressing a gathering of students from Karnataka Public School, Uttarahalli and other students from nearby schools.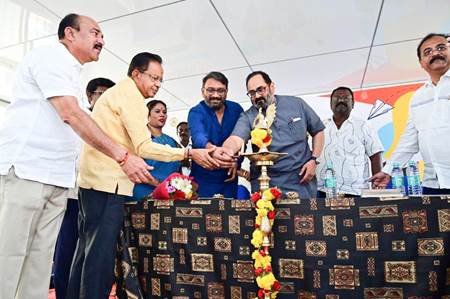 Women Tech leaders Ms. Jaya Jagdish, AMD India Country Head and Ms. Nivruti Rai, Country Head, Intel India and Koo India's CEO & Co-Founder Mr.Aprameya and Member of legislative Assembly Shri M Krishnappa joined the Minister at the school. They shared their life lessons with students & motivated them to follow their dreams. The interaction provided a great boost to morale of the students. On being asked who all were looking forward to exams, all students put up their hands.
The students participated in the competition with great enthusiasm and the winners were adjudged by experts from Chitra Kala Parishath. Ms. Nivruti Rai, Ms. Jaya Jagadish and Mr. Aprameya gave away the prizes and certificates to the winners and all participants. The winners also received Hearables and wearables electronics item as winning prize.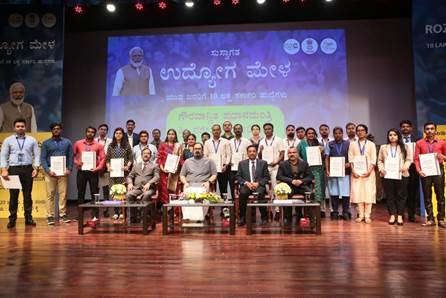 Earlier in the day, the Minister had visited the NACIN complex here and took part in the Rozgar Mela which Prime Minister had joined through video conferencing. A total of 71,000 new recruits were given away appointment letters for various government jobs on the occasion.
In his address, Shri Rajeev Chandrasekhar said that Government jobs are not just jobs, but are an opportunity for Jan Seva and Desh Seva.
Praising the PM for his commitment to generating 10 lakh jobs across various sectors in the government, Shri Rajeev Chandrasekhar said that the Rozgar Melas were a step towards the fulfilment of that commitment.
Member of Parliament and former Karnataka Chief Minister, Shri Sadananda Gowda was also present at the event. 
***
RKJ/BK