The National Investigation Agency (NIA) has took over the probe into the terror attack on the Uri army camp in Jammu and Kashmir that left 18 soldiers dead.
Six-member NIA team, led by a Deputy Inspector General (DIG) rank officer, has started its probe after filing a First Information Report (FIR) in the terror attack case.
National Investigation Agency:
Over the past several years, India has been the victim of large scale terrorism sponsored from across the borders. There have been innumerable incidents of terrorist attacks, not only in the militancy and insurgency affected areas and areas affected by Left Wing Extremism, but also in the form of terrorist attacks and bomb blasts, etc., in various parts of the hinterland and major cities, etc.
A large number of such incidents are found to have complex inter-State and international linkages, and possible connection with other activities like the smuggling of arms and drugs, pushing in and circulation of fake Indian currency, infiltration from across the borders, etc. keeping all these in view, it was felt that there was a need for setting up of an Agency at the Central level for investigation of offences related to terrorism and certain other Acts, which have national ramifications.
Several experts and Committees, including the Administrative Reforms commission in its Report, had made recommendations for establishing such an Agency.
The Government after due consideration and examination of the issues involved, proposed to enact a legislation to make provisions for establishment of a National Investigation Agency in a concurrent jurisdiction framework, with provisions for taking up specific cases under specific Acts for investigation.
Accordingly the NIA Act was enacted on 31-12-08 and the National Investigation Agency (NIA) was born. At present NIA is functioning as the Central Counter Terrorism Law Enforcement Agency in India.
NIA has registered and investigated 93 cases till date. After submission of chargesheets, 13 cases have been finally or partially decided in trial. Of these, 11 cases have ended in conviction giving NIA an enviable conviction percentage of 85%.
NIA ORGANISATION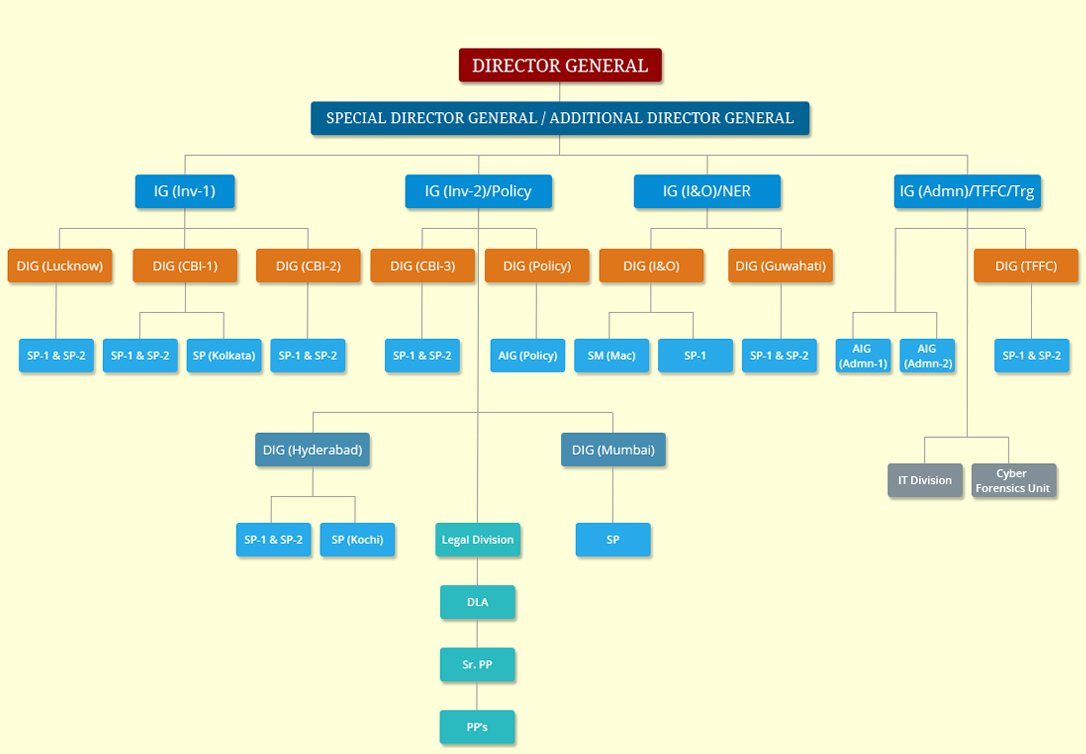 Jurisdiction:
The Agency has been empowered to conduct investigation and prosecution of offences under the Acts specified in the Schedule of the NIA Act.
A State Government may request the Central Government to hand over the investigation of a case to the NIA, provided the case has been registered for the offenses as contained in the schedule to the NIA Act.
Central Government can also order NIA to take over investigation of any scheduled offense anywhere in the India.
Officers of the NIA who are drawn from the Indian Revenue Service, Indian Police Service, state police, Income Tax as well as officers from the Central Armed Police Forces, have all powers, privileges and liabilities which the police officers have in connection with investigation of any offense.