[Curtain Raiser]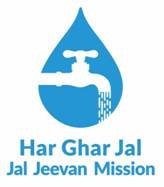 National Jal Jeevan Mission, Department of Drinking Water & Sanitation, Ministry of Jal Shakti is organizing a virtual conference with ministers in-charge of rural water supply of all States/UTs on Tuesday i.e. 3rd November, 2020 through video conference to be chaired by Union Minister of Jal Shakti, Shri Gajendra Singh Shekhawat. Ministers in charge of rural water supply have been requested to participate in the interactive meeting along with the senior officials of the States/ UTs. The planning and implementation of Jal Jeevan Mission in States/ UTs will be discussed with special emphasis on 100-day campaign launched to provide piped water supply in anganwadi centres, ashramshalas and schools in rural areas.
The National Mission is regularly reviewing the progress of implementation of Jal Jeevan Mission in States/ UTs to realize the goals of the mission in a time-bound manner. In this endeavor, the virtual conference has been organized to discuss various issues with ministers in charge of rural water supply of States/UTs to implement Jal Jeevan Mission with speed, scale and skill. The goal of Jal Jeevan Mission is to ensure that every household have assured drinking water supply in adequate quantity of prescribed quality on long-term basis at affordable service delivery charges leading to improvement in living standard of rural community, particularly women & children. The prime objective of the mission is to ensure water supply to every home, functionality of taps on long-term basis, decentralized operation & management & water testing facilities for general public.
The mission gives highest priority to water quality. For this, the States/ UTs are urged to speed up the accreditation of the water testing laboratories. Currently, there are 2,233 government-owned water quality testing labs in States/ UTs. In most States/ UTs, these labs only test water samples are not open to general public. In some States/ UTs, these labs are open to public but charges for testing are so high that it is not possible for any common family to take water sample and get it tested. The mission encourages these labs are opened to public for testing of their water samples on nominal charge as well as GP/ VWSC/ Paani Samiti are trained to test water using kits, and data is uploaded concurrently, it will help in ensuring potability of water. Thus, by integrating these laboratories and making them open to general public will help in ascertaining potability of water supplied through taps. It will help in improving the public health in general and women and children in particular.
Further, a '100-day' campaign has been launched on 2nd October, 2020 to make provision for assured piped water supply in schools, anganwadi centres and ashramshalas (residential schools in tribal areas), which will help in ensuring clean water to our children for their better health and holistic development. In this connection, Union Minister Shri Shekhawat had appealed to all the Chief Ministers of States in-charge of rural water supply, urging them for their active involvement and support to make the best use of the campaign to ensure safe water in these public institutions.
The objective of the VC is to discuss all these issues at length to give the desired pace and sustain the momentum for implementation of the life changing mission to ensure every rural home gets safe water in their homes regularly and on long-term basis.
Announced by Prime Minister on 73rd Independence Day i.e. 15 August, 2019, Jal Jeevan Mission aims to bring reforms in drinking water sector. The flagship programme of the Union Government being implemented in partnership with States, which not only aims to provide functional household tap connection (FHTC) to all rural homes of the country by 2024 but at the same time focuses on service delivery, so that rural households get uninterrupted water supply in their homes. The programme also focuses on sustainability of drinking water sources through water conservation measures, grey water treatment and reuse as well as operation & maintenance.
During the launch of this mission in August 2019, 3.23 Crore (17%) households out of 18.93 Crore rural households had tap water connections. Remaining 15.70 Crore i.e. 83% rural households are to be provided with tap water connections by 2024. To achieve the goal of the mission, about 85,000 tap connections need to be provided daily. During these difficult times, about 1 lakh connections provided per day. In spite of Covid-19 being a setback in implementation, the States/ UTs are making all out efforts to achieve this huge target. The implementation of Jal Jeevan Mission (JJM) – 'Har Ghar Jal' to provide assured potable piped water supply to every rural home is in full swing.
The objective of the ambitious mission is universal coverage i.e. every family in every habitation/ village is to get tap water connection and 'no one is left behind'. The provision of household tap connection in rural areas will help in removing 'drudgery' of women, especially women and girls as fetching water is their responsibility. It will also improve the 'ease of living' for people living in rural areas.
While firming up action plan to accomplish the goal of the mission, States/ UTs have finalized the saturation plan as below: (FHTC: Functional Household Tap Connection)
100% FHTCs in 2020: Goa (Target achieved)
100% FHTCs in 2021: A&N Islands, Bihar, Puducherry, Telangana
100% FHTCs in 2022:  Haryana, Jammu & Kashmir, Ladakh, Gujarat, Himachal Pradesh, Meghalaya, Punjab, Sikkim, Uttarakhand, Uttar Pradesh
100% FHTCs in 2023:  Arunachal Pradesh, Chhattisgarh, Karnataka, Kerala, Madhya Pradesh, Manipur, Mizoram, Nagaland, Tamil Nadu, Tripura
100% FHTCs in 2024:  Assam, Andhra Pradesh, Jharkhand, Maharashtra, Odisha, Rajasthan, West Bengal.
The soul of the programme is community participation starting from the planning of the water supply scheme in the village to its operation and maintenance. Every village is taken up as a unit and Village Action Plan (VAP) for five years is being prepared for each village by mobilization and participation of local community with mandatory components viz. strengthening of local drinking water sources; in-village water supply infrastructure to provide tap water connections; grey water treatment and reuse; and operation & maintenance of water supply systems so as every family gets assured supply of potable water.
Emphasis is given on convergence planning at the lowest level i.e. village/ Gram Panchayat, for source strengthening, water harvesting, aquifer recharge, water treatment and grey-water management, etc., for which dovetailing of resources from MGNREGS, 15thFinance Commission Grants for PRIs, SBM (G), District Mineral Development Fund, CSR funds, Local Area Development funds, etc. to be done for judicious use of funds.
Further, 15th Finance Commission has identified water supply and sanitation as priority areas for rural local bodies, and accordingly Rs. 30,375 Crore 'tied-grant' has been allocated for the critical sectors of sanitation and maintenance of open-defecation free (ODF) status and supply of drinking water, rainwater harvesting and water recycling. Thus PRIs, as far as possible, are to earmark one half of these tied grants each to the afore-mentioned two critical services. First installment of this amount i.e. Rs. 15,187.50 Crore as recommended by the 15th FC has already been released to the States. This grant offers a great opportunity at local level to create water supply infrastructure in villages following participatory approach and operate & maintain the water supply scheme on long-term.
 'Building Partnerships, Changing Lives' is the motto of Jal Jeevan Mission. Following the clarion call of Prime Minister 'to make water everyone's business', the mission strives to build partnerships and work together with such institutions/ individuals to achieve drinking water security for all. Voluntary Organizations (VOs), Non-Governmental Organizations (NGOs), social service & charity organizations, and professionals working in drinking water sector, who are willing to work towards mobilizing and enhancing the capacities of the communities.
******
APS/MG/AS