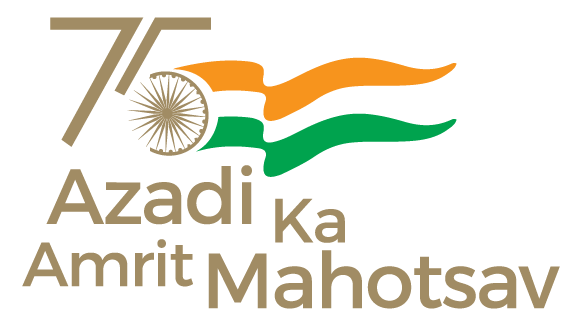 Shri G. Asok Kumar, Director General, National Mission for Clean Ganga (NMCG) on 2nd May 2023 presided over workshops on 'Online Continuous Effluent Monitoring Systems (OCEMS): Issues, Challenges and Way Forward' and 'Sludge Management: Issues, Challenges and Way Forward' held at India International Centre, New Delhi. Central Pollution Control Board (CPCB), Ministry of Environment, Forests and Climate Change (MoEF&CC), Ministry of Housing and Urban Affairs (MoHUA), National River Conservation Directorate (NRCD), state governments, academic institutions, researchers, international organisations etc. took part in the workshops. Issues related to 'Parameters and Feasible Technologies required to be installed for Online Continuous Effluent Monitoring System in different categories of STPs/ETPs across the Ganga Basin' and 'Characterization and Policy Framework Guidelines on Safe and Efficient Sludge management' were discussed.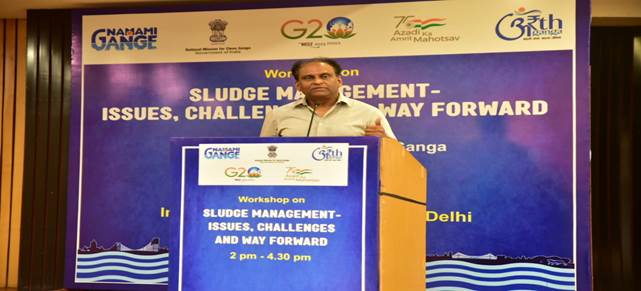 Delivering the opening remarks for the OCEMS workshop, Shri G. Asok Kumar emphasized the importance of the workshops in terms of getting reliable and replicable data. "There are projects worth more than Rs. 35000 crore that are going on under Namami Gange, out of which projects worth more than Rs. 29,000 crore are for sewerage management. These are big investments and if we don't know the outcomes then it is not right," Shri Asok Kumar said, adding, "The world is looking at us as exemplified with the recognition of Namami Gange as one of the top 10 world's restoration flagships to revive the natural world. A lot of interest was also shown in Namami Gange Programme during the UN World Water Conference 2023 held in New York in March 2023."
Shri G. Asok Kumar said that there is a persistent need to outline fair and consistent data to gauge the outcome of the program. He remarked that the human element amplifies noise and distorts data, and we are looking to have accurate numbers. He stressed upon the necessity to have pre-defined parameters that can transmit accurate data from the source to the servers. "Human intervention can create havoc and noise when used erroneously", he said. There are various schools of thoughts with respect to what needs to be measured and creating nation-wide parameters will lead to stable and fair information from the source. He said: "Unless something is monitored, nothing can be done to improve it. If we wish to improve the water quality, then it has to be monitored. For monitoring, the correct data has to be measured."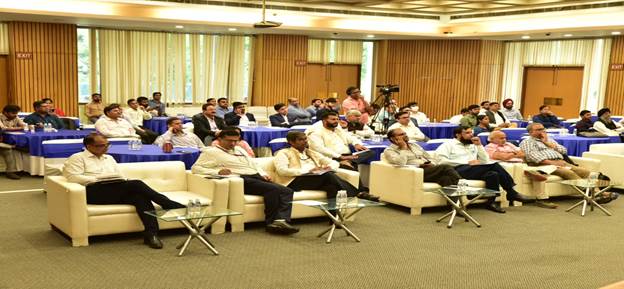 DG, NMCG called upon academicians and technical experts to finalize the parameters required to measure source data and said that these parameters could be revolutionary and need not to be confined to the Indian standards as long as they are reliable and repeatable. "There must be some technology available somewhere ensuring that parameters are measured and transmitted in a reliable way. The bottom line is that you get any technology from anywhere in the world, measure whatever parameters you want to but a solution needs to come out that can bring stable, reliable and replicable data to the computer screen without any bias, variation or fear and give the real picture on the ground," he added.
Recently, NMCG inaugurated PRAYAG – which stands for Platform for Real-time Analysis of Yamuna, Ganga and their Tributaries at NMCG.
On sludge management, Shri G. Asok Kumar exhorted a narrative change to view sludge as a gold mine for the country. "The treating capacity of NMCG has increased in the last 7-8 years and it is being ensured that polluted stretches of the river are being properly addressed," he said, adding, "This comes with a new problem of large volumes of sludge and in the last one-and-a half year or so, Namami Gange Mission has been focusing on various ways to monetize the reuse of waste water and sludge under the Arth Ganga campaign including use of sludge as soil conditioner in Natural Farming in the Ganga Basin."
NMCG looks to change how people view sludge. STPs have been renamed as 'Nirmal Jal Kendras' to connect the process of sewage treatment and Ganga Rejuvenation with the local people and farmers. He said that sludge should be used to generate additional revenue for the STPs and Local Urban Bodies. He also mentioned the National Framework for Safe Usage of Treated Water that has been launched by NMCG recently. "We need to look into using sludge as a soil conditioner without causing any health effects, how to compress the volume of sludge and de-water it, pursue farmers to take sludge from us, fortify sludge with additional minerals and market it as fertilizers or manure", he added.
Shri D.P. Mathuria, Executive Director (Technical), NMCG gave the welcome address and made a presentation reflecting on the question of reliability of data that comes through various sources. During the OCEMS workshop, the discussions were held on techniques/ instrumentation for Online Influent and Effluent Quality Measurement using real time sensors/analysers, available technologies and suitability of technologies for different matrices of water quality, site selection/conditions, comparison of online/in-line sensors/analysers v/s Lab Analysis – sensor and analyser accuracy and allowed variability, validation, calibration frequency, comparison of BOD, COD, TSS, TOC sensors/analysers, reporting methods and data transmission and commercial viability analysis for various available technologies.
****
AS