New and upcoming trends in major areas of astronomy research like galactic astronomy, solar system, instrumentation and techniques, general relativity and cosmology, as well as astronomy and data science, were discussed at the 40th annual meeting of the Astronomical Society of India (ASI).
In his inaugural speech, Professor K VijayRaghavan, Principal Scientific Advisor of Government of India, stressed on the importance of astronomy in a data-driven age. 
Prof Vijay Raghavan highlighted the need for development of major centres for undergraduate education focusing on observation and analysis of data with planetariums connected to them. "India is a leading astronomy research centre with several facilities and upcoming talents interested in harnessing these favorites," he added.
Prof Vijay Raghavan emphasised on the importance of domain knowledge to convert data to knowledge, to understanding, and then to wisdom in order to upgrade the science at the 40th annual meeting of the Astronomical Society of India (ASI) being jointly hosted by the Indian Institute of Technology (IIT) Roorkee and Aryabhatta Research Institute of Observational Sciences (ARIES), DST during 25-29 March at IIT Roorkee.
The ASI also announced several awards on the occasion organised commemorating 75 years of India's independence 'Azadi Ka Amrit Mahotsav'. Team AstroSat was felicitated during the event include with the ASI Zubin Kembhavi Award for contributions to the field of observational and instrumentation work in astronomy and allied fields. AstroSat is the first dedicated Indian astronomy mission aimed at studying celestial sources in X-ray, optical, and UV spectral bands simultaneously and was launched by ISRO in 2015.
Dr. Swagat Saurav Mishra was presented with the Justice V. G. Oak award for outstanding thesis in Astronomy and Astrophysics. Dr. Mishra carried out his thesis work at the Inter-University Centre for Astronomy and Astrophysics under the supervision of Prof. Varun Sahni. He is being recognised for his outstanding and varied contributions to cosmology ranging from the early history of the Universe to dark energy.
Dr. Ajit Kumar Chaturvedi, Director IIT Roorkee, spoke about the centrality of astronomy in human existence, while Prof. Dipankar Banerjee, Director, ARIES encouraged youngsters and called on the experienced ones to take part in the ASI activities.
The outgoing president of ASI, Prof. G. C. Anupama from the Indian Institute of Astrophysics, discussed the way forward for astronomy and the participation of astronomy in Mega Science Vision 2035.
The ASI meeting is being held in hybrid mode at IIT Roorkee with in-person gathering of about 300 astronomers from all across India, and more than 400 astronomers joining virtually. There are over 140 scientific talks and 360 posters being presented at this meeting, from scientists based in universities as well as research institutes. The participants are discussing their latest scientific results and plans for the future.
There are special sessions organised by the ASI's Public Outreach and Education Committee and the Working Group on Gender Equity. This being the 50th year, there are also special sessions looking back on the development of astronomy in India in the past five decades and making plans for the future.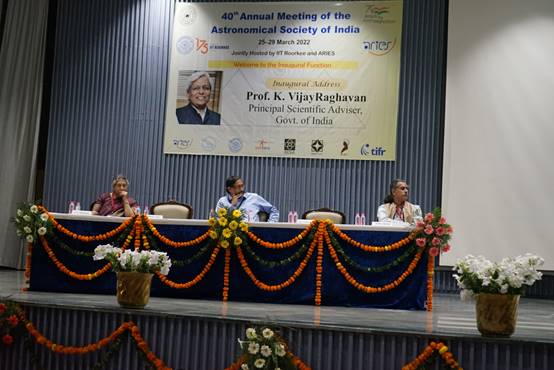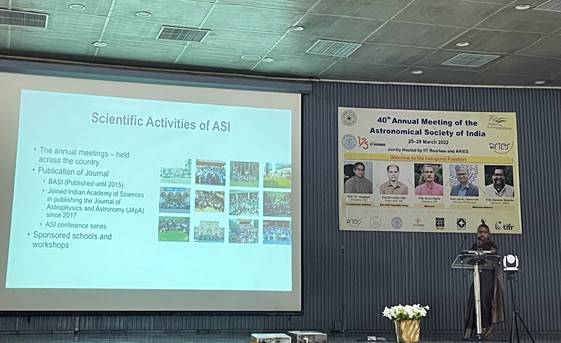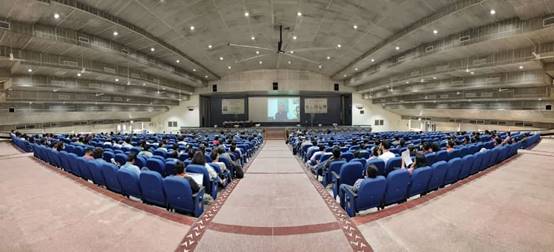 *****
SNC / RR