Nilgiri Mountain Railway (NMR) completed 106 years on October 15. The Nilgiri Mountain Railway is a railway in Tamil Nadu, India, built by the British in 1908, and was initially operated by the Madras Railway.
The railway still relies on its fleet of steam locomotives. NMR comes under the jurisdiction of the newly formed Salem Division.
In July 2005, UNESCO added the Nilgiri Mountain Railway as an extension to the World Heritage Site of Darjeeling Himalayan Railway, the site then became known as "Mountain Railways of India."
After it satisfied the necessary criteria, thus forcing abandonment of the modernisation plans. For the past several years diesel locomotives have taken over from steam on the section between Coonoor and Udhagamandalam. Local people and tourists have led a demand for steam locos to once again haul this section.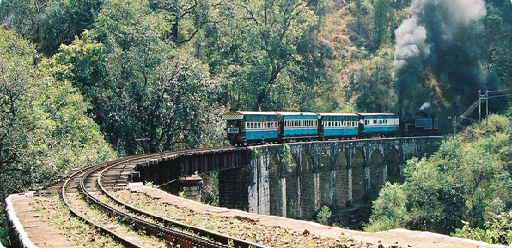 NMR is the first mountain railway in the country that came up with the rack and pinion system. The rack and pinion system is used to cover the steep gradient the train chugs through in its journey from Mettupalayam to Udhagamandalam.
The 'Nilagiri Passenger' train covers a distance of 26 km, travels through 208 curves, 16 tunnels, and across 250 bridges. The uphill journey takes around 290 minutes (4.8 hours), and the downhill journey takes 215 minutes (3.6 hours). It has the steepest track in Asia with a maximum gradient of 8.33%.
Read – Alternate Train Accommodation Scheme 'VIKALP' Launched
The journey starts at 1,069 ft above Mean Sea Level and travels up to a height of 7,228 ft. The rack and pinion system begins a little after Kallar station and goes up to Coonoor.
The line between Mettupalayam and Coonoor was first laid in 1898 and then it was extended up to Udhagamandalam in 1908. NMR has had Swiss x locomotives and then refurbished engines from the Golden Rock Workshop in Tiruchirapalli; it has travelled a long way from the steam fired engines using coal to the latest furnace oil fired locomotives that haul the mountain train.
In its 100 odd years of existence, the mountain railway has had its share of woes. Bridges and tracks have been washed away, landslides have disrupted its journeys and it has been considered economically unsound. But, the tracks were always restored as soon as possible after natural calamities and railway ministry or the board has always intervened to stem any talk of discontinuation of the NMR and ensure its continued services at any cost.