President Obama recently announced the "Computer Sciences for All" plan. According to this plan he seeks $4 billion from Congress to dramatically increase the number of children who have access to computer science classes in school, a move he said is necessary to ensure that students are competitive in a job market that rewards technological know-how.
"In the new economy, computer science isn't an optional skill — it's a basic skill, right along with the three 'R's,' " Obama said in his address.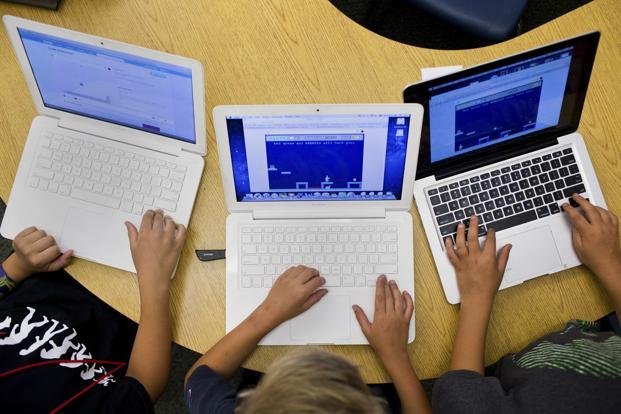 If Congress approves the president's budget request, the $4 billion would be doled out over a period of three years to any state that applies for the funds and has a well-designed plan to expand access to computer science courses, especially for girls and minorities.
The Obama administration also is seeking an additional $100 million to fund a competitive grant program for school districts with ambitious plans to reach more students, especially those who have been underrepresented in computer science classes.
Just about 25 percent of the nation's K-12 schools offer computer science courses, according to the White House, and 22 states do not allow computer science courses to count toward high school graduation requirements.
Fewer than 15 percent of high schools offered Advanced Placement Computer Science in 2015, and the demographics of those AP classes were not representative of the student population. Just 22 percent of students who took the AP exam in 2015 were girls, and 13 percent were black or Latino.
Administration officials said they will dedicate approximately $135 million in existing funds, mostly from the National Science Foundation, to help train thousands of teachers and design new instructional materials for computer science classes.
White House officials described it as the largest federal effort to date to expand computer science courses, and an attempt to accelerate efforts already underway in many cities and states. They called on tech companies and philanthropists to get behind the initiative.
ABOUT PLAN:
Computer Science for All is the US President's bold new initiative to empower all American students from kindergarten through high school to learn computer science and be equipped with the computational thinking skills they need to be creators in the digital economy, not just consumers, and to be active citizens in our technology-driven world.
Computer Science (CS) is a "new basic" skill necessary for economic opportunity and social mobility. CS for All builds on efforts already being led by parents, teachers, school districts, states, and private sector leaders from across the country.
The US President's initiative calls for:
1. $4 billion in funding for states and $100 million directly for school districts in his forthcoming Budget to expand K-12 CS by training teachers, expanding access to high-quality instructional materials, and building effective regional partnerships.
2. $135 million in Computer Science funding to become available starting this year from the National Science Foundation (NSF) and the Corporation for National And Community Service (CNCS)
3. Expanding access to prior NSF supported programs and professional learning communities through their CS10k Initiative that led to the creation of more inclusive and accessible CS curriculum including Exploring CS and Advanced Placement (AP) CS Principles among others.
4. Involving even more governors, mayors, and education leaders to help boost CS following the leadership of states like Delaware, Hawaii, Washington, Arkansas, and more than 30 school districts that have already begun to expand CS opportunities.
5. Engaging CEOs, philanthropists, creative media, technology, and education professionals to deepen their CS commitments. More than 50 organizations are making commitments.
LATEST ON THE ISSUE:
Three major Indian IT companies – Infosys, Tata Consultancy Services and Wipro – have joined US President Barack Obama's ambitious computer science for all initiative as part of a public-private collaboration, pledging thousands of dollars in grants.
While Infosys has pledged a $1 million (roughly Rs. 6.7 crores) in donation, Tata Consultancy Services is providing support in the form of grants to teachers in 27 US cities.
Wipro announced a $2.8 million (roughly Rs. 18.9 crores) grant for multi-year project in partnership with the Michigan University to involve over a hundred school teachers, with the aim of nurturing excellence in science and mathematics.
This would start with the public school systems of Chicago, Obama's hometown.
The TCS and Infosys pledge is part of the National Science Foundation's (NSF) effort to collaborate with the private sector to support high-school CS teachers.
Infosys Foundation USA will be a founding member of this public-private collaboration with a $1 million philanthropic donation, and, as an initial participant, Tata Consultancy Services is providing additional support in the form of grants to teachers in 27 US cities.