Over the past few years, the International Women's Day has been celebrated to commemorate the achievements of women in all spheres – be it cultural, economic, political or social. This year, keeping in line with the Azadi ka Amrit Mahotsav, TRIFED celebrated this momentous occasion, in the august presence of Minister of State for Tribal Affairs, Shri. Bishweswar Tudu; Secretary Tribal Affairs Shri Anil Kumar Jha; and Shri Ramsinh Rathwa, Chairman TRIFED and MD, TRIFED Smt R. Jaya.  The focus of today's celebrations was on initiatives and programmes that showcase tribal women artisans and Van Dhan beneficiaries from across the country and their contributions towards enhancing livelihoods.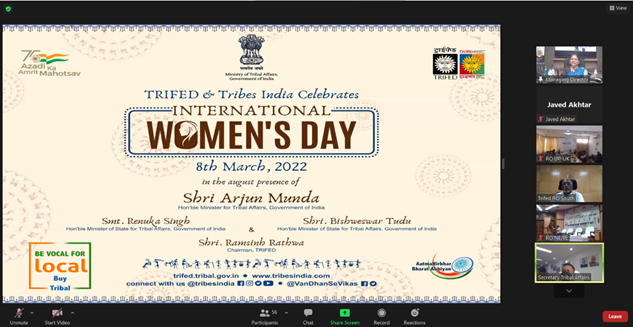 Celebrating the occasion in a function held in the hybrid mode, TRIFED recognized the contributions of 75 tribal women achievers by recognising the efforts of the Tribal Women Achievers who have contributed significantly to effect change in their communities. During the event, the women achievers were presented with a souvenir and certificate highlighting their contributions and achievements.
Minister of State for Tribal Affairs, Shri Bishweswar Tudu, interacted with the tribal women achievers from Mayurbhanj, Odisha. Speaking on the occasion, he remarked, "The International Women's Day is an occasion to celebrate the efforts and the role that women play in building a better society and the nation.  I am happy that TRIFED has taken this initiative to celebrate the achievements and recognise the efforts of our tribal, underprivileged sisters. Their struggles, and the determination with which they have overcome this and taken a few steps towards securing the future and livelihoods of their families and community is inspirational." He also stated , "the Ministry of Tribal Affairs would extend its support and cooperation to TRIFED in its endeavour to enhance the livelihoods of tribals of India".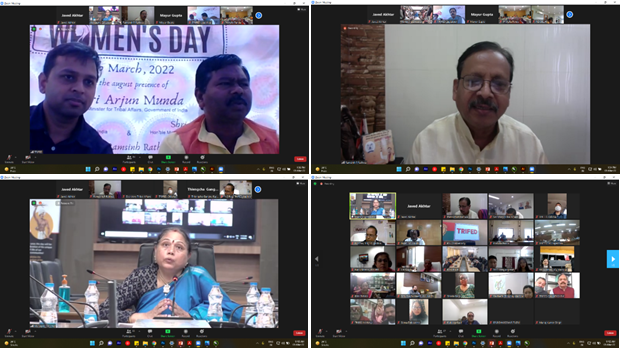 "Today is an occasion where we salute the indomitable power of women, Nari Shakti, and it makes me happy that TRIFED has chosen these remarkable women from amongst our tribal communities and is recognising their spirit." Shri Anil Kumar Jha, Secretary, Tribal Affairs commented. He further stated "the Van Dhan Yojana is a significant scheme of the Ministry aimed towards empowering tribal population especially its women through livelihood generation enhancement".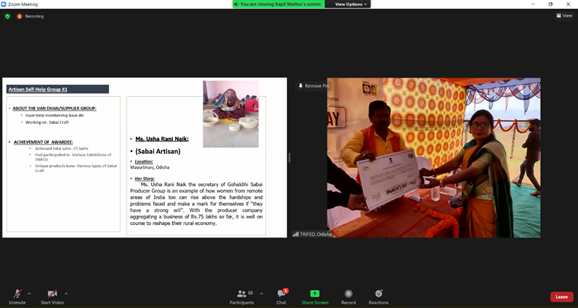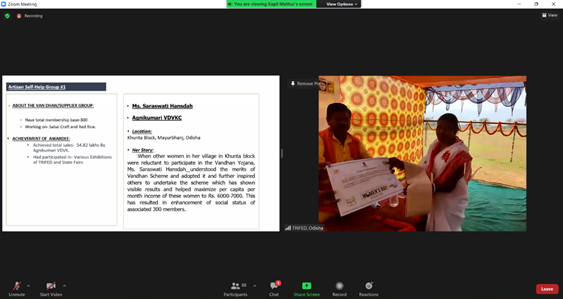 Shri. Ramsinh Rathwa, Chairman, TRIFED, interacted with the tribal women achievers about their struggles, challenges and experiences. He said, "Celebrating and recognising achievements of women should not be limited to just one day. However, it makes me feel very proud today that I am here with my tribal sisters today and celebrating their achievements with them." He expressed the hope that TRIFED would continue to encourage women to attain their utmost potential.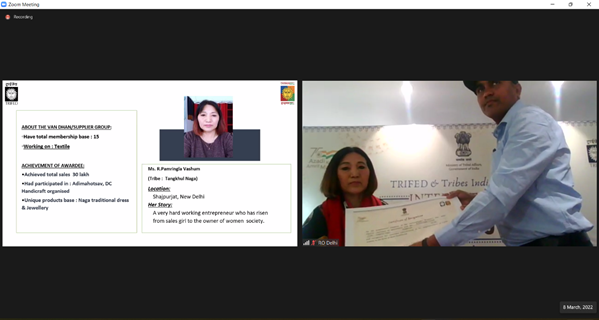 TRIFED, as the nodal agency working towards tribal empowerment, has been putting in place several initiatives that helps in improving the income and livelihood of the tribal people, while preserving their way of life and traditions.
TRIFED has been implementing several noteworthy programmes for the empowerment of the tribals. Over the past two years, the 'Mechanism for Marketing of Minor Forest Produce (MFP) through Minimum Support Price (MSP) & Development of Value Chain for MFP' has impacted the tribal ecosystem in a major way. Through this scheme, MFPs worth Rs 317.13Cr have been procured using the scheme funds and 1542.88 crore worth of MFPs have been procured using the state funds. The Van Dhan tribal start-ups, a component of the same scheme, has emerged as a source of employment generation for tribal gatherers and forest dwellers and the home-bound tribal artisans. 
In less than two years,  52,967 Van Dhan Vikas Kendras (VDVKs), subsumed into 3110  Van Dhan Vikas Kendra Clusters (VDVKCs),  have been sanctioned by TRIFED benefitting 9.27 lakh beneficiaries across 25 states and 2 Union Territories. The products that are developed through this scheme are then sold through Tribes India outlets and e-commerce platform (www.tribesindia.com). They are also marketed through other marketing platforms.
An ideal one-stop destination, the Tribes India catalogue currently includes tribal products from across the country – both natural produce and handicrafts and handlooms reflecting the tribal ways of life. In addition, TRIFED has been marketing tribal products through its own shops called "TRIBES India" & through Franchise Outlets and outlets of the state emporia on consignment basis.  TRIFED started with the single shop in New Delhi in 1999 and now, TRIFED markets these tribal products through 119 such outlets.
*****
NB/SK/UD