Various outreach and popularization programmes for the IISF 2020 are going on across the country. Laboratories and institutes of the Scientific Ministries and Departments are holding these programmes as outreach and publicity activities of the India International Science Festival 2020. 
CSIR-National Geophysical Research Institute (NGRI), Hyderabad organized the Curtain Raiser and Outreach Program on virtual platform recently. In his presidential address, Dr. Shekhar C. Mande, Director General, CSIR and Secretary, DSIR, Govt. of India stated that since 2015, IISF celebrates the joy of science and connects the enthusiasts and experts of all varieties of science disciplines to the public. Such interactions would be the seed to deepen and widen the reach of science within society and enrich our lives by bringing all forms of science on a common platform. He again expressed the need to strictly follow the COVID-19 protocols for people of all walks of life.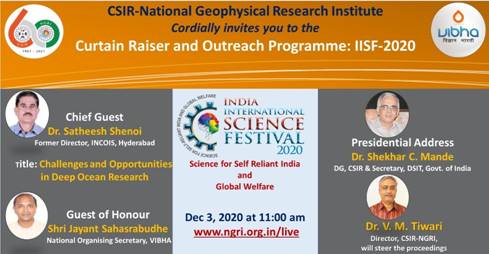 The Chief Guest of the occasion, Dr. Satheesh Shenoi, Former Director, INCOIS, Hyderabad spoke on the 'Challenges and Opportunities of Deep Sea Research' in the Indian context. He introduced the idea of the uniqueness of life on Earth based on its ability to preserve the water environment on the planet and touched upon the main challenges and opportunities of today. He explained in simple terms the phenomena El Nino/La Nina/Indian Ocean Dipole, the increase in Sea Surface Temperature, the increase in frequency of observed extreme climatic events, which are interlinked mechanisms affecting our lives and economy.

Shri Jayant Sahasrabudhe, Organising Secretary of Vijnana Bharati (VIBHA) explained about the rationale of IISF and its important role in inculcating scientific thinking in the public. He said that this year's theme of IISF is Science for Self Reliant India and Global Welfare, and that CSIR has been given the responsibility to conduct it.
Earlier, welcoming the dignitaries, Dr. V. M. Tiwari, Director of CSIR-NGRI assured that this institute will make all efforts to make science popular among the masses and make them aware about the IISF-2020.
Similarly, CSIR-Human Resource Development Centre (HRDC), Ghaziabad organized a webinar on "Science for Masses and Grass root Innovations"along with the Nodal Institute of IISF 2020, CSIR-National Institute of Science, Technology and Development Studies (NISTADS). This webinar was a part of the curtain raiser events for the IISF 2020.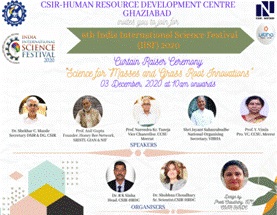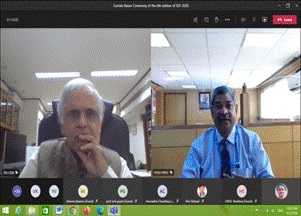 Dr. R. K. Sinha, Head CSIR-HRDC, in his welcomed address, gave brief contours of the IISF 2020.
Shri Jayant Sahasrabudhe emphasized the need to communicate science in regional languages, and said that India is a diverse country and it has diversity of languages, culture, religions and many other aspects of life. The journey of IISF is going on and we believe that we will accomplish the challenge of reaching every section of society, he said. He emphasized on the social responsibilities of Indian scientists and said that science should be communicated in the local and regional languages so that it can reach every citizen of India. This will help to restructure our New-India, he added.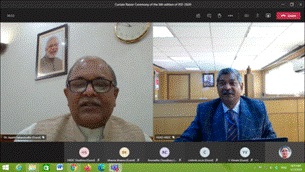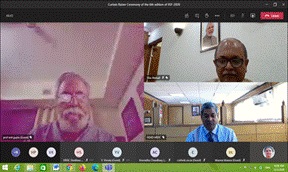 On the occasion, Dr. Shekhar C. Mande, said that IISF 2020 through virtual mode is a great opportunity to connect and reach out to large masses of people. The general public is curious to know the work being carried out in research laboratories and therefore it is our duty to showcase the research work to the common people. He emphasized promotion of IISF so that everyone in the society gets benefitted from it. In the current scenario of pandemic COVID-19, he urged everyone to take proper measures and follow all the instructions and guidelines issued by government for the warding off  COVID-19. Wearing masks and social distancing should be strictly followed while going in the crowd, he said.
Prof. Y. Vimla, Pro-VC, Chaudhary Charan Singh University, Meerut appreciated the initiative and thanked CSIR-HRDC. A botanist, she delivered her talk related to the science behind nature, she emphasized on the exposure of young students and children to nature and know about the surroundings. Scientists should come forward to create awareness and share their knowledge and experiences among the masses, she said.
Prof. Anil Gupta, Founder of the Honey Bee Network, SRISTI, GIAN & NIF, CSIR Bhatnagar Fellow 2018-21, delivering the keynote address, highlighted that organization of such events creates awareness among the public and students on the importance of science and technology in development of the nation. He gave various examples of grass root innovations from India. Dr. Shobhna Choudhary, Senior Scientist, CSIR-HRDC gave the vote of thanks.
CSIR-Central Electronics & Engineering Research Institute (CEERI), Pilani and Vijnana Bharati-Rajasthan Chapter also jointly organized a curtain raiser for the IISF 2020.  In this programme, valuable discussions were organized on the important events of the IISF "Students Engineering Model Competition & Expo".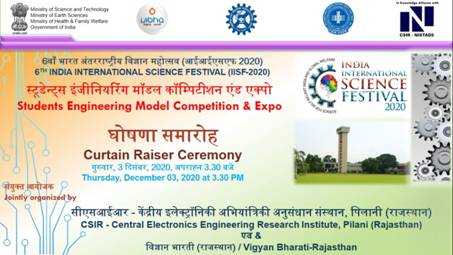 Vigyan Yatra is a prominent event of the India International Science Festival. This journey of science is meant for creating scientific temper and interest in science among students and public at large. There are about 35 prime locations identified for the Vigyan Yatra across the country. On 2 December 2020, Swadeshi Science Movement-Kerala organized Dr. Abdul Kalam Vigyan Yatra at Kochi on virtual platform. On this occasion, Shri Alphons Kannanthanam, Former Union Minister, Tourism and Dr. V.P.N. Nampoori, Professor, School of Photonics, CUSAT delivered special talks.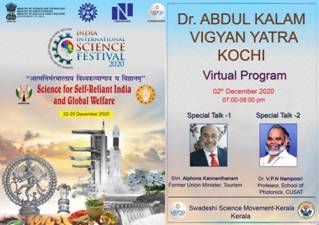 Indian Institute of Tropical Meteorology (IITM), Pune too organized the Vigyan Yatra in association with Vijnana Bharati, Pune Chapter to showcase the scientific activities virtually.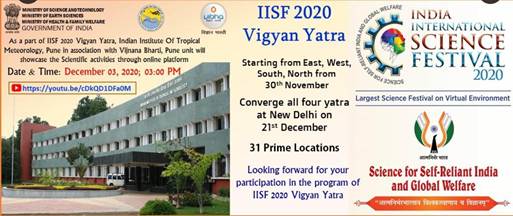 India International Science Festival (IISF) 2020 is going to be organized during 22-25 December 2020 on virtual platform. This is the largest science festival on virtual platform. The central theme of this year's IISF is "Science for Self-reliant India and Global Welfare". This year, 41 events will be organized under 9 verticals. IISF 2020 will also endeavor to send the entries of Guinness World Records in five different categories.
*****
NB/KGS/( CSIR inputs)