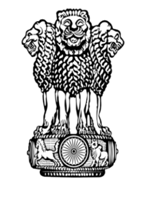 · Effective Allocation of COVID-19 Materials received from the Global Community by Centre to States and UTs
has led to Resource Augmentation on the Ground
· India's Cumulative Vaccination Coverage exceeds 16.25 Crore as the Nationwide Vaccination Drive expands
· On a steady streak, over 3.29 Lakh Recoveries in the last 24 hours
· No pendency of Oxygen Concentrators with Indian Customs
Indian Navy steps up COVID Relief Operations: Nine Warships transporting Oxygen, Medical Equipment from Abroad
#Unite2FightCorona
#IndiaFightsCorona
PRESS INFORMATION BUREAU
MINISTRY OF INFORMATION AND BROADCASTING
GOVERNMENT OF INDIA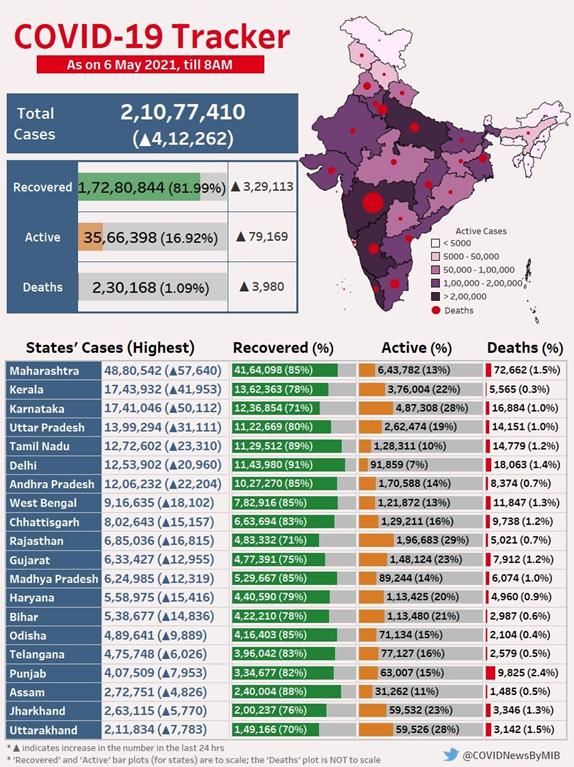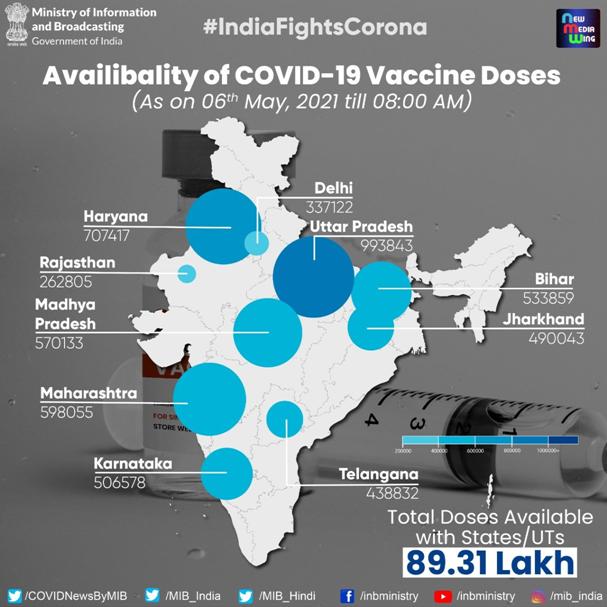 Govt. of India has so far provided more than 17.15 crore vaccine doses to States/UTs Free of Cost
More than 89 lakh doses are still available with the States/UTs to be administered.
Over 28 Lakh doses in addition will be received by the States/UTs in the next 3 days.
No pendency of Oxygen Concentrators with Indian Customs
It has been reported in some sections of the media that oxygen concentrators are pending at the Customs warehouse for getting clearance from the Custom authorities.The news is totally incorrect, not based on facts and without any basis.3000 Oxygen Concentrators received in the Country as International Relief Aid; All delivered/dispatched. Customs authorities working 24×7 to fast track consignments of Oxygen concentrators
 
Effective Allocation of COVID-19 Materials received from the Global Community by Centre to States and UTs
Government of India has been receiving international donations/aid of Covid-19 relief medical supplies and equipment since 27 April 2021 from different countries. All items received so far are allocated to the states/institutions and substantial part of it stands delivered. This is an ongoing exercise. The aim is to extend all support and assistance through various means and measures to strengthen the States' and UT's efforts during this critical phase. More than 9 Lakh beneficiaries of age group 18-44 Vaccinated under Phase-3 of Vaccination Drive.
On a steady streak, over 3.29 Lakh Recoveries in the last 24 hours. Average Weekly recoveries increased from around 53 Thousand to 3 Lakhs in the month of April
Indian Navy steps up COVID Relief Operations: Nine Warships transporting Oxygen, Medical Equipment from Abroad
The Indian Navy has stepped up its COVID relief Operation Samudra Setu II with ships from all three Naval Commands in Mumbai, Visakhapatnam and Kochi, deployed for shipment of Liquid Medical Oxygen and associated medical equipment from friendly foreign countries in Persian Gulf and South East Asia.
IMPORTANT TWEETS
?@CSIR_Ind has designed and developed 11 Makeshift #COVID19 hospitals.

➡️Makeshift hospitals have been constructed in 5 States/UTs so far..

✅Integrated with all essentials including #Oxygen supply.#Unite2FightCorona #StaySafe pic.twitter.com/32gVu0pq3O

— #IndiaFightsCorona (@COVIDNewsByMIB) May 6, 2021
2 cryogenic tankers with 40 MT O2, arranged by France @FranceauQatar and filled by Qatar @MofaQatar_EN to be transported by @indiannavy on INS Trikand to India today.#Unite2FightCorona #StaySafe pic.twitter.com/PmQ64Yo6Tv

— #IndiaFightsCorona (@COVIDNewsByMIB) May 6, 2021
All about Liquid Medical Oxygen (LMO)- Explained⬇️

Judicious use of oxygen is the need of the hour. Misuse of oxygen cylinders is a serious matter of concern these days. pic.twitter.com/AubvwcwMYS

— Prakash Javadekar (@PrakashJavdekar) May 6, 2021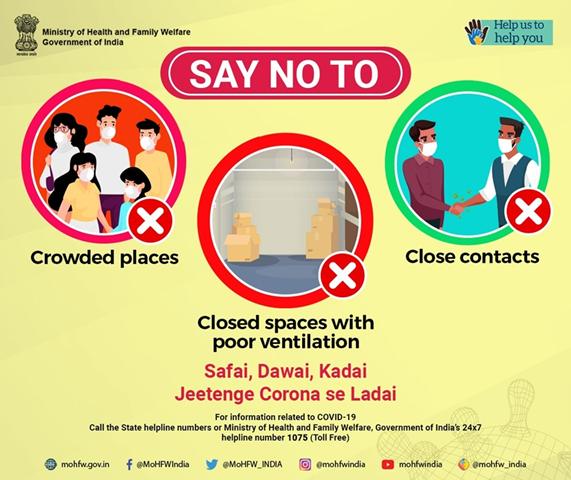 ***
 MV/AP