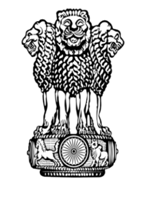 · India's Cumulative Vaccination Coverage exceeds 16.25 Crore as the Nationwide Vaccination Drive expands
· On a steady streak, over 3.29 Lakh Recoveries in the last 24 hours
· PM Modi reviews public health response to Covid-19
· PM reviews state-wise and district wise covid situation
· Oil and Gas Public Sector Companies setting up 100 PSA Medical Oxygen Generation Plants in Hospitals
#Unite2FightCorona
#IndiaFightsCorona
PRESS INFORMATION BUREAU
MINISTRY OF INFORMATION AND BROADCASTING
GOVERNMENT OF INDIA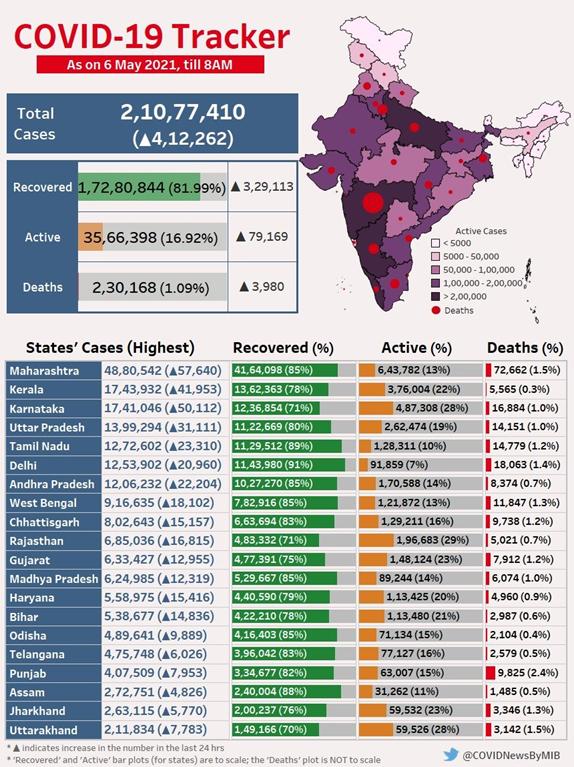 PM Modi reviews public health response to Covid-19;
PM reviews state-wise and district wise covid situation
PM Modi today undertook a comprehensive review of the Covid-19 related situation in the country. He was given a detailed picture on the Covid outbreak in various states and districts. He was informed about the 12 states which have more than 1 lakh active cases. PM was also apprised about the districts with high disease burden.
PM was briefed about the ramping up of healthcare infrastructure by the states. PM directed that states should be given help & guidance about leading indicators to ramp up healthcare infrastructure.
Fordetails:https://www.pib.gov.in/PressReleasePage.aspx?PRID=1716474
Oil and Gas Public Sector Companies setting up 100 PSA Medical Oxygen Generation Plants in Hospitals
 
Oil and Gas Public Sector Companies, under the administrative control of the Ministry of Petroleum and Natural Gas, Government of India are working earnestly to meet the Nation's Liquid Medical Oxygen requirements, in this hour of need. They are setting up about 100 Pressure Swing Adsorption (PSA) Medical Oxygen Generation Plants in public health facilities across the country. The hospitals in Uttar Pradesh, Bihar, Karnataka, Goa, Kerala, Maharashtra, Gujarat, Rajasthan, Odisha, Madhya Pradesh and Delhi will be covered under the initiative. The entire expenditure for these plants will be borne by the companies from their CSR fund.
For details: https://www.pib.gov.in/PressReleasePage.aspx?PRID=1716530
Govt. of India has so far provided more than 17.15 crore vaccine doses to States/UTs Free of Cost
More than 89 lakh doses are still available with the States/UTs to be administered.
Over 28 Lakh doses in addition will be received by the States/UTs in the next 3 days.
For Details: https://www.pib.gov.in/PressReleasePage.aspx?PRID=1716415
No pendency of Oxygen Concentrators with Indian Customs
It has been reported in some sections of the media that oxygen concentrators are pending at the Customs warehouse for getting clearance from the Custom authorities.The news is totally incorrect, not based on facts and without any basis.3000 Oxygen Concentrators received in the Country as International Relief Aid; All delivered/dispatched. Customs authorities working 24×7 to fast track consignments of Oxygen concentrators
 
For Details: https://www.pib.gov.in/PressReleasePage.aspx?PRID=1716432
Effective Allocation of COVID-19 Materials received from the Global Community by Centre to States and UTs
Government of India has been receiving international donations/aid of Covid-19 relief medical supplies and equipment since 27 April 2021 from different countries. All items received so far are allocated to the states/institutions and substantial part of it stands delivered. This is an ongoing exercise. The aim is to extend all support and assistance through various means and measures to strengthen the States' and UT's efforts during this critical phase. More than 9 Lakh beneficiaries of age group 18-44 Vaccinated under Phase-3 of Vaccination Drive.
On a steady streak, over 3.29 Lakh Recoveries in the last 24 hours. Average Weekly recoveries increased from around 53 Thousand to 3 Lakhs in the month of April
For Details :https://www.pib.gov.in/PressReleasePage.aspx?PRID=1716426
Guidelines issued for fast and efficient vaccination of Civil Aviation Community
Ministry of Civil Aviation (MoCA) has issued enabling guidelines to facilitate the vaccination program in a fast and efficient manner to ensure timely vaccination of the aviation community. During the COVID-19 surge, the aviation community has worked tirelessly to ensure unhindered services for the movement of people in need and essential cargo including critical medical cargo like vaccines, medicines, Oxygen Concentrators, etc. Secretary, Civil Aviation sent a letter earlier to all the State Governments with a request to consider the personnel involved in aviation and related services as a priority group under the vaccination program.
As per the guidelines, all players in Civil Aviation Sector would be advised to cover their personnel under the ongoing vaccination program. Guidelines further state that the organizations which have already made arrangements with Government/Private service providers for the vaccination to their employees may continue to do so.
For details: https://www.pib.gov.in/PressReleasePage.aspx?PRID=1716483
IMPORTANT TWEETS
A morale boosting piece by Raksha Mantri Shri. @rajnathsingh ji listing how the defense forces of India and various wings of Defence Ministry are working round the clock with civil administration in fighting the pandemic.
A must read?https://t.co/yBDWJK3uaH#Unite2FightCorona

— Prakash Javadekar (@PrakashJavdekar) May 6, 2021
Facilitating fast and efficient vaccination program for civil aviation community -Ministry of Civil Aviation issues enabling Guidelines https://t.co/wXwgHUh3Kj @MoCA_GoI @PIB_India @ushapadhee1996 #Unite2FightCorona

— PIB Civil Aviation (@pibcivilaviati1) May 6, 2021
An IAF C17 Globemaster arrived Bangkok today to lift cryo- containers. Continous IAF sorties are being co-ordinated by MHA to improve transportation of oxygen across the country during the 2nd Covid-19 wave.@HMOIndia @PIB_India @DDNewslive @airnewsalerts @IAF_MCC @ANI pic.twitter.com/SNkEjwkgrr

— Spokesperson, Ministry of Home Affairs (@PIBHomeAffairs) May 6, 2021
INPUTS FROM PIB FIELD OFFICES
Maharashtra: Maharashtra on Wednesday reported 57,640 new coronavirus infections, which took the state's case tally to 48,80,542, while 920 fatalities, the highest in a day so far, pushed the death toll to 72,662. For the second day in a row, Mumbai reported less than 3,000 cases. Over the past week, Mumbai has reported an average of 3,500 Covid-19 cases per day.
Gujarat: Gujarat recorded 12,955 new cases of COVID-19 yesterday while 12,995 patients recovered during the last 24 hours and were discharged from the hospitals. 133 patients lost their lives yesterday. Meanwhile, 1,32,384 persons were vaccinated in the state yesterday. Out of these, 36,226 persons are from the 18 to 44 years age group. Shri Somnath Trust has announced Rs.50 lakh donation to the local community health centre at Prabhas Patan to set up an oxygen plant. Shri Somnath Trust is also running COVID care centre at its Lilavati Bhavan guest house.
 
Rajasthan: There has been a continuous dip in the daily infections for the past four days. From 18,298, 17,296 and 16,974 cases, respectively, for the last three days, the state reported 16,815 cases on Wednesday. Moreover, after two months, the number of people who were discharged in the last 24 hours (17,022) was higher than the number of daily new infections on Wednesday. However, 155 persons died of Covid in the state in one day. Two nitrogen tankers have been processed to transport oxygen in the state, and Rajasthan is one of the first to do so in the country.
Madhya Pradesh: Advanced life support ambulances rates have been decided by the state government. Government has increased the rates by 1.5 to 2 times. The rates are Rs 500 for 10 kilometers in urban areas and Rs 800 for 20 kms in rural areas. There were several complaints of over charging by ambulances coming from rural areas to cities.5,200 people below 18 years were vaccinated with Covaxin as their first dose yesterday. Yesterday was the first day of vaccination for the 18 plus age group.
Chhattisgarh:  Chhattisgarh High Court has set aside the state government's decision to first vaccinate poor people of the state in the third phase of Covid inoculation drive by ruling that a division according to financial status alone was unconstitutional. The court said other groups were entitled to equal treatment with regard to the right to life.
At the district headquarters of Balodabazar district, a 600-bed COVID Care Hospital is being constructed with the help from the public representatives. Besides, a 100-bed COVID Hospital has been built in the capital Raipur with the help of Jain community. This hospital has 6 ICU beds and 42 oxygenated beds.
Goa: Goa cabinet declared section of govt employees, media, bank workers & others as frontline Covid workers for priority in Covid vaccination.
Three public interest litigations (PIL) will be heard together by the High Court of Bombay at Goa on Thursday at 10am on the State's handling of the COVID pandemic management in view of the high mortality rate and other gaps in the healthcare infrastructure.
Kerala: The state will go into complete lockdown from May 8 to May 16. The move comes a day after the state recorded more than 40,000 daily cases for the first time. On Wednesday, the State reported 41,953 new Covid-19 cases and 58 fatalities. The TPR was 25.69 %. The lockdown has been declared just when the strain on hospitals is threatening to go beyond manageable levels. In all, there are 3.8 lakh patients in hospitals across the state. 2033 patients are in ICU. Those requiring ventilator support are 818. On the other hand, a total of 76,64,973 people have so far been vaccinated in the state. Out of this 61,29,034 took first dose and 15,35,939 second dose.
Tamil Nadu: Madras HC sought a Covid situation report from Health Secretary and called on the state to evolve an inoculation programme that involves some amount of equality. Madras High Court has also sought the Centre to come out clear as to when Sterlite would start supply of oxygen, especially with a week having gone by since such permission was given. Puducherry is witnessing a steep rise in Covid-19 deaths, with 78 people succumbing to the virus in the last five days in the Union territory. Puducherry also logged its highest single-day spike of 1819 cases and 18 deaths in the last 24 hours ending at 10 am on Wednesday. Tamil Nadu recorded 23,310 fresh Covid cases and 167 deaths on Wednesday. The active cases in the state stand at 32,917 and 1,28,311 respectively. The total number of cases seen in the State so far stands at 12,72,602. The state vaccinated 56,203 people yesterday. Till date 62,49,242 have been vaccinated across the State, of which 47,53,074 received first dose and 14,96,168 received second dose.
Karnataka: New Cases Reported: 50112; Total Active Cases: 487288; New Covid Deaths: 346; Total Covid Deaths: 16884.Around 1,23,413 were vaccinated yesterday with a total of 1,00,72,795 have been vaccinated in the state till now. The Indian Navy's INS Talwar ship brought 40 tonnes of liquid medical oxygen for the first time from Bahrain to Mangalore. Four pharmaceutical companies have agreed to meet the daily dose of Remdisivir beginning from Thursday, said DCM, Dr CN Ashwaththa Narayana, Head of Covid Task Force.
Andhra Pradesh:The state reported 22,204 new Covid-19 cases after testing 1,16,367 samples with 85 deaths, while 11,128 got discharged during the last 24 hours. A total of 69,16,457 doses of Covid vaccine have been administered in the state as on yesterday, which include 52,42,484 first doses and 16,73,973 second doses.  Principal Secretary (Medical and Health) Anil Kumar Singhal, said that the state will receive 9 lakh doses of vaccine from the Centre by May 15.  In addition to which the state will procure another 13 lakh doses from companies directly. All the 22 lakh doses will be used for second dose, he said. Fresh restrictions to curb the spread of Covid-19 have impacted 3,500 RTC services. Odisha too closed its borders with Andhra Pradesh in Srikakulam and Vizianagaram districts as it had imposed complete lockdown there.
Telangana: A total of 48,055 people of all categories received first dose and 30,765 second dose in the state on Wednesday taking the cumulative number of people who received first dose to 42,72,935 and second dose to 6,86,220. Meanwhile, as many as 6,026 new daily cases and 52 fatalities were reported yesterday taking the total number of positive cases in the state to 4,75,748 and deaths to 2,579. Now, the total number of Active Cases in the state stands at 77,127. Telangana High Court yesterday asked the State Government to explore imposition of stronger restrictive measures like extending hours of night curfew or weekend lockdown to flatten the Covid-19 curve.
Assam: Assam has recorded 4826 new COVID cases on May 5th, Wednesday. Giving an update on the COVID situation in the state, Assam Health Minister Himanta Biswa Sarma tweeted that 55 deaths have been recorded and Kamrup Metropolitan with Guwahati as its leading city registered 1383 number of COVID cases. The positivity rate stands at 9.27%.Ministry of Railways has offered Assam 150 train coaches equipped with oxygen cylinders to be used as Covid care centres.The State Government has released Rs 49.64 crore SDRF (State Disaster Response Fund) for its 34 districts for COVID-19 management. Assam Government has announced the closure of all educational institutions in the state till further notice. All primary, higher secondary schools, colleges and universities in the state will remain closed during this period and online classes will however continue.
Manipur: COVID-19 claimed 10 more lives in Manipur.With 397 new COVID-19 positive cases in 24 hours, the cumulative number of positive cases in Manipur reached 33,353.Manipur government has completed all preparations to start the vaccination programme for the people of age group 18-44 years, Lok Sabha MP RK Ranjan said.
Meghalaya: 269 fresh cases were detected on Wednesday, with six fatalities.The active tally has gone up to 2,135 while the number of patients who have so far recovered from the infection is 15,957, including 147 on Wednesday. NEIGRIHMS Director, Dr P Bhattacharya on Wednesday informed that the institute has a 10,000 litre liquid oxygen tank that will keep the super-speciality hospital supplied with oxygen optimally.
Sikkim: Lockdown-like restrictions in Sikkim till May 16, borders to be sealed. Curfew will be imposed from 5 pm to 9 am. Inter state and inter district movement banned except emergency vehicles. All state govt offices to remain closed till 16th May.Active cases go past 2K in Sikkim; 4 deaths take Covid toll to 155.
Tripura:240 people tested positive and 3 died while 75 patients recovered in last 24 hours. Covid19 surveillance officer Dr. Deep Deb Barma said that already positivity rate for Tripura has crossed 5 % which is worrying and next 1and half months are very crucial for the state. BSF reviewed the covid situation for 3000 troops who are returning from duty and testing for all is being done at the railway station.
Nagaland: Nagaland registered highest single day spike of Covid infections with 287 cases, 3 deaths in last 24 hrs. In view of the increase in cases, the State govt directed private hospitals to provide 50% beds for Covid patients.The Nagaland Emergency Centre, Delhi at Nagaland House, New Delhi has been reactivated to assist Naga citizens in the national capital in tackling the Covid 2nd wave.
Punjab: The total number of patients tested Positive is 407509. Number of active cases is 63007. Total Deaths reported is 9825. Total COVID-19 Vaccinated with 1st dose (Healthcare + Frontline Workers) is 698587. Total COVID-19 Vaccinated with 2nd dose (Healthcare + Frontline Workers) is 202747. Total above 45 Vaccinated with 1st dose is 2406824. Total above 45 Vaccinated with 2nd dose is 270473.
Haryana: Total Number of Samples found positive till date is 558975. Total active COVID-19 patients is 113425. Number of deaths is 4960. Cumulative number of people vaccinated till date is 4027635.
Chandigarh: Total Lab confirmed COVID-19 cases is 46793. Total number of Active Cases is 8363. Total number of COVID-19 deaths till date is 532.
Himachal Pradesh: Total number of patients tested COVID positive till date is 114787. Total number of Active Cases is 25902. Total deaths reported till date is 1679.
FACT CHECK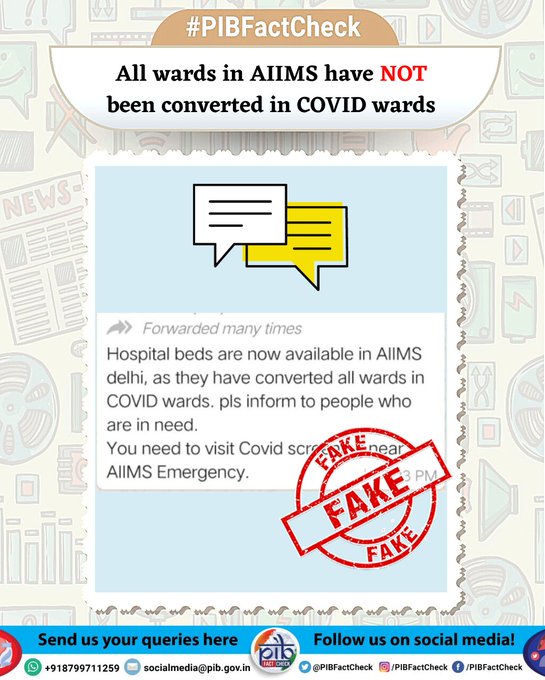 ******
 MV/AP