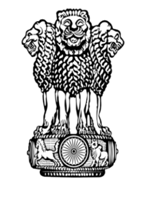 India's Cumulative Vaccination Coverage exceeds 18 Crore

PM chairs a high-level meeting on Covid and vaccination related situation

AIIMS doctors provide guidance on Medication and Care for Mild COVID-19 Patients

Government Supports Augmentation of Manufacturing Capacity for COVAXIN production under Mission COVID Suraksha

Oxygen Expresses deliver more than 8700 MT of Liquid Medical Oxygen to the Nation
#Unite2FightCorona
#IndiaFightsCorona
PRESS INFORMATION BUREAU
MINISTRY OF INFORMATION AND BROADCASTING
GOVERNMENT OF INDIA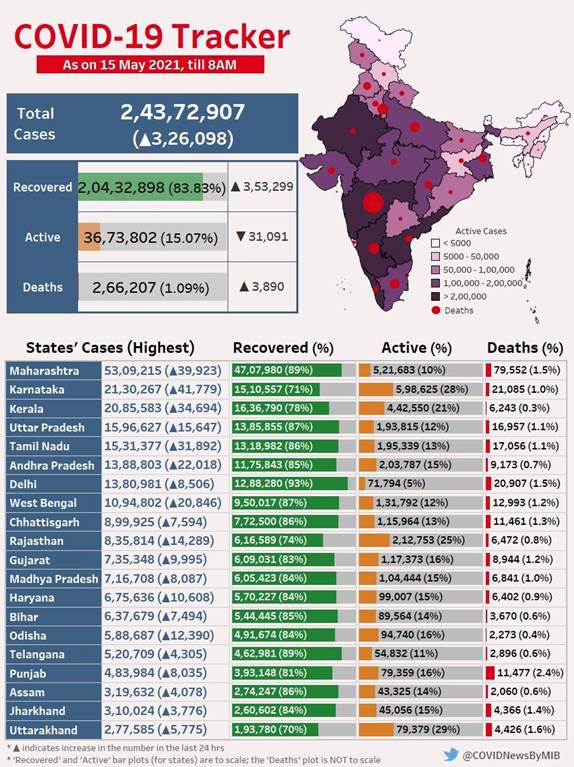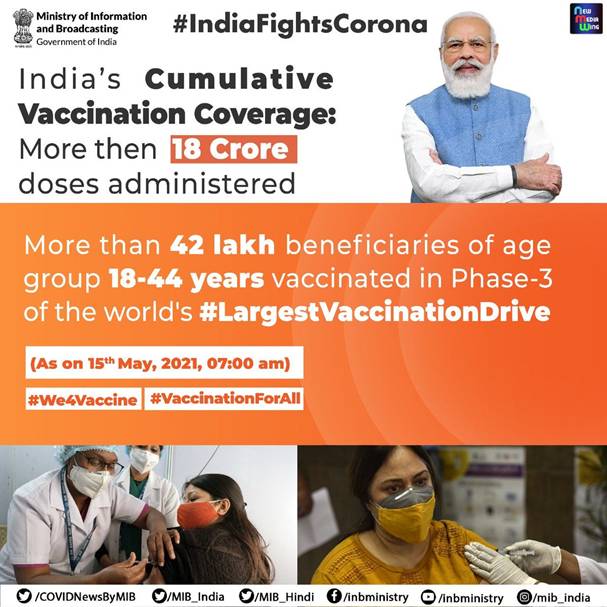 India's Cumulative Vaccination Coverage exceeds 18 Crore
More than 42 lakh beneficiaries of age group 18-44 Vaccinated, so far

24-hour Recoveries Outnumber Daily New COVID Cases for Fourth Time in last Five Days

Decline of 31,091 in Active Caseload in the last 24 hours

Foreign Aid of Relief Materials to combat COVID19 continues to be swiftly cleared, apportioned and sent to States/UTs
For details:https://pib.gov.in/PressReleasePage.aspx?PRID=1718764
AIIMS doctors provide guidance on Medication and Care for Mild COVID-19 Patients
The commonly observed symptoms among COVID-19 patients are fever, dry cough, tiredness and loss of taste or smell. Irritation in throat, headache, body ache, diarrhea, rash on skin and redness in eyes are also observed in rare cases. If you observe any of these symptoms, you should immediately isolate yourself from others. This was informed by Dr. Neeraj Nishchal of AIIMS Delhi, during a webinar on "Medication and Care in Home Isolation", for patients who are tested positive for COVID-19. The webinar was organized by The Centre of Excellence of the Union Health and Family Welfare Ministry.
For Details: https://pib.gov.in/PressReleasePage.aspx?PRID=1718783
The Inflow of Foreign Aid to combat COVID continues to be swiftly cleared, apportioned and sent to States/UTs
Nearly 11,000 Oxygen Concentrators; more than 13,000 Oxygen Cylinders; 19 Oxygen Generation Plants; more than 6,800 ventilators/Bi PAP; ~4.9 L Remdesivir vials delivered/ dispatched so far
For Details : https://pib.gov.in/PressReleasePage.aspx?PRID=1718792
PM chairs a high-level meeting on Covid and vaccination related situation
Testing has gone up from around 50 lakh tests per week in early March to around 1.3 crore tests per week now

Localised containment strategies are the need of the hour: PM

PM instructed that testing needs to be scaled up further in areas with high test positivity rates

PM asks for augmentation of healthcare resources in rural areas to focus on door to door testing & surveillance.

Empower ASHA & Anganwadi workers with all necessary tools to boost fight in rural areas: PM

Important to ensure proper distribution of oxygen supply in rural areas: PM

Necessary training should be provided to health workers in the operation of ventilators & other equipment: PM
For Details : https://pib.gov.in/PressReleasePage.aspx?PRID=1718787
Relaxations provided under Gas Cylinders Rules, 2016,so as to fast track approvals for imported cylinders and pressure vessels for storage and transportation of medical oxygen
 
Government of India has reviewed the existing procedure for approval of global manufacturers for importing oxygen cylinders by Petroleum and Explosive Safety Organization (PESO). In view of the COVID pandemic, PESO shall not carry out physical inspection of global manufacturers' production facilities before grant of such approval. Now, such approvals shall be granted online without any delay on submission of manufacturer's particulars; ISO certificate of manufacturer; List of Cylinders their specifications, drawings & batch number; Hydro test certificate and Third-Party inspection Certificate.
For details: https://www.pib.gov.in/PressReleasePage.aspx?PRID=1718815
Oxygen Expresses deliver more than 8700 MT of Liquid Medical Oxygen to the Nation
Indian Railways is continuing its journey of bringing relief by delivering Liquid Medical Oxygen(LMO) to various states across the country. So far, Indian Railways has delivered more than 8700 MT of LMO in more than 540 tankers to various states across the country.
It may be noted that 139 Oxygen Expresses have completed their journey so far and brought relief to various States.Till the time of this release, 6 loaded Oxygen Expresses on run with more than 475 MT of LMO in 35 tankers.Oxygen Expresses have been delivering nearly 800 MT of LMO to the Nation each day for last few days.
For details:https://www.pib.gov.in/PressReleasePage.aspx?PRID=1718834
DST supported startup develops affordable test kits for early diagnosis of Covid-19 in rural & resource constraint areas
A Mumbai-based startup is ready with its affordable Rapid Antigen Test that offers COVID 19 diagnosis & surveillance at the cost of Rs 100 per test. The test developed by Patanjali Pharma will complement the gold standard RTPCR & Rapid antigen tests and make it one of the most affordable ones available in the market
For Details: https://pib.gov.in/PressReleasePage.aspx?PRID=1718810
Government Supports Augmentation of Manufacturing Capacity for COVAXIN production under Mission COVID Suraksha
To augment the capacity of Indigenous production of Covaxin under the Mission, the Department of Biotechnology, Government of India in April, 2021 provided financial support as Grant to vaccine manufacturing facilities for enhanced production capacities, which is expected to reach more than 10 crore doses per month by September, 2021.
As a part of this augmentation plan, capacities of Bharat Biotech Limited, Hyderabad as well as other public sector manufactures are being upgraded with required infrastructure and technology. Financial support is being provided as grant from GoI to the tune of approx. Rs 65 Cr to Bharat Biotech's new Bangalore facility which is being repurposed to increase the capacity of vaccine production.
For Details: https://pib.gov.in/PressReleasePage.aspx?PRID=1718791
110 Medical Cadets commissioned as Medical Officers into AFMS
Ninety four cadets were commissioned into the Indian Army, 10 in the Indian Air Force and six in the Indian Navy. The newly commissioned medical officers were administered the oath of allegiance to the Constitution of India by Col Training, AFMC Col AK Shakya. The Passing Out Parade had to be called off for the first time since 1982, keeping in mind the Covid-19 restrictions.
For Details: https://pib.gov.in/PressReleasePage.aspx?PRID=1718786
Union Minister Dr. Jitendra Singh despatches second consignment COVID related material for his Lok Sabha constituency of Udhampur-Kathua-Doda.
Dr Jitendra Singh disclosed that among the various items included are 80,000 Face Masks and nearly 1,000 packs of Hand sanitisers, besides a wide range of accessories and articles for use in COVID pandemic. He recalled that the first consignment of similar material was dispatched by him on the same day when he had tested COVID negative after undergoing hospitalization for symptomatic infection.
For Details: https://pib.gov.in/PressReleasePage.aspx?PRID=1718820
BBMB waging a war from the front against COVID -19 at Nangal
BHAKRA BEAS MANAGEMENT BOARD under the Ministry of Power has stepped forward to contain the spread of COVID-19 in the second wave of COVID pandemic.
For details: https://pib.gov.in/PressReleasePage.aspx?PRID=1718822
NTPC augments COVID Care Facilities across the country
NTPC Ltd, India's largest integrated energy company, under Ministry of Power has added more than 500 beds with oxygen support and more than 1100 isolation beds across plants in various states to provide support to the critical Covid care.In NCR region, the company has set up Covid care centres with facility of 200 oxygen supported beds and 140 isolation beds in Badarpur, Noida & Dadri. Further, the company has set up a 500-bed covid health centre at Sundargarh in Odisha where 20 ventilators have been provided.
For Details: https://pib.gov.in/PressReleasePage.aspx?PRID=1718789
PIB FACTCHECK
Scammers impersonate official government websites, URLs and letters to fraud people!

If you come across any similar images, documents & letters that you think are #FAKE

Then send your fact check requests to
?+918799711259
? socialmedia@pib.gov.in pic.twitter.com/VxE2gEWXT0

— PIB Fact Check (@PIBFactCheck) May 15, 2021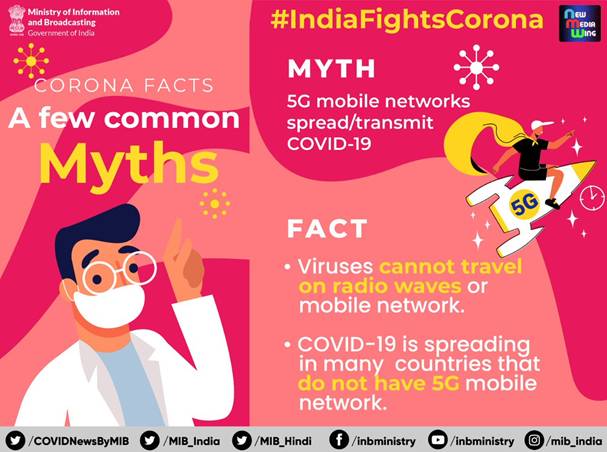 MV/AP