(Contains Press releases concerning Covid-19, issued in last 24 hours, inputs from PIB Field Offices and Fact checks undertaken by PIB)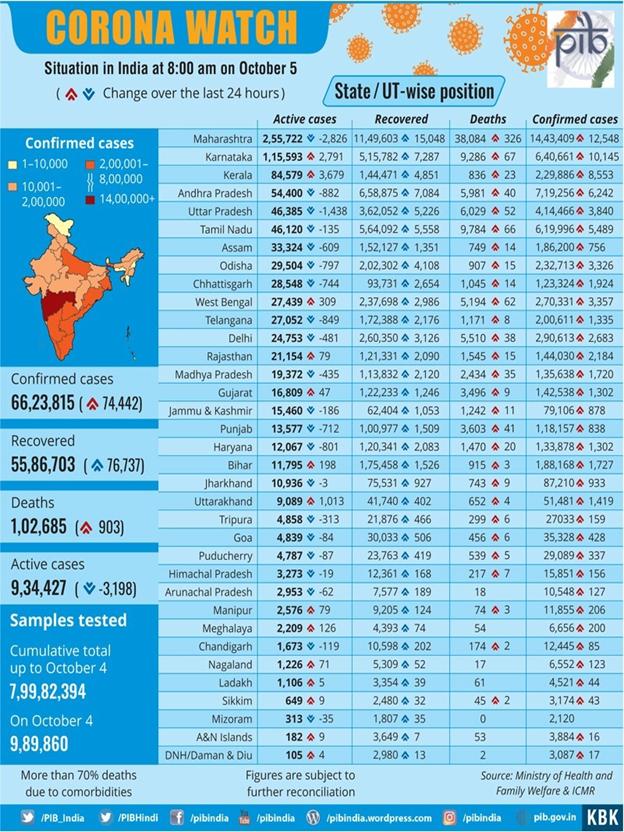 India crosses a Significant Milestone, Active Cases continue to be less than 10 lakh for Two Unbroken Weeks
India has crossed a landmark milestone. The active cases have been maintained  below the 10 lakh mark for 14 days unabated. For two straight weeks today, the active cases are less than 1 million (10 lakhs). 76,737 recoveries have been registered in the last 24 hours in the country whereas the new confirmed cases stand at 74,442. The new recoveries have exceeded the new cases in the recent days. India's total recoveries stands at 55,86,703 today. The higher number of single day recoveries has resulted in sustained increase in the national recovery rate, currently pegged at 84.34%. 75% of new recovered cases are recorded in 10 States and UTs. Maharashtra alone has contributed more than 15,000 to the new recovered cases followed by Karnataka and Andhra Pradesh with more than 7,000 cases each. The active cases in India are 9,34,427. As on date, the active cases contribute only 14.11% to the positive caseload of the country. This is following a progressively downward trend. 10 States/UTs account for 77% of the active cases. A total of 74,442 new confirmed cases have been reported in the last 24 hours in the country. 78% of the new cases are concentrated in ten States/UT. Maharashtra has reported more than 12,000 of the new cases. Karnataka contributed more than 10,000. 903 deaths  have been registered in the past 24 hours. 82% of new fatalities are reported from 10 States and UTs. 36% of deaths reported yesterday are from Maharashtra with 326 deaths followed by Karnataka with 67 deaths.
Dr. Harsh Vardhan digitally inaugurates Super Speciality Block of MotilalNehru Medical College, Prayagrajas a dedicated COVID Hospital
Dr. Harsh Vardhan, Union Minister of Health and Family Welfare along with Sh. Yogi Adityanath, Chief Minister of Uttar Pradesh digitally inaugurated the Super Specialty Block (SSB) at Motilal Nehru Medical College, Prayagraj. The 220-bedded facility has been dedicated as a COVID Hospital to the nation. The Union Health Minister also digitally inaugurated first high throughput COBAS 6800 machine in Uttar Pradesh, installed by ICMR to pursue its regionally balanced COVID Testing strategy. The Super Specialty Block is built with an investment of Rs 150 crores under the Pradhan Mantri SwasthyaSurakshaYojana. It has departments of Neurology, Neurosurgery, Nephrology, Urology, Plastic surgery, Endocrinology, Surgical Oncology, Cardiothoracic and Vascular Surgery.. Launching the COBAS 6800 high throughput machine, Dr Harsh Vardhan stated "The COBAS 6800, a fully automated, high end machine for performing real time PCR testing for COVID-19 will provide quality, high-volume testing with a high throughput of around 1200 samples in 24 hours. COBAS 6800 can also detect other pathogens like Viral Hepatitis B & C, HIV, MTb (both Rifampicin and Isoniazide resistance), Papilloma, Cytomegalovirus, Chlamydia, Neiserreia etc." It can be operated remotely with limited human intervention, he added.
Dr Harsh Vardhan interacts with social media users during Sunday Samvaad-4
Dr. Harsh Vardhan, Union Minister of Health and Family Welfare responded to questions posed by his social media interactors on the fourth episode of Sunday Samvaad. He explained related topics like the use of Plasma Therapy in COVID, the eradication of TB by 2025 in light of the COVID pandemic and the opening up of India's schools. On the questions of prioritising the distribution of vaccines, Dr. Harsh Vardhan answered that the Health Ministry is currently preparing a format in which States will submit lists of priority population groups to receive vaccine, especially health workers engaged in the management of COVID19. The list of frontline health workers will include both government as well as private sector doctors, nurses, paramedics, sanitary staff, ASHA workers, surveillance officers and many other occupational categories who are involved in tracing, testing and treatment of patients. This exercise is targeted to be completed by the end of this October and the States are being closely guided to also submit details about cold chain facilities and other related infrastructure which will be required down to the block level. He further informed that the Government is also keeping an eye on immunity data with regard to COVID-19 disease while finalizing these plans. Stating that adverse events developing after vaccination are common, Dr Harsh Vardhan said that adverse events after vaccination include local reactions such as pain at the injection site, mild fever and redness, anxiety-related such as palpitations, syncope or fainting and that these events are transient, self-limiting and do not affect the protective response of the vaccine. In a related question, he detailed on the ethical concerns of Human Challenge Experiments, "India is not planning to venture into such trials until the method is proven to have an established benefit as per global experience.''
Ayush Grid, the emerging IT-backbone for AYUSH Sector, to integrate operationally with the National Digital Health Mission
The operational integration of Ayush Grid, the emerging IT backbone for AYUSH Sector with the National Digital Health Mission (NDHM), was endorsed at a high level meeting chaired by Vd. Rajesh Kotech Secretary, Ministry of AYUSH recently. The Ayush Grid team and the NDHM have already held several rounds of discussions in the matter and reached understanding on the modalities involved. This integration will be immensely beneficial to the public for availing varied options for their health needs. The integration will also accelerate the mainstreaming of Ayush disciplines of healthcare. Secretary (AYUSH) also reviewed the current status of IT initiatives undertaken under the Ayush Grid project. It was observed that in the last two years Ayush Grid project succeeded in bridging the digital gap in the Ayush Sector and also in implementing various critical healthcare IT projects. Digitalization of the entire Ayush Sector will lead to its transformation in fields of health care delivery at all levels, including research, education, various health programmes and drug regulations. This will be beneficial for all stakeholders of Ayush including citizens of the country and in turn will help to achieve various national and global goals in healthcare.
IIT Kharagpur Rolls Out Telemedicine for Corona Care from Home
With the passage of time and vaccines still not available, the pressure on the healthcare system is only expected to go up while the healthcare workers continue to remain vulnerable to the infection. To address this issue, the researchers at IIT Kharagpur's Department of Computer Science & Engineering have developed a telemedicine system, iMediX. The system integrates homecare with healthcare services from the hospital. Considering the emergent needs due to the pandemic, the system facilitates critical health care support to the patients at their doorsteps through remote consultation by a physician. The system is accessible by any standard internet browser and also from a mobile device. In this system, a patient signs up to get an account by providing his/her Email ID or Mobile number. The hospital administration processes the request and assigns a doctor. The doctor after logging in sets an appointment date and time for the patient and the system communicates the information to the patient by Email and SMS. On the day of visit, the doctor consults the patient using video conferencing and advises the patient by writing a prescription, which is sent by Email to the patient. The patient can also download the prescription from his or her account.
Scientific Data sharing given highest attention by our government: Prof. Ashutosh Sharma
Secretary Department of Science and Technology Prof. Ashutosh Sharma underlined the increasing attention given by India to sharing of scientific data as was evident from India's National Data Sharing and Accessibility Policy (INDSAP) and an open government data portal, at the Science & Technology Ministerial Roundtable, organized in the 17th annual Science Technology and Society (STS) Forum.The online Science & Technology Ministerial Roundtable organised on 3rd October 2020 saw the participation of S&T heads from about 50 countries around the world and explored the opportunities arising from international collaborations in science and technology to address the challenges posed by COVID 19.Prof. Sharma, represented India at the Ministers' Roundtable, highlighted India's major initiatives in S&T collaboration, social sciences & open science. He said that vaccines for coronavirus are in advanced phases of trial, and India has the capacity to supply the vaccine to a major part of humanity.The forum community highlighted critical role of S&T in fighting the current pandemic situation and agreed that strong international collaboration in the field of science & technology, cutting edge science, and open science were the most important tools to solve the current crisis and prepare for the upcoming crisis of the future.
Prime Minister dedicates to the Nation the Atal Tunnel
Prime Minister Shri NarendraModi dedicated to the nation the World's longest Highway tunnel – Atal Tunnel at its south portal in Manali, on Saturday. The 9.02 Km long tunnel connects Manali to Lahaul-Spiti valley throughout the year. Earlier the valley was cut off for about 6 months each year owing to heavy snowfall. The Tunnel is built with ultra-modern specifications in the PirPanjal range of Himalayas at an altitude of 3000 Mtrs (10,000 Feet) from the Mean Sea Level (MSL).The tunnel reduces the road distance by 46 Kms between Manali and Leh and the time by about 4 to 5 hours. Prime Minister Shri Modi travelled in the tunnel from the South Portal to the North Portal and also visited the emergency egress tunnel that was built into the main tunnel itself. He also witnessed a pictorial exhibition on "The Making of Atal Tunnel" on the occasion. In his address, the Prime Minister termed the day as historic as it only fructifies the vision of the former Prime Minister AtalBehari Vajpayee but also the decades old wish and dream of crores of people from the region. He said Atal Tunnel is going to be a lifeline for a large part of Himachal Pradesh as well as the new Union Territory of Leh-Ladakh and would reduce the distance between Manali and Keylong by 3-4 hours.He said farmers, horticulturalists and youth will now also have easy access to the capital of Delhi and other markets.
Text of PM's address at the inauguration of Atal Tunnel in Rohtang, Himachal Pradesh
PM addresses international webinar on textile traditions organized by ICCR
Prime Minister Shri NarendraModi addressed an international webinar on textile traditions organized by ICCR on Saturday.Speaking on the occasion, the Prime Minister said in the textile sector one can see our history, diversity and immense opportunity.The Prime Minister said this Program is organized   in the context of Gandhiji's 150th Birth Anniversary celebrations. Mahatma Gandhi saw a close link between the textile sector and social empowerment and converted the simple Charkha into a key symbol of India's independence movement. The Charkha wove us together as one nation.The Prime Minister said the Textiles sector is a key sector that will help in building an AatmaNirbhar Bharat or self-reliant India. He said the Government is particularly focusing on Skills upgradation, Financial assistance and Integrating the sector with latest technology. He said to assist our weavers in continuing to make world class products, we want to learn global best practices and also our best practices. The exchange of ideas and sharing of best practices in this webinar will create new avenues for collaboration.The Prime Minister said world over, the textile sector employs many women. Thus, a vibrant textile sector will add strength to efforts of women empowerment.
Text of PM's message on Indian Textile Traditions at webinar organised by ICCR and UPID
Prime Minister delivers inaugural address at VAIBHAV 2020 Summit
 "The need of the hour is to ensure more youngsters develop interest in Science. For that we must get well-versed with science of history and history of science", said Prime Minister ShNarendraModi on Friday while inaugurating the VaishvikBhartiyaVaigyanik (VAIBHAV) Summit, a global virtual summit of overseas and resident Indian Researchers and Academicians. "VAIBHAV Summit 2020 celebrates Science and Innovation from India and World. I would call it a true sangam or confluence of great minds, through this gathering we sit to form our long lasting association for empowering India and our planet", he said. Shri NarendraModi said, Government of India has taken numerous measures to boost scientific research and innovation as science is at the core of its efforts towards socio-economic change. Prime Minister referred to India's immense efforts towards development of vaccines and executing the vaccination programme. He said, the long break in vaccine production is broken. In 2014 four new vaccines were introduced into our immunization programme. Shri NarendraModi referred to the National Education Policy 2020 which was brought in after three decades and after nation-wide detailed consultations and deliberations. The policy aims to boost curiosity towards science and gives much needed boost to Scientific Research. It provides open and broadbased environment to nurture young talent.
Text of PM's address at VaishwikBhartiyaVaigyanik (VAIBHAV) Summit 2020
Vice President calls for reviving the Gandhian ideals to address social, political, economic & environmental problems faced by the world
The Vice President, Shri M. Venkaiah Naidu called for reviving the Gandhian ideals in a world that is increasingly raven with the social, political, economic as well as environmental problems on Friday. He said that the world today needs a healing touch and that is what Gandhian ideals can give us. The Vice President made these remarks while delivering the valedictory address through a pre-recorded video at the International Webinar on "Gandhi and the World" organised by the Indian Council of World Affairs (ICWA). Highlighting the timelessness and relevance of Gandhian values, the Vice President said that they acquire greater relevance in a world that is facing new challenges. Talking about the ongoing COVID-19 pandemic, Shri Naidu said that when the world experienced a similar challenge in 1918 during the Spanish Flu, Gandhiji spoke about the need to understand the pain of all people, especially the poor and the underprivileged. Calling for empathy and not sympathy towards poor, the Vice President called for extending a helping hand to the needy and mitigate their hardship during these testing times. He also drew attention to GandhiJi's advice to follow the norms that needed to be maintained to protect oneself from the global health challenge at that time.
Shri PiyushGoyal, Union Minister of Railways and Commerce & Industry inaugurates Phoolbagan Metro Station
Shri PiyushGoyal, Minister of Railways and Commerce & Industry inaugurated Phoolbagan Metro station of East-West Metro on 4th October, 2020. Shri PiyushGoyal also flagged off the first train from the newly inaugurated Phoolbgan station through video link. In his address, congratulating all for taking extra initiative to complete the work of Phoolbagan station in the midst of COVID-19 pandemic, Shri Goyal said that this extension of services from Salt Lake Stadium to Phoolbagan (a stretch of 1.665 kms) will be a great help for the commuters more so because of its proximity to Sealdah station. Terming this as a gift for Durga Puja, he also said that Metro provides the safest, cleanest and fastest transportation system in Kolkata.
Shri PiyushGoyal addresses 74th annual session of Hindustan Chamber of Commerce
Union Minister of Commerce and Industry & Railways Shri PiyushGoyal virtually addressed 74th annual session of Hindustan Chamber of Commerce on Saturday.  He said that the initiatives that the Chamber has been taking clearly show the goodwill they have been able to generate. Chambers have played a very important role in highlighting to the Government areas of concern, the problems on the ground & in coming up with the innovative solutions to solve the problems of business while also maintaining the sanctity of fight against the COVID. Shri Goyal said that we are all working together to re-frame & re-imagine our businesses, re-engineer the way Govt works & change policies, laws & procedures to make them contemporary. The Minister said that this has been a period where the true resilience of Indian businesses has been put to test. He said that we have not only become one of the largest manufacturers of PPEs, masks, ventilators & medicines across the world, but are also exporting them. Even during the strictest lockdown period, our exports did not stop, showing to the world that India is a reliable partner. The world now looks towards India as a trusted, reliable partner in the global supply chain.
Despite Covid-19 Fear, Khadi India's Flagship CP Outlet Records sale of Rs 1.02 crore on Gandhi Jayanti
The soaring spirit of Khadi lovers got better of the Covid-19 fear this Gandhi Jayanti with the Khadi sales figure crossing the Rs 1 crore mark at Delhi's flagship Khadi India outlet in Connaught Place. On Friday (October 2), the overall sales of Khadi was recorded at Rs 1,02,19,496, which is significantly high given the prevailing Corona pandemic situation.
Union Minister DrJitendra Singh addresses the Global Conference on Integrative Healthcare and Communication at New Delhi
Addressing the Global Conference on Integrated Healthcare and Communication, in which experts from different countries participated on Saturday, Union Minister DrJitendra Singh said, COVID has shifted the medical fraternity's attention to integrated healthcare and now Physicians across the world are looking for optimum synergism among different streams of medical management. DrJitendra Singh said, during the COVID pandemic, several Allopathic Medical professionals who were hitherto skeptical about other systems of Medicine, started showing interest in immunity-building drugs and resistance boosters from Ayurveda and Homeopathy. If every adversity is accompanied with a virtue, he said, as far as medical fraternity is concerned, the pandemic had prompted all the different streams of medical practice to come together and find an optimum meeting point. DrJitendra Singh recalled that ever since NarendraModi took over as Prime Minister of India, he has brought to the centre stage the virtues of indigenous system of medical management.
SAI issues SOP for "Graduated Return to Play" (GRTP) for high-performance athletes who test positive for COVID-19
Keeping the health and fitness of every athlete in mind, Sports Authority of India (SAI) has issued guidelines (SOP) for high-performance athletes who are training at SAI centres and tested positive for COVID 19 virus. Under the new guidelines, termed "Graduated Return to Play" (GRTP), all SAI officials and centres have been asked to monitor the progression ofathletes who have tested positive for COVID-19 virus and are undergoing training in SAI facilities. Under the new guidelines, all SAI officials have been given strict instructions and added responsibilities with regards to training athletes who test positive for COVID 19 virus.SAI is also identifying medical and paramedical experts to designate at each Centre to ensure clinical assessment of COVID-19 infection on the athletes and implementation of the guidelines stated within the SOP.Further, coaches have been instructed to plan a physical activity at 50% of normal intensity and volume for an otherwise healthy patient with a self-limiting course of COVID-19 who has been asymptomatic for 7 days.
INPUTS FROM PIB FIELD OFFICES
Kerala:

Concerns grow as four districts record over 10,000 Covid-19 cases in 15 days in Kerala; Thiruvananthapuram, Malappuram, Kozhikode &Ernakulam witness consistent surge in daily tally. With the government showing no sign of conciliation in the suspension of staff-members of the Government Medical College Hospital in Thiruvananthapuram, the medical fraternity has decided to intensify their protests. The State on Sunday recorded 4,851 recoveries, the highest single-day figures till date, even as Covid transmission remained unabated with 8,553 fresh cases being reported.

Tamil Nadu:

With the allegations cropping up over the recent death of ten Covid-19 patients at ESI Hospital ion Coimbatore reportedly due to the shortage of oxygen supply, the hospital Dean, A Nirmala, cleared the air and said that the mortality occurred only due to virus severity. Government doctors in the State have revived their demand for a pay hike on par with that of Central government doctors. Over 50,000 candidates appeared for the civil services prelims exam in over 300 centres across the State on Sunday; the exam was originally scheduled for May 31, but was postponed due to the pandemic.

Karnataka:

With 4340 new Covid cases in Bangalore the number of positive cases crossed have 2.5 lakh mark in the city. Karnataka reported over 10,000 new Covid-19 cases yesterday third time in a week. The number of Covid-19 patients currently under treatment is at its highest in Karnataka with 1,15,574 Covid-19-positive persons in hospitals or home isolation. The erstwhile Mysuru royal family has decided to celebrate the ensuing Navaratri festivities at the palace without the participation or presence of family members, visitors and the media, in view of rapid surge in Covid-19 cases in Mysuru.

Andhra Pradesh:

AP releases Unlock 5.0 guidelines in line with the Central government's guidelines. Permits theatres to open from October 15, with 50 per cent seats and approves opening of entertainment parks, swimming pools for players to practice. Students will be allowed into the school with the permission of their parents and mostly give preference to online classes. Meanwhile, the coronavirus cases in Andhra Pradesh have seen a decline from the last couple of weeks. A paper published in the journal Science stated that 'Covid alert tracking system' set up by the State Disaster Management Authority helped the government as this highly developed system was capable of keeping a tab of 25,000 people at a time.

Telangana:

1335 new cases, 2176 recoveries & 08 deaths reported in the last 24 hours; out of 1335 cases, 291 cases reported from GHMC. Total cases: 2,00,611; Active cases: 27,052; Deaths: 1171; Discharges :1,72, 388. Hyderabad-based vaccines manufacturer Bharat Biotech has announced its novel Coronavirus vaccine Covaxin approved for human trials, will use adjuvant Alhydroxiquim-II to boost immune response and longer lasting immunity. The technology is being used under this licensing agreement with Kansas-based ViroVax.

Maharashtra: In Maharashtra, more than 4 lakh restaurants, bars, and hotels have been permitted to reopen after over 6 months, with 50 per cent capacity.  They are required to mandatorily follow all Covid related guidelines.  Out of nearly 4 lakh bars and restaurants – about 14,000 in Mumbai alone, nearly 30-40% have decided to open, while others want to wait and watch for a week.   Maharashtra Health Minister Rajesh Tope on Sunday said the COVID-19 recovery rate in the state has improved and the fatality rate dropped due to changing protocol in treatment. He said the state reported nearly 14,000 fresh cases on Saturday, while over 19,000 patients recovered from the disease.

Gujarat: It was a day of several lowest scores for Gujarat in context of Covid-19 – after 187 days or more than six months, the daily death toll reached in single digit at nine. The daily tally of 1,302 cases was the lowest in 26 days. At 56,800 tests, it was the lowest daily testing for Covid-19 in the state in 49 days. On the other hand, the number of active cases in Gujarat reached all-time high at 16,836.  

Rajasthan: Jaipur city has reported over 400 cases daily for the past seven days in a row and is witnessing the worst Covid-19 outbreak. On Sunday, 421 people tested positive for the virus. Breaching 23,000 mark, the city's overall tally reached 23,179 cases. In the past seven days, the city has reported 2,965 cases, accounting for 13% of the total cases reported since first person was found infected in the city in March.

Madhya Pradesh: In Madhya Pradesh, the number of COVID-19 cases in the state climbed up to more than 1.35 lakhs after 1,720 new cases were reported in the past 24 hours. With 35 patients succumbing to the infection, the death toll rose to 2,434. There are now 19 thousand 372 active cases in Madhya Pradesh.  Additional chief secretary health, Mohammed Suleman informed that the state government is aiming to test at least 30 thousand per day but Challenge is that people are not readily volunteering for testing and do not report to fever clinics for tests.

Chhattisgarh: In Chhattisgarh, "Corona Intensive Community Survey Campaign" is going on. Under this campaign, a door-to-door survey is being conducted to identify patients with symptoms of corona infection in rural and urban areas of the state by October 12. The objective of this campaign is to identify Corona patients as soon as possible by conducting intensive community survey in urban and rural areas.

Assam: In Assam, 1,351 patients were discharged yesterday. Total Discharged Patients are 1,52,124& active patients are 33,324.

Manipur: 206 new COVID-19 positive cases reported in Manipur. Three more persons succumb to the disease taking the toll to 74. Recovery rate in the state is 77 percent.

Meghalaya; Meghalaya COVID-19 total active cases 2209, total BSF and Armed Forces 127,  total others 2,082 & total recovered 4,393.

Mizoram: No new case of Corona detected in Mizoram, total cases 2,120, active cases 313. Mizoram registered a recovery rate of more than 85 percent, which is higher than country or world's recovery rate, a health official said.

Nagaland:  Security forces continue to lead the COVID-19 table at 47% with 3,101 cases out of total 6,552 in Nagaland. Returnees & traced contacts comprise 24% each while frontline workers make up 5% of the total.Another 123 new cases detected in Nagaland. Total reaches 6,552, recoveries are 5,258 and active cases 1,221.

Sikkim: Two more COVID deaths take Sikkim's toll to 45. Sikkim's tally of confirmed cases of COVID-19 reached 3,093 with 43 new cases of novel coronavirus reported in the last 24 hours. There are now 649 active cases in the State.
FACT CHECK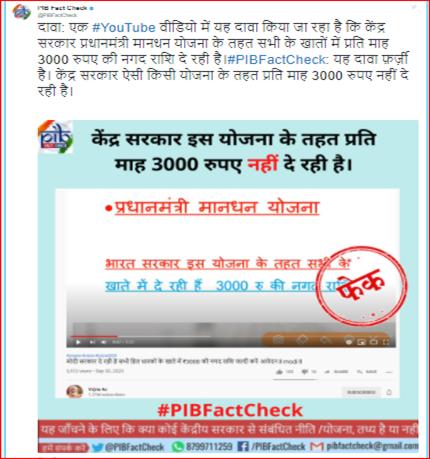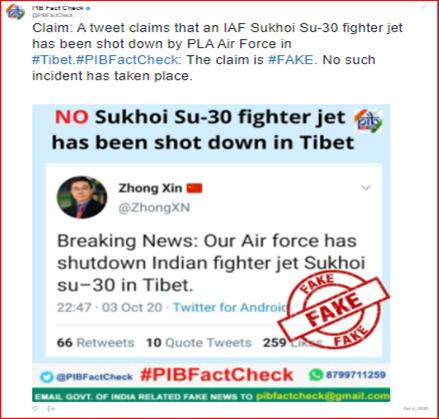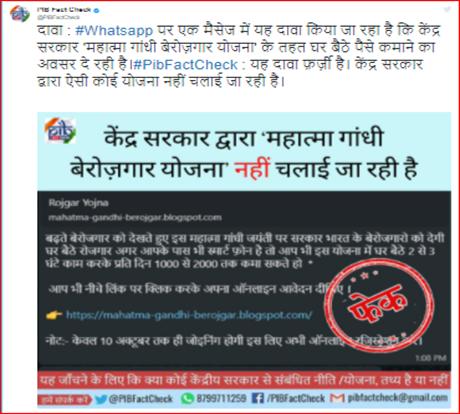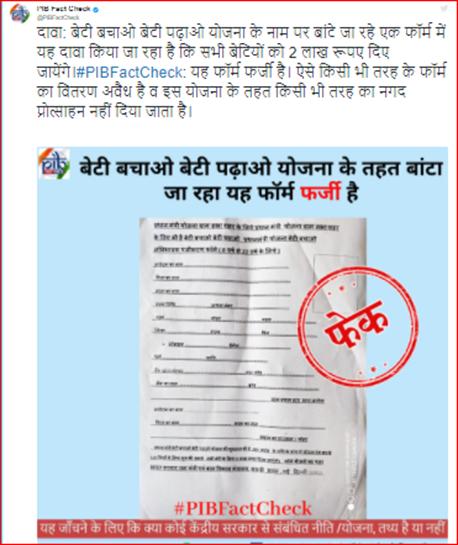 *******
YB