(Contains Press releases concerning Covid-19, issued in last 24 hours, inputs from PIB Field Offices and Fact checks undertaken by PIB)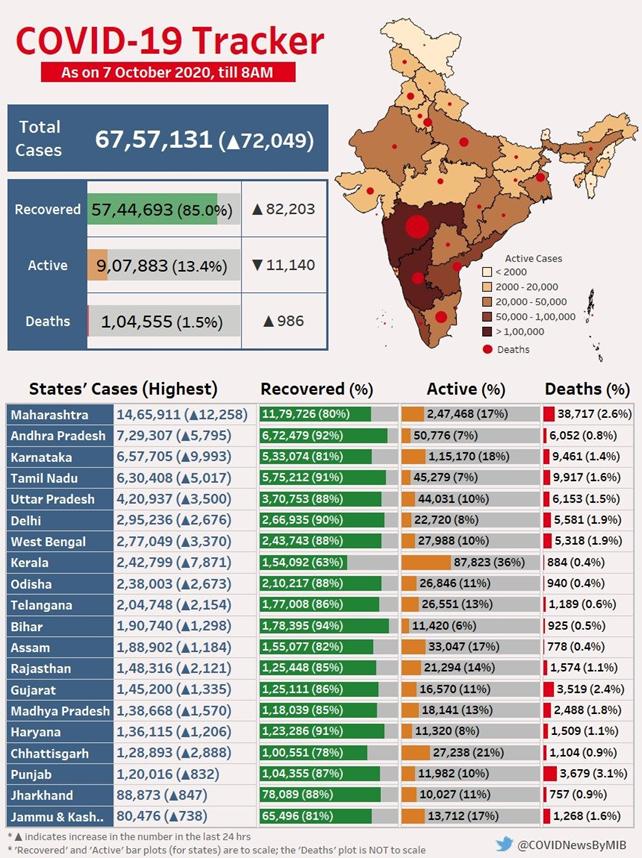 India scales another peak with Recovery Rate leaping past 85%, Recovered Cases exceed Active Cases by more than 48 lakhs, 18 States/UTs report Recovery Rate more than National Average
India has crossed a significant milestone. The national recovery rate has jumped past 85% today with the continuous streak of high number of recovered cases being reported in the past few weeks. The recovered cases have exceeded the new confirmed again during the past 24 hours. 82,203 recoveries have been registered in the last 24 hours in the country while the number of new confirmed cases stands at 72,049. The total number of recoveries has touched 57,44,693. This has bolstered and sustained India's global position at the country with the maximum number of recoveries. The sustained high levels of recoveries have led to further widening of the gap between active and recovered cases. Recovered cases exceed the active cases (9,07,883) by more than 48 lakh (48,36,810). The recovered cases are 6.32 times the active cases ensuring that the recoveries are consistently rising. The active caseload of the country has further slid to 13.44% of the total positive cases and is consistently declining. Matching the rise in the national figure, 18 States/UTs have Recovery Rate more than the national average.  75% of the new recovered cases are being reported from ten States, viz. Maharashtra, Karnataka Andhra Pradesh, Tamil Nadu, Kerala, Uttar Pradesh, Odisha, Chhattisgarh, West Bengal and Delhi. Maharashtra is topping the list with nearly 17,000 recoveries while Karnataka contribute more than 10,000 to the single day recoveries. A total of 72,049 new cases have been reported in the last 24 hours in the country. 10 States/UTs account for 78% of the new confirmed cases. Maharashtra continues to lead this tally. It has contributed more than 12,000 followed by Karnataka with nearly 10,000 cases. 986 deaths have been reported across the country in the past 24 hours. 10 States/UTs account for 83% of the deaths in the last 24 hours due to COVID. Of the new fatalities, Maharashtra reported more than 37% of deaths with 370 deaths followed by Karnataka with 91 deaths.
Dr. Harsh Vardhan digitally inaugurates Super Speciality Block at Shyam Shah Government Medical College, Rewa, Madhya Pradesh
Dr. Harsh Vardhan, Union Minister of Health and Family Welfare along with Sh. Aswini Kumar Choubey, Minister of State for Health and Family Welfare, Sh. Shivraj Singh Chauhan, Chief Minister of Madhya Pradesh digitally inaugurated the Super Speciality Block (SSB) at the Shyam Shah Government Medical College, Rewa, Madhya Pradesh. The 200-bedded Super Speciality Block is built with an investment of Rs 150 crores under the Pradhan Mantri SwasthyaSurakshaYojana (PMSSY) of Government of India. It has departments of Neurology, Neurosurgery, Nephrology, Urology, Cardiology, CTVS, Neonatology and Pulmonary Medicine. There will be six modular Operation Theaters, 200 Super Specialty Beds, 30 ICU Beds and eight ventilators in the SSB. This facility will have a training capacity of 14 Post Graduate students.Dr Harsh Vardhan also urged people to follow COVID appropriate behaviour. He reminded people about the Social Vaccine of wearing masks/face covers while in public, following hand hygiene and respiratory etiquette, and maintaining physical distancing or Do GazkiDoori to curb spread of the infection.
Digital platform is being built to track COVID-19 vaccine administration and movement: Health Secretary; National Clinical Management protocol based on Ayurveda and Yoga for Management of COVID-19 to be used in addition to Standard Advisory and COVID appropriate behaviours: Secretary, AYUSH
Health  Secretary, Ministry of Health and Family Welfare, Shri Rajesh Bhushan in a media briefing on latest updates, preparedness and actions taken on COVID-19, at the National Media Centre in New Delhi yesterday mentioned that there is a gradual decline in daily new cases being reported in the country. He said that daily positivity rate is declining when compared to the previous week and that the new recoveries have exceeded the new cases reported in recent days. Secretary, AYUSH Ministry, Shri Vaidya Rajesh Kotecha spoke about the ' 'National Clinical Management Protocol' based on Ayurveda and Yoga for management of COVID-19, released by Health Minister Dr. Harsh Vardhan yesterday. He mentioned that the protocol has been brought out considering the Ayurveda literature and clinical experience, empirical evidences and biological plausibility and also emerging trends of ongoing clinical studies.
Phone call between Prime Minister Shri NarendraModi and HE Mr Vladimir Putin, President of the Russian Federation
Prime Minister Shri NarendraModi spoke on phone today with His Excellency Vladimir Putin, President of the Russian Federation. Prime Minister conveyed his warm greetings and best wishes to the Russian President on the occasion of his birthday. Prime Minister recalled his long association and friendship with His Excellency Putin, and appreciated the personal role that the latter has played in nurturing the Special and Privileged Strategic Partnership between the two nations. Both leaders agreed to remain in touch over the coming days, including on the challenges posed by the COVID-19 pandemic. Prime Minister expressed his keenness to welcome President Putin in India, as soon as possible after the normalisation of the public health situation.
API integration between PM SVANidhi and SBI portal launched – to ease process of receiving and processing loan applications
As a part of Prime Minister Street Vendor's AtmaNirbharNidhi (PM SVANidhi) Scheme, Shri DurgaShanker Mishra, Secretary, Ministry of Housing & Urban Affairs launched the Application Programming Interface (API) integration between the PM SVANidhi Portal and the State Bank of India portal. This integration will facilitate seamless flow of data between the two portals i.e. PM SVANidhi Portal and SBI's eMudra Portal in a secure environment and expedite the loan sanctioning and disbursement process, which will benefit the street vendors seeking working capital loan under the Scheme. The Ministry is implementing PM SVANidhi Scheme since June 01, 2020, for providing affordable working capital loan to street vendors to resume their livelihoods that have been adversely affected due to Covid-19 lockdown. This scheme targets to benefit over 50 lakh Street Vendors who had been vending on or before 24 March, 2020, in urban areas including those from surrounding peri-urban/ rural areas. As on October 6, 2020, over 20.50 lakh loan applications have been received under the PM SVANidhi Scheme.
Second Reservation Charts to be issued 30 minutes before the scheduled train departure time, as was done before the lockdown
Indian Railways has decided to restore earlier system of preparation of second reservation charts w.e.f. 10.10.2020. As per established pre COVID period instructions, the first reservation chart was prepared at least 4 hours before scheduled departure of train. Second reservation charts were prepared between 30 minutes to 5 minutes before scheduled/rescheduled time of departure of trains. Cancellation of already booked tickets was also permitted during this period as per provisions of Refund Rules. Due to pandemic, instructions were issued to shift the time of preparation of second reservation chart to 2 hours before scheduled/ rescheduled time of departure of trains. As per request of Zonal Railways for ensuring convenience of rail passengers, the matter has been examined and it has been decided that the second reservation chart shall be prepared at least 30 minutes before scheduled/rescheduled time of departure of train. Accordingly, ticket booking facility, both online and on PRS ticket counters, shall be available, before preparation of second chart. CRIS has been issued necessary modifications in the software accordingly so as to restore this provision w.e.f. 10.10.2020.
Declaration of Results of National Startup Awards 2020
Congratulating the winners, the Railways and Commerce & Industry Minister Shri PiyushGoyal said that the Startup awards will generate excitement and enthusiasm among the young entrepreneurs in taking their innovative ideas to the higher level. He said these are not only the recognition and celebration of the new Eco-system but will also encourage the startup fraternity to aim for the sky. The Minister said that startups are going to play important role in many strategic sectors. He said that new technologies will help in the economic development and take the fruits of development and growth to the last man in the pyramid. He called upon the startups to enlist the themselves in the Government e-market place (GEM) so that they can offer their services to the Government Departments and large number of customers. He said that it is nice to see that people in the country are now becoming job creators rather than job seekers. He said that State Governments are also facilitating and incentivising the entrepreneurs and this positive approach augurs well for their expansion and growth. He said the COVID-19 should not be seen as a challenge but as an opportunity and those who are coping up with this challenge and fight with focused approach with ideas, innovations and good execution, will reap the dividends.
Training for Indian hockey teams underway; captains, coach confident about reaching full momentum shortly
The Indian men's and women's hockey teams, both of which are based out of the NetajiSubhash Southern Centre in Bengaluru, have resumed their training after practice had been halted due to the nationwide lockdown imposed by the coronavirus. The players are hopeful of returning to their best soon and are satisfied with the safety measures adopted at the centre. Six players including captainManpreet Singh on their arrival at the camp after taking a break were found to be COVID positive. They were provided all assistance and proper care at the SAI centre and empanelled hospital and are now back at training. Proactive steps have been taken at the SAI centre to prevent further outbreak, where athletes are tested at arrival during their quarantine phase. Both the men's and women's hockey teams have qualified for the Olympics.
Dr.Jitendra Singh said, despite COVID-19, procurement of Wheat was 15 percent higher than the last year
Union Minister DrJitendra Singh today said the Modi Government ensured higher crop procurement during COVID pandemic, which is an indication of the sensitivity with which Prime Minister NarendraModi and the team led by him are committed to respond to the needs of farmer community during crisis times.Interacting with farmers, Panchayat representatives and local activists of peripheral areas of Basohli and Reasi, DrJitendra Singh cited figures to state that despite COVID-19, the procurement of Wheat was 15 percent higher than the last year and about 390 lakh tonnes of wheat was procured throughout the country. He said, despite lockdown measures in place, the Centre has ensured procurement from the doorsteps of farmers.
DEPwD, M/oSJ&E in Association with University of Melbourne, Australia to Organize International Conference on 'Mental Health – Looking Beyond COVID 19' Tomorrow
Department of Empowerment of Persons with Disabilities (DEPwD), Ministry of Social Justice and Empowerment in association with University of Melbourne, Australia is organizing an International Conference on 'Mental Health – Looking beyond COVID 19' tomorrow (8th October, 2020) through video conferencing. The Conference will be inaugurated by Dr.ThaawarchandGehlot, Union Minister of Social Justice and Empowerment and co-chaired by Prof. Craig Jeffrey, Director, Australia-India Institute. The Australian High Commissioner at New Delhi will also participate in the Conference.
Securing Fiscal Sustainability:Options for Navigating COVID-19 Crisis
Shri N.K. Singh, Chairman of the 15th Finance Commission's addressed the commonwealth Finance Minister's Meeting 2020. He said "The fiscal architecture of any economy in the 21st century inevitably rests on three pillars: the pillar of fiscal rules, the pillar of financial management process and the pillar of fiscal institutions. In a certain sense, we will soon enter the third phase of fiscal rules and policies. The first phase covered these rules by stipulating norms relating to fiscal deficit targets consistent with macroeconomic stability. The original fiscal responsibilities and management legislations in most countries concentrated on rules pertaining to fiscal deficits. In the second phase, we recognized that fiscal management must be guided by principles of equity, efficiency and transparency. These rules must be applied to all levels of government including subnational levels and budgetary institutions as well as management practices. The question of raising the quality and efficiency of public spending remains a continuing challenge. Equally, the availability of credible data across levels of government remains elusive. The classic questions of raising the quality and efficiency of public spending is a continuing challenge. The strain on public finances during theCOVID-19 crisis especially highlights the importance of reprioritizing expenditure. How quickly can expenditures be reprioritized for financing health, skill inculcation and infrastructure, accentuates the importance of ensuring public financial management policies. These policies encompass processes and systems."
DrJitendra Singh lauds the role of N-E States for better Corona Management
Union Minister of State (Independent Charge) Development of North Eastern Region (DoNER), MoS PMO, Personnel, Public Grievances, Pensions, Atomic Energy and Space, DrJitendra Singh has lauded the North Eastern States for better COVID management, which has earned the respective State governments as well as the civil society the appreciation from all quarters. The countrywide surveys conducted by impartial agencies have also testified this, he said. The DoNER Minister made these observations when the Health Minister of Meghalaya A L Hek called on him to discuss the various COVID related issues.
INPUTS FROM PIB FIELD OFFICES
Kerala:The Cabinet meeting held today has decided to form a Farmers' Welfare Board in the State. It also entrusted cooperative societies to procure paddy. Meanwhile State Electricity Minister M.M. Mani was tested positive for Covid-19 today. He is the fourth Minister in the state to test positive for the virus. The popular destination Munnar in Idukki district has banned the entry of tourist following an increase in the number of Covid cases in the area. A total of 7,871 new active Covid-19 cases were confirmed in the state yesterday. Presently there are 87,738 patients undergoing treatment and 2.33 lakh people are under observation in the State. The Covid death toll is 884.

Tamil Nadu:No reopening of schools for now, student health is our priority, says TN Education Minister. Tamil Nadu makes e-pass mandatory to enter Valparai hill town from outside Coimbatore district; the state government has been restricting visitors to hill stations in the State with e-passes continuing to be mandatory for travel to The Nilgiris. AIADMK MLA from Chidambaram assembly constituency, K.A. Pandian, tested positive for Covid-19 on Wednesday; he was admitted to a private hospital in Chennai. With 5,017 fresh infections, Tamil Nadu sees marginal dip in daily count yesterday; State reported 71 deaths; 5,548 persons discharged; 1,306 test positive in Chennai.

Karnataka: High court seeks data on district wise beds and other medical facilities availability for Covid patients from the State government. State government reduces fine amount for not wearing mask; in cities is has been to Rs 250 from earlier Rs 1000 and in rural areas reduced to Rs100 from earlier Rs500. Government makes Covid19 test must for tourists in Kodagu. Schools and Pre-University colleges in the State to remain closed this month. Bangalore urban witnessed highest single day spike of 5012 cases yesterday.

Andhra Pradesh:APSRTC cargo services revenue has been increasing steadily much to the relief of the cash-strapped State-run road transport corporation.  Tirupati region netted an income of Rs 58.58 lakh through its cargo services in September against just Rs 1.67 lakh in April during lockdown, revealing phenomenal increase in revenue through cargo services. The state has registered 5795 new Covid cases, increasing the state's tally to 7.29 lakh, even as 6046 more recoveries outnumbered new cases yesterday.  33 more patients succumbed to the virus with the state-wide toll going up to 6052.  However, recoveries outnumbered infections and total recoveries stood at 6.72 lakh.  Corona cases continues to rise in Prakasam district. Another 452 cases have been reported recently, bringing the total number of positive cases across the district to 52,742.

Telangana: 2154 new cases, 2239 recoveries & 08 deaths reported in the last 24 hours; out of 2154 cases, 303 cases reported from GHMC. Total cases: 2,04,748; Active cases: 26,551; Deaths: 1189; Discharges:1,77,008. In a significant decision aimed at helping farmers not having favourable market conditions, Telangana government has decided to purchase entire paddy and cotton cultivated in the 'vaanakalam' (rainy season).

Chandigarh: The Administrator, UT Chandigarh, directed that Health Administration should focus on economically weaker sections, so that there is no outbreak of corona in those areas, which are generally congested and crowded.  He also directed the doctors' Committees to review the situation on daily basis and recommend remedial measures accordingly.

Haryana: In view of the upcoming festive season, Haryana Chief Secretary has directed the officers concerned to ensure successful implementation of the 'COVID Appropriate Behaviour' campaign in order to spread awareness among masses for the containment of COVID-19 infection. The Chief Secretary said that Sarpanch, Panch, Village Secretary, ASHA workers, and Anganwadi workers can play an important role in spreading awareness among the people living in rural areas, therefore active participation of all of them should be ensured.

Maharashtra: Maharashtra Industries Minister Subhash Desai has assured business fraternity in the state that the supply of industrial oxygen will soon be normalized. This comes a month after the state government ordered that 80 percent of the oxygen produced in the state be allocated for the treatment of COVID patients. 132 police personnel tested positive for COVID-19 in the last 24 hours & 4 died, taking total positive cases to 24,386 in the force. The total no. of active cases in the state stands at 2.47 lakh and total no. of deaths is 38,717.

Gujarat: The recovery rate in Gujarat has reached 86.16 percent, with no. of active cases being 16,597. The death toll in last day was 10.

Rajasthan: A total of 2,121 new cases were reported on Tuesday, out of which maximum were from Jaipur district (469 cases), followed by Jodhpur (292 cases) and then Alwar (196 cases). 15 deaths have been reported in the last day, while no. of active cases is now 21,294.

Madhya Pradesh: The recovery rate has further improved and reached up to more than 83 per cent in Madhya Pradesh. In a district-wise review of Corona infection, the highest 425 new cases of COVID-19 have been reported in Indore district followed by 299 cases in Bhopal, 141 in Jabalpur and 70 in Gwalior. The no. of active cases is now 18,141.

Chhattisgarh: An awareness campaign has been initiated in several districts to break the chain of corona infection, by encouraging people to take necessary precautions to prevent corona infection. Public Address System, door-to-door campaigns and social media are being used, messages are being sent in both Hindi and the local dialect Chhattisgarhi. People are being encouraged to fill an online form taking oath that they will use masks. The no. of active cases in the state is now 27,238.

Goa: In addition to treatment of patients, drug therapy, nutrition, etc., patients also require assistance in numerous things. For catering to it, Patient Handling Services has commenced at ESI Hospital, thereby making Goa the first state to start a service for safe patient handling. The no. of active cases in the state is now 4,720.

Assam: In Assam, 1184 more people tested positive for COVID-19 cases and 1586 patient discharged yesterday. Total cases 188902, active 33047 and 778 death.

Meghalaya: In Meghalaya, 115  COVID-19 patient discharged today. Total active cases 2371 and total recovered 4606.

Mizoram: In Mizoram, 20 more people tested positive for COVID-19 yesterday. Total cases 2148 and active 261

Nagaland: In Nagaland, total of 6662 COVID-19 confirmed cases, armed forces account for 3141, traced contacts 1634, returnees 1530 & frontline workers 357.
FACT CHECK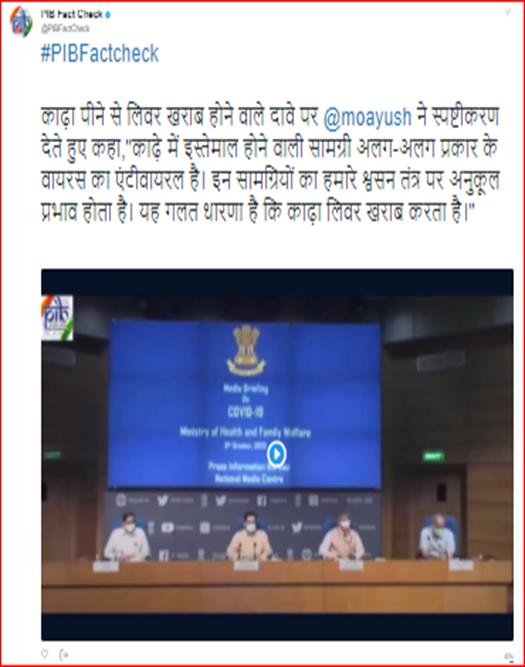 ******
YB