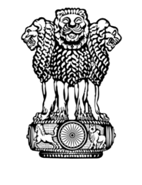 (Contains Press releases concerning Covid-19, issued in last 24 hours, inputs from PIB Field Offices and Fact checks undertaken by PIB)

letes 9 lakh consultations
#Unite2FightCorona
#IndiaFightsCorona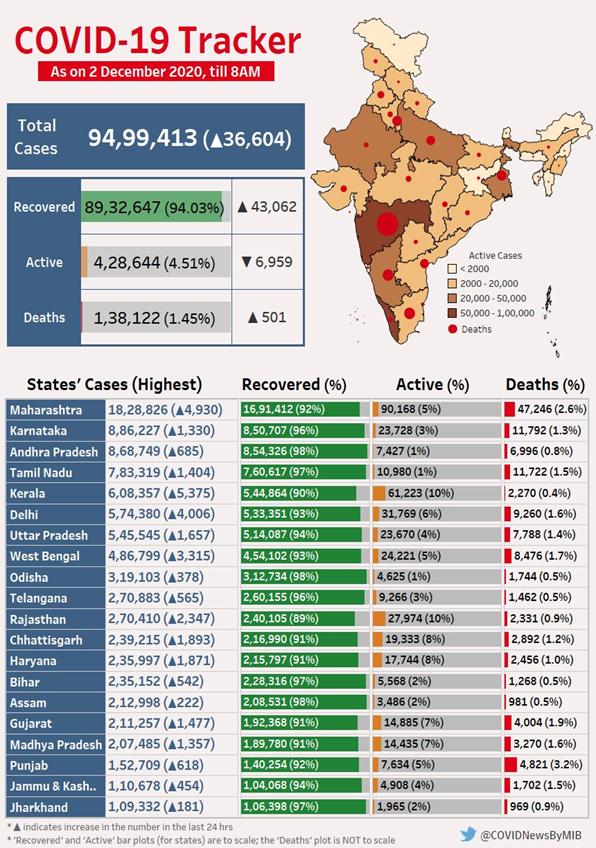 India's Active Caseload drops to 4.28 Lakh after 132 days, Daily New Cases at around 30K for the past three days
India's total Active Caseload had significantly dropped to 4.28 lakh (4,28,644) today. This is the lowest after 132 days. The total active cases were 4,26,167 on 23rd July, 2020. There has been a sustained decrease in the number of active cases. India's present active caseload consists of just 4.51% of India's Total Positive Cases. The daily new cases added to the country's COVID numbers have been around 30K since the past three days. The number of daily new cases in the last 24 hours is 36,604. 43,062 cases recovered and discharged in the last 24 hours. The number of daily recovered cases has surpassed the daily new cases since the past five days. The difference in New Recoveries outnumbering New Cases has also improved the Recovery Rate to 94.03% today. The total recovered cases stand at 89,32,647. The gap between Recovered Cases and Active Cases, that is steadily increasing, has crossed 85L today and presently stands at 85,04,003. 78.35% of the new recovered cases are observed to be concentrated in 10 States/UTs. Maharashtra has reported the maximum number of single day recoveries with 6,290 newly recovered cases. 6,151 people recovered in Kerala followed by 5,036 in Delhi. 77.25% of the new cases are from 10 States and UTs. Kerala reported the highest daily new cases at 5,375. It is followed by Maharashtra with 4,930 new cases. 501 case fatalities have been reported in the past 24 hours. Ten States/UTs account for 79.84% of new deaths. Maharashtra saw the maximum casualties (95). Delhi and West Bengal follow with 86 and 52 daily deaths, respectively.
Health Ministry releases SOP on Preventive Measures in Markets to contain spread of COVID-19
Ministry of Health & Family Welfare has issued Standard operating Procedures (SOPs) on the preventive and precautionary measures to be followed to contain the spread of COVID19 in the country. The Health Ministry in recognition of the fact that marketplaces are visited by large number of people for their daily needs, shopping,entertainment, and food has designed a protocol to contain the spread of COVID-19. Amid COVID pandemic, with gradual opening of economic activities, markets are witnessing high footfalls. Such large gatherings, without observance of COVID19 appropriate behaviour have the potential to spread Coronavirus disease. This document outlines various generic precautionary measures to be adopted in addition tospecific measures to be ensured at marketplaces to prevent spread of COVID-19. These guidelines shall be applicable to both retail and wholesale markets. Some of the bigger markets may also have malls/ hyper/ supermarkets in them.
Health Ministry's telemedicine service e Sanjeevani completes 9 lakh consultations
In a landmark achievement, eSanjeevani, Health Ministry's national telemedicine initiative today completed 9 lakh consultations. The top ten States with highest consultations through eSanjeevani and eSanjeevaniOPD platforms are Tamil Nadu (2,90,770), Uttar Pradesh (2,44,211), Kerala (60,401), Madhya Pradesh (57,569), Gujarat (52,571), Himachal Pradesh (48,187), Andhra Pradesh (37,681), Uttarakhand (29,146), Karnataka (26,906), and Maharashtra (10,903). Telemedicine is a new modality for remote diagnosis and treatment of patients over internet. eSanjeevani enables virtual meetings between the patients and doctors & specialists from geographically dispersed locations, through video conferencing that occurs in real time. At the end of these remote consultations, eSanjeevani generates an electronic prescriptions which can be used for sourcing medicines. In order to enable delivery of outpatient services remotely during COVID-19 pandemic as many as 28 States have on-boarded the Ministry of Health's eSanjeevani initiative. These States are aggressively working towards long term enablement of telemedicine services.
WHO World Malaria Report 2020: India continues to make Impressive Gains in reduction of Malaria Burden
The World Malaria Report (WMR) 2020 released by WHO, which gives the estimated cases for malaria across the world, based on mathematical projections, indicates that India has made considerable progress in reducing its malaria burden. India is the only high endemic country which has reported a decline of 17.6% in 2019 as compared to 2018. The Annual Parasitic Incidence (API) reduced by 27.6% in 2018 compared to 2017 and by 18.4% in 2019 as compared to 2018. India has sustained API less than one since year 2012. India has also contributed to the largest drop in cases region-wide, from approximately 20 million to about 6 million.
AYUSH Day Care Therapy Centres for Central Government employees approved
A proposal of Day Care Therapy Center facility under Ayurveda, Yoga, and Naturopathy systems for central government employees and pensioners has been approved by the Ministry of Health and Family welfare. Private Day Care Therapy centers of Ayurveda, Yoga and Naturopathy will be empanelled under Central Government Health Scheme (CGHS) shortly, in a manner similar to empanelment of Day Care Therapy Centers of conventional (Allopathy) medicine already provided by CGHS.All CGHS beneficiaries, serving as well as pensioners will be able to avail the benefit of these centres. This step has been taken by the Ministry, keeping in view of the growing popularity of AYUSH system of medicines amongst the public at large and all CGHS beneficiaries.Initial empanelment of Day Care Therapy Centres will be undertaken on pilot basis for Delhi and NCR for a period of one year and subsequently would be considered for other places.
Finance Minister delivers keynote address at the inauguration of the Sri Lanka Economic Summit 2020
Union Minister for Finance & Corporate Affairs, Smt. Nirmala Sitharaman delivered a Keynote Address at the inauguration of the 20th Edition of Sri Lanka Economic Summit (SLES) 2020 in virtual format, yesterday. SLES annually organized by the Ceylon Chamber of Commerce (CCC) is the premier forum in Sri Lanka for discussion on economic and business issues. The theme for this year's event is "Roadmap for Take-off: Driving a People –Centric Economic Revival". President of Sri Lanka H.E. Mr. Gotabaya Rajapaksa was the Chief Guest at the Inaugural Session.The Finance Minister highlighted the measures taken by India to address the challenges related to pandemic. Talking on the economic take-off for Sri Lanka leveraging on the key policy levers, the Finance Minister in her keynote address said that India's 'Aatmanirbhar Bharat Abhiyan' and the vision of 'Self Reliant Sri Lanka', are synergistic and complementary and could be used to further consolidate the economic rejuvenation efforts by both countries.
Shri Pradhan says India is all for a reasonable and responsive pricing of crude
Minister of Petroleum & Natural Gas and Steel Shri Dharmendra Pradhan has said that India is all for a reasonable and responsive pricing of crude. Speaking at SwarajyaWebiner Event on Aatmanirbhar Bharat today, he said that gone are the days of monopoly, and the producers should take into account the consumers' viewpoint also. The Minister said that India will drive the growth in global energy demand as its energy consumption is projected to grow at 3 percent per annum up to 2040, faster than all major economies of the world. Talking about the Atmanirbhar Bharat, Shri Pradhan said that India has faced the COVID-19 situation with fortitude and a spirit of self-reliance. He said that the Five pillars of Atmanirbhar Bharat focus on Economy, Infrastructure, System, Vibrant Demography and Demand. "The Aatmanirbhar Bharat package and Pradhan Mantri Gareeb Kalyan Yojana have provided relief to all sections of the society and provided necessary support to all sectors during the Covid-19 pandemic. These will enable India to bounce back quickly and start scripting the next chapter of Indian growth story. In the midst of coronavirus pandemic, Indians resolve to become self-reliant and 'Aatmanirbhar Bharat' is on the mind of India. This dream is turning into a pledge. Aatmanirbhar Bharat has become a 'mantra' for the 130 crore Indians today.", he added.
Railway Freight records highest loading in 2020 and marks 9% increase in November compared to same period last year
Freight figures continue to maintain the high momentum in terms of earnings and loading in the month of November 2020 for Indian Railways. On mission mode, Indian Railways' Freight loading for the month of November 2020 crossed last year's loading and earnings for the same period. In the month of November 2020, Indian Railways loading was 109.68 million tonnes which is 9% higher compare to last year's loading for the same period (100.96 million tonnes). In this period Indian Railways earned Rs. 10657.66 Crores from freight loading which is also Rs. 449.79 Cr.(4%) higher compare to last year's earnings for the same period (Rs. 10207.87 crores). Despite festival holidays and Cyclone Nivar affecting freight loading, Indian Railways continue to register impressive figures in freight loading in last three months (in October 15%, in September 15%) suggesting steady economic recovery. COVID 19 has been used by Indian Railways an opportunity to improve all round efficiencies and performances.
Meeting of National Selection Committee to Select Awardees for National Awards for Empowerment of Persons with Disabilities Postponed Due to Prevaling Situation of Pandemic Covid-19
National Awards for Empowerment of Persons with Disabilities are conferred on the 'International Day of Persons with Disabilities' in recognition of the contributions/skills of persons with disabilities Accordingly, the Department of Empowerment of Persons with Disabilities (Divyangjan), had issued an advertisement dated 25th July, 2020 inviting applications for the National Awards, 2020.Applications/nominations have been received by this Department.Consequently, the selection process has to be undertaken in a detailed manner by examination of documents and records submitted by the applicants. Thereafter, it needs to be placed before the National Selection Committee. Accordingly, the meeting of the National Selection Committee had been scheduled to be held on 01.12.2020. However, this meeting has now been postponed due to prevailing situation on account of Covid 19 pandemic. Once the situation improves, the meeting of the National Selection Committee will be held for taking up this exercise under intimation to the public through a prior notice.
INPUTS FROM PIB FIELD OFFICES
Maharashtra: A gradual rise in recovered cases of Covid 19 is being witnessed as the cured patients outnumbered those infected in the last 24 hours. Recovery rate of COVID-19 in Maharashtra stands at 92.49 percent while the case fatality rate is 2.58 percent.  For the first time after seven months, Mumbai recorded Covid mortality in single digit of 9 on Tuesday.   The number of active cases in the state now stands at 89,098.

Gujarat: Gujarat High Court has ordered compulsory community service at COVID-19 care centres for those who do not wear masks and directed State Government to issue a notification.  Meanwhile, Gujarat has capped the rate for Covid 19 RT-PCR test at Rs 800.  The number of active cases in the state is 14,885.

Rajasthan:  A central team is on a visit to Jaipur today to review COVID 19 situation in Rajasthan. The central team led by Dr. Vinod Kumar Paul, member of NITI Aayog had state level review of COVID 19 infection with officials of Health Department this morning. The situation of infection in Jaipur and Jodhpur was also reviewed. There has been a decline in new cases in the state in the last one week. But a large number of cases are being reported in Jaipur, Jodhpur and Kota and 34 percent of all active cases are in Jaipur alone, while about 22 percent active patients are in Jodhpur.

Assam: In Assam, 222 more people tested positive for COVID-19 and 135 patients discharged yesterday. Total cases rise to 212998, total discharged patients 208528, active 3486 and 981 total death.

Kerala: State Government has revised Covid-19 investigation guidelines. Accordingly, RTPCR test will be conducted for those aged more than 60 years, pregnant women, children with malnutrition in the beginning of containment period itself. Also all inmates of old age homes will be subjected to RTPCR test once in a month. Meanwhile, the state-run Kerala State Drugs and Pharmaceutical Ltd. has produced over 2.5 lakh litres of sanitizer to be used in the local body polls. It will be used in 34,780 booths in the state during next week's local body polls. This is the first ever election to be held in in Kerala after the Covid-19 outbreak. The Online booking for additional coupons for the darshan at the Sabarimala Lord Ayyappa temple has begun today. The number of devotees on weekdays has been raised from the previous 1,000 to 2,000.

Tamil Nadu: CM EdappadiPalaniswami chaired review meeting ahead of cyclone Burevi's expected arrival; CM said that nine NDRF teams have been deployed to Madurai, Kanniyakumari, Thoothukudi and Tirunelveli districts. "Officials have been directed to evacuate people living in low-lying areas. Basic necessities would be arranged at such centres, which would also provide hand sanitiser and ensure physical distancing," he said. Southern Railways to operate nine more special trains; reservations for the nine special trains will be opened at 8 am on December 2nd.

Karnataka: Covaxin trails are going to be successful in the state and Karnataka is fully prepared for the distribution of Covid-19 vaccine, said Health & Medical Education Minister Dr.K.Sudhakar. He was speaking here after the launch of 3rd phase clinical trials of Bharat Biotech's Covaxin in Vydehi Institute of Medical Science and Research Centre. In view of Covid, State Technical Advisory Committee has recommend that New Year public celebration be banned and night curfew be imposed from Dec 26 to Jan 1.

Andhra Pradesh: State on Tuesday filed a petition in the High Court challenging the State Election Commission's (SEC) decision to conduct local elections in February 2021. Panchayat Raj department principal secretary Gopal Krishna Dwivedi stated that it was a unilateral decision and urged the High Court to direct the SEC not to conduct elections in February without proper consultations. Mr Dwivedi urged the court to cancel the orders issued by the SEC for conduct of the local elections, stating that public health is the priority of the government and the entire government machinery is engaged in containing the spread of Covid-19.

Telangana: 565 new cases, 925 recoveries & 1 death reported in the last 24 hours; Total cases: 2,70,883; Active cases: 9,266; Deaths: 1462; Discharges: 2,60,155 with a recovery rate of 96.03 per cent, while the countrywide recovery rate is 94 per cent. Hyderabad records final voting percentage of 46.6% in GHMC elections as against 45.29% recorded in 2016 and 42.04% recorded in 2009.
FACT CHECK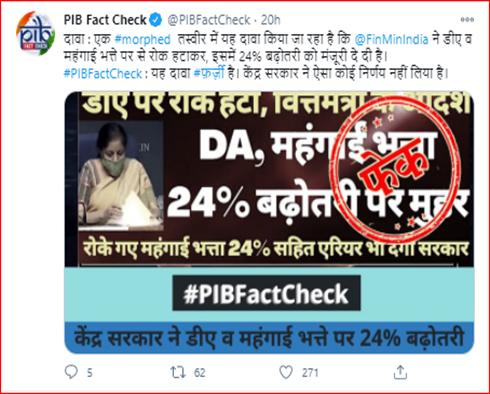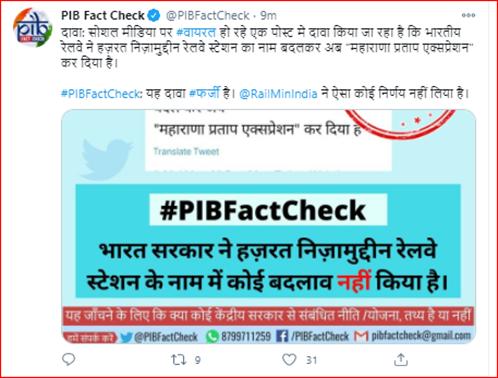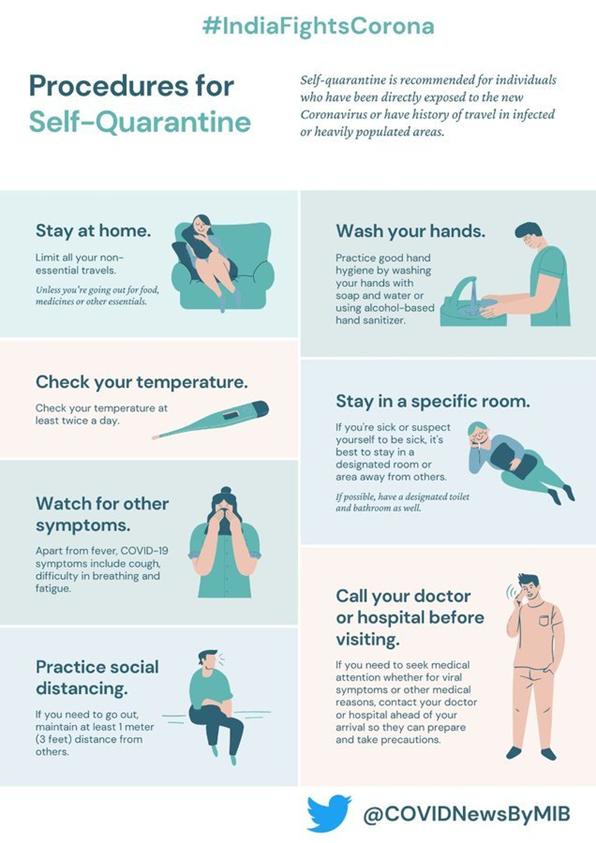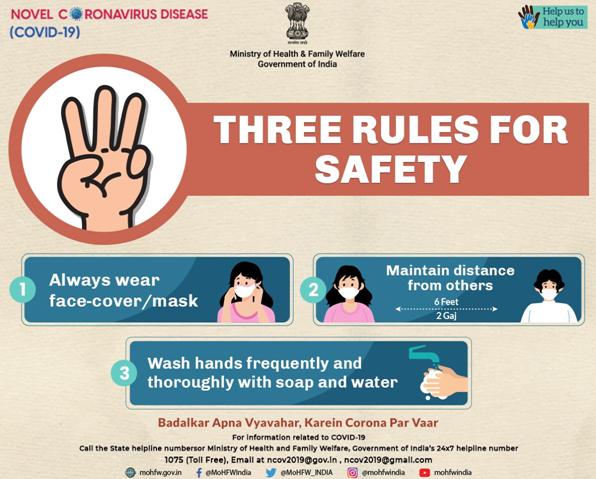 *******
YB