Flight Lieutenant Preji Raju Flying (Pilot) is posted to a frontline Avro Squadron since 08 October 2018. He holds CAT/IR 'C White' and has 330 hours of accident/incident free flying on type.
On 31 March 2020, he was detailed to fly a Routine Transport Role mission as captain from Agra to Gwalior. Immediately after take-off from Agra, the ground crew in the passenger cabin alerted the Captain that the starboard engine was on fire.
Fit Lt Preji Raju, in the face of a grave emergency, maintained his composure, correctly identified the emergency with the assistance of his co-pilot and promptly carried out initial actions despite not having fire indications in the cockpit. Even after switching off the engine and operating all available fire extinguishers, the fire continued. Amidst this rapidly deteriorating situation in air, he displayed exceptional courage and situational awareness, and decided to land on the cross runway. This decision proved crucial in minimizing the time in air with one engine still on fire. Despite his limited experience, he took command of the situation, displayed excellent Crew Resource Management and directed his co-pilot to operate the second fire extinguisher while he continued to fly the aircraft accurately. Having decided to land on a different runway, he displayed flawless crew coordination and spatial orientation to execute a near perfect single engine landing. He stopped the aircraft on the runway, ordered a quick exit and assisted in fire fighting as the engine was still on fire.
Flt Lt Preji Raju did not allow a life threatening situation to overwhelm him. He led from the front and displayed exceptional courage to save the aircraft and lives of its occupants, despite his relatively less service seniority and flying experience. His actions live up to the highest standards of bravery and professionalism enshrined in the ethos of the Indian Air Force.
For act of exceptional courage in the face of a grave emergency, Flight Lieutenant Preji Raju has been awarded Vayu Sena Medal (Gallantry).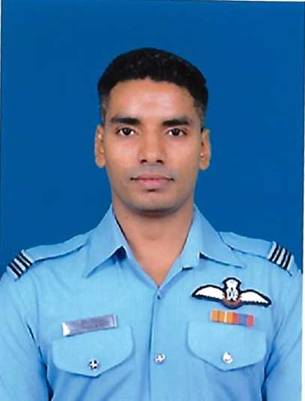 ***
ABB/IN/BSK/JAY