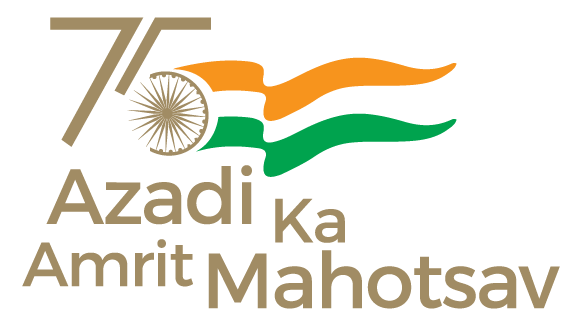 Prime Minister Shri Narendra Modi addressed the post Union Budget webinar on "Health Education and Medical Research" of Ministry of Health and Family Welfare and Dept of Pharmaceuticals (M/o Chemicals and Fertilizers), here today. It is ninth in a series of 12 post Budget webinars organized by the Union Government. Dr Mansukh Mandaviya, Union Minister of Health & Family Welfare, Dr Bharati Pravin Pawar, Union Minister of State for Health & Family Welfare and Dr V.K. Paul, Member (Health), NITI Aayog were also present in the webinar, which was webcast.  
The objective of the webinar was to involve the stakeholders in taking forward the various initiatives of the Government in the health and medical research sectors.
The Prime Minister remarked that healthcare has to be looked at from the perspective of both pre and post COVID era. He stated that "the pandemic has taught us that when medical calamity befalls, the entire healthcare apparatus of the country can fall apart". He pointed out that "as the pandemic focused global attention on healthcare, India went a step further and focused on wellness. That is why our vision is "One Earth, One Health" which underscores the importance of holistic healthcare for all living beings on mother earth".
भारत की अप्रोच सिर्फ HealthCare तक ही सीमित नहीं बल्कि हम एक कदम आगे बढ़कर Wellness के लिए काम कर रहे हैं। pic.twitter.com/bxGl4aQt71

— PMO India (@PMOIndia) March 6, 2023
Highlighting the critical issue of supply chain brought to the fore by the pandemic, the Prime Minister expressed concern that when the pandemic was at its peak, lifesaving medicines and equipment like vaccines, masks etc., had been used as weapons by some countries. He reiterated that in the last few years, the government has been making efforts to ensure that our import dependence on such critical items is reduced and emphasized the role of all stakeholders in this to move towards making of Atmanirbhar Bharat.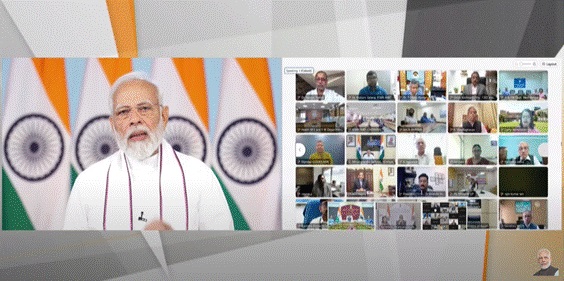 The Prime Minister noted that since India's independence, a long-term integrated approach to healthcare was a missing necessity. He said that "we have not limited healthcare only to the agenda of the Union Health Ministry. It has become part of a whole of the government approach today".
We have not limited healthcare sector to the Health Ministry, but have emphasized on 'Whole of the Government' approach. pic.twitter.com/1sDz8X8wCp

— PMO India (@PMOIndia) March 6, 2023
The Prime Minister stated that making healthcare affordable has been the topmost priority of the Union Government. "The rationale behind providing free treatment up to Rs. 5 lakhs through the Ayushman Bharat-PMJAY initiative was to save around Rs 80,000 crore of hard-earned money that would have otherwise been spent on medical expenditure", he stated. "Tomorrow, as India celebrates Jan Aushadhi Diwas, it is pertinent to note that there are approximately 9,000 Jan Aushadhi Kendras across the country supplying medicines at highly affordable rates. These Jan Aushadhi Kendras have saved an additional Rs. 20,000 crores of poor and middle-class families in India", he further stated.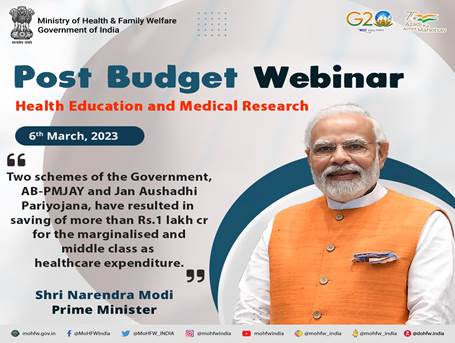 The Prime Minister underlined the government's commitment to bring modern healthcare infrastructure and facilities closer to people. He highlighted that "there are over 1.5 lakh Ayushman Bharat Health and Wellness Centres all over India which offer screening facilities for diseases like diabetes, cancer and heart ailments. Through PM-Ayushman Bharat Health Infrastructure Mission (PM-ABHIM), critical health infrastructure is being established in small towns and cities". He emphasized that through these initiatives, not only new hospitals are established but a health ecosystem is being created which are opening more opportunities for health entrepreneurs, investors and professionals.
सरकार का एक प्रमुख फोकस इस बात पर है कि लोगों को घर के पास ही testing की सुविधा मिले, प्राथमिक उपचार की बेहतर सुविधा हो। pic.twitter.com/e7Mn44VUwp

— PMO India (@PMOIndia) March 6, 2023
The Prime Minister observed that in the last few years, over 260 medical colleges have been established which simultaneously led to two-fold increase in the number of medical graduate and post-graduate seats since 2014. To similarly enhance the number of trained technicians in the country, this year's budget lays focus on establishing 157 new nursing colleges in close vicinity to existing medical colleges in the country. "This is a big step towards strengthening medical human resource for not only India but also for catering to the world's demand in case of any need", he stated.
Elaborating on the growing utilization of technology in healthcare, the Prime Minister noted that "We want to give timely healthcare to the citizens through the facility of Digital Health ID. 10 crore people have already benefited by teleconsultation through schemes like eSanjeevani. 5G is creating new opportunities in this sector for startups. Drones are bringing revolutionary changes in medicine delivery and testing services", he said. "This is a great opportunity for the entrepreneurs and will give a push to our efforts for universal healthcare", he further stated, urging the entrepreneurs to innovate in order to reduce the import of any technology.
The Prime Minister informed that the medical devices market, which is witnessing 12-14 percent growth, is reaching Rs 4 lakh crore in coming years. He said that India has started work on skilled manpower for future medical technology and high-end manufacturing and research. He said, in institutions like IIT, courses like biomedical engineering will be started. He further asked the participants to find ways of industry-academia and government collaboration.
The Prime Minister emphasized the need to capitalize on the success of India's pharma sector. The Prime Minister stated that, "India has earned the trust and confidence of the world during COVID19 pandemic as "Pharmacy of the World". We need to build on this trust and ensure that this is not tarnished in even the slightest manner". He informed that a new programme is being launched to boost research and innovation in the pharma sector through Centres of Excellence which will strengthen the economy as well as create new opportunities for employment. He stressed the need to find coordination between the private sector and academia as it has the potential to grow the market size beyond 10 lakh crores. Highlighting the several steps taken by the government to further research in this sector, the Prime Minister stated that many new labs by ICMR have been opened up for the research industry.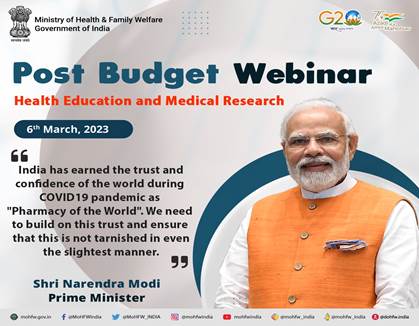 The Prime Minister noted the impact of the government's initiatives like Swacch Bharat Abhiyan, Ujjwala Scheme, Jal Jeevan Mission and National POSHAN Mission on preventive healthcare. He also mentioned the role of millets-Shri Anna, Yoga, Fit India Movement, and Ayurveda in promoting healthy lifestyles. Noting the establishment of the global centre for traditional medicine under the aegis of WHO in India, the Prime Minister reiterated his request for evidence-based research in Ayurveda.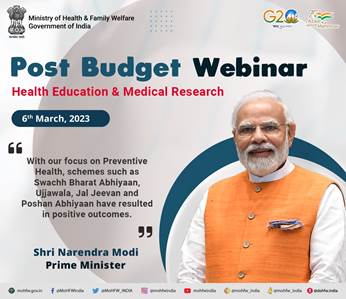 The Prime Minister highlighted that the efforts taken by the government are also aimed at making India the world's most attractive medical tourism destination.
The Prime Minister stressed that a developed health and wellness ecosystem can be created in India only with Sabka Prayas and requested all stakeholders to give in their valuable suggestions. "We should be able to implement the Budget provisions within the time limit for decided targets with a concrete roadmap. Realizing all the dreams on the ground before the next Budget while taking all stakeholders along will require the benefit of your experience", he told the participants.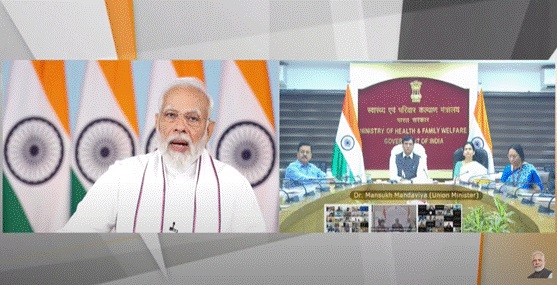 In his valedictory address, Dr Mansukh Mandaviya emphasized the sentiments of Prime Minister and stated that "The Union Budget has never been a mere declaration for this Government. It is a commitment of a stable government for growth and development polices for the country. The Prime Minister has shown us a clear and holistic vision of the country's development during the Amrit Kaal, and the Budget embodies the decisions necessary to achieve those goals". He further stressed that "This is the first time that health in the country has been linked with development. The Government has accorded the topmost priority to health, and it is a crucial and fundamental pillar of a "Swastha and Samruddha Rashtra".
The Union Health Minister highlighted that it there has been a shift from "volume to value based health outcomes. We are today discussing innovation, research, patents, quality in medical devices manufacturing. Under Prime Minister's leadership, India's economy and development sectors have transformed with focus on Make in India and Atmanirbhar Bharat, to move towards strengthening local economy."
He further highlighted that "The Union Budget is a means to develop growth and development pathways, through consultative process with all stakeholders. We are not just talking about creating new hospitals only, but also enhancing the number of medical professionals."
The webinar had breakout sessions on the following three themes:
Qualitative improvement in Nursing: Infrastructure, Education & Practice
This session saw the participation of around 400 experts comprising of centre, state, academia, industry and two participants from nursing unions. The speakers deliberated that norms for Indian Nursing Council with regard to infrastructure requirement for nursing colleges must be followed. Further, libraries should be equipped with e-books, journals and practical files should be maintained in addition to computer labs, laboratories, with availability of internet, skill labs and simulation labs should also be maintained.
Implementation of competency-based curriculum was highly advocated by the participants that includes standard syllabus prescribed by the Indian Nursing Council. Co-location of the nursing colleges with the medical colleges would further bolster the range and array of resources available such as bedside teaching opportunities to the students enhancing their learning experiences. As assessment framework for nursing education should be developed, with a monitoring committee at the national and state level that would facilitate adherence to standards.
A need for defining career pathway for the nursing profession was mentioned that would enable the nursing professionals to grow and develop their careers with leadership roles in decision making. This would also boost creation of jobs in the field, enabling to earn at a higher pay-scale. There was also a mention of developing an elective course for languages should be promoted that would facilitate in career opportunities of the nursing graduates.
Lauding the vision of the government Dr.V.K Paul stated "It is the biggest expansion of government nursing education capacity in the country and it will be noted in that fashion for a long time to come. 157 nursing colleges bringing in 16,000 private nursing seats is a phenomenal development." He opined that these colleges should be known as "Institutions of Eminence" that would further reinforce the motivation to maintain stellar standards of education in every way. He also added that imbibing soft skills in the curriculum is essential as the graduates of these courses will go on to become global ambassadors of the nation in the medical field. It was suggested that these Institutes of Excellence would act as mentors for the state nursing colleges.
The breakout group suggested that it is not only important to increase the quantity of nursing colleges, but equally critical to focus on the quality. Participants recommended that the Government must ensure that the quality of education in the already established nursing institutions (more than 5000 in number) remains at the forefront. It was suggested that training of the nursing students must take a central role in their education, wherein a large part of their education is invested in equipping them with the skill sets required on the practical aspect of their profession, thereby improving the quality of the nursing profession overall.
Public & Private sector utilization of ICMR labs as facilitator for Medical Research
Following up on the clarion call made by Prime Minister to advance research and development in the country, the budget saw announcements about opening up ICMR facilities for innovators and researchers. The breakout session on "Public & Private sector utilization of ICMR labs as facilitator for Medical Research" saw participation from about 500 experts from Industry, Academia and government where they discussed the ways for executing this policy efficiently.
The brainstorming session saw critical suggestions such as ramping up essential diagnostics and equipment through a robust supply chain, bringing stakeholders under single window system from start to end of a product lifecycle, making a unified list or single digital portal of areas of expertise being focused upon by institutions and industry partners, careful assessment of sustainability of this facility sharing policy, decentralization by creating nodal regional centres for hand holding and guidance for regional institutes, industry bodies, startups; focusing on creating clusters where stakeholders can work under one roof, more research time to clinicians, curtailing long approval processes through robust guidelines and streamlined regulatory processes. Other suggestions like bridging the gap between private and public institutional funding, focus on patenting standards, Intellectual property rights etc, creating a clinical trials network were given during the session.
While welcoming the budget announcements, Dr. Rajiv Bahl, Secretary, DHR noted that "a country can only become developed when it has robust research and development ecosystem. Through this budget announcement, our collaborations are going to increase and will strengthen capacities for the future readiness. Opening up ICMR facilities for innovators will also not only help in reducing our import dependency by providing impetus to home grown solutions, but will also help India in becoming global leader through efficient utilization of resources and skilled manpower.  He focused on two Cs i.e., Collaboration and Confidence, which were seen during covid pandemic where country rose to the occasion and instead of working in silos, worked as Team India and developed our own products such as diagnostics and testing kits.
Participants thanked the Government of India for taking this bold move that will not only expedite the research but will lead an idea from bench to market more efficiently. This will be an apt example of true Jan-Bhagidari for betterment of the country.
Pharma innovation and multidisciplinary courses for medical devices
Breakout Session on "Promotion of research and innovation in pharma medtech sector and support for courses for medical devices" focused on key opportunities India wants to explore in becoming Aatmanirbhar in this sector. The focus of the discussions was on funding for research and to involve the private sector to significantly boost the funding. Value addition will be possible only with more investment in research, it was highlighted. The essence was towards intense collaboration between public and private research, and shift twoards national collaborative efforts rather than efforts in silos. Only then shall India achieve heights in research, it was expressed.
In order to keep pace with the time, stakeholders suggested for key interventions such as promoting research and innovation in pharmaceuticals through Centres of Excellence (CoEs), developing industry oriented course curriculum, elective courses on cutting edge technology, exposure of manpower to industry setup where they can hone their skills, emphasis on creating local innovative solutions. Such skilling would help in creating affordable, accessible and quality products for not just citizens but for the world.
Promoting Research and Innovation in Pharmaceuticals focused on two main components- (a) Establishment of CoEs and (b) promotion of research in six moonshot areas. The establishment of CoEs focused on the need to include advance technologies like AI/ML based technologies and dedicated R&D clusters exclusively for MSMEs. It was also suggested that CoEs should establish international chairs at NIPERs to bring international talents. Under the second component, the need to replicate the successful existing models of industry-academia collaborations was discussed. It was also recommended to enhance inter departmental collaborations within government to streamline R&D in pharma MedTech sector and to build up faith and partnership between industry and academia for fruitful collaboration. The need to develop evidence generation facilities at academia for facilitating the industry was also emphasized.
It was noted that for a vibrant research ecosystem and efficient coordination, there needs to be constant feedback mechanism among the stakeholders. Such intense collaborations would lead to easier exchange of ideas, create a national identity & prevent stakeholder from working in silos, harmonizing funding among the private and public research institutions, bringing much needed value addition. Other crucial suggestions such as exemption of lab research from regulatory protocols, easing regulatory processes, ensuring industry competitiveness, commercialization, clear guidelines on clinical trials, tariff and fiscal support, coordination across departments within the government were discussed.  It was also observed that India needs to focus on projects in some moonshot areas so that India becomes self-reliant in these advance technologies.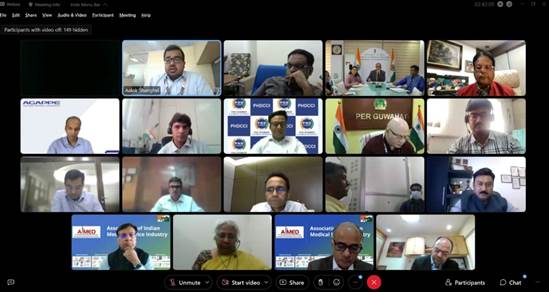 Background:
The government has undertaken several budgetary reforms in the past few years. The date of the Union Budget was advanced to 1st February so that Ministries and Departments get sufficient time for utilization of the funds on the ground before the onset of monsoons. Another step towards bringing in reforms in budget implementation was the novel idea of Post Budget Webinars. This idea was conceptualized by the Hon'ble Prime Minister to bring together experts from the public and private sectors, academia, industry and practitioners on the field on a single platform and collaboratively work on implementation strategies across sectors. These webinars were started in 2021 in the spirit of Jan Bhagidari and encourage involvement and ownership of all concerned stakeholders in effective, quick and seamless implementation of the Budget announcements.
The webinars are focused on synergizing efforts of various Ministers and Departments and all concerned stakeholders towards preparation of action plans with quarterly targets so that the implementation is front ended and smooth with the timely achievement of intended outcomes. They are being held virtually to ensure wide participation. They are being attended by concerned Union Ministers, key stakeholders from Government departments, Regulators, Academia, Trade and Industry associations etc.
Shri Rajesh Bhushan, Secretary, MoHFW, Smt. S Aparna, Secretary, Dept. of Pharmaceuticals, Dr Rajiv Bahl, Secretary, Dept. of Health Research, Vaidya Shri Rajesh Kotecha, Secretary, AYUSH, Shri Atul Tiwari, Secretary, Ministry of Skill Development and Entrepreneurship, Dr Rajesh S Gokhale, Secretary, Dept. of Biotechnology, Dr Atul Goel, Director General of Health Services, Dr S C Sharma, CEO (NMC), Dr T Dileep Kumar, President, Indian Nursing Council, Dr Anup Anvikar, Director, NIB Noida, Dr Sachin Mittal, JS (ME), Ms. Anu Nagar, JS (DHR), Shri Kamlesh Pant, Chairman NPPA, Principal Secretaries from States and other senior officials of Ministry of Health and Family Welfare, Dept. of Pharmaceuticals, ICMR, NHM, NITI Aayog, National Medical Commission (NMC), Nursing Council of India, healthcare professionals from public and private sectors such as Dr N K Arora, Prof. Vijay Raghavan, Dr Devi Shetty, Dr Naresh Trehan, and professionals from para-medics, nursing, health management, technology and research participated in the webinar.
Address of Hon. Prime Minister can be viewed at this link: https://www.youtube.com/watch?v=s90J8zIsNuk
*****
MV
HFW-Post Budget webinar-06thMar2023-2