The Prime Minister, Shri Narendra Modi inaugurated Pune Metro Rail Project today. He also laid the foundation stone and inaugurated multiple developmental projects in Pune.
Speaking on the occasion, the Prime Minister said that while Metro services were available in very few cities till 2014, today more than two dozen cities are either being benefitted by the metro services or are on the verge of getting it. Maharashtra, he said, has quite a significant share of this expansion if we look at Mumbai, Thane, Nagpur and Pimpri-Chinchwad Pune. "This Metro will ease mobility in Pune, give relief from pollution and jams, increase the ease of living of the people of Pune", the Prime Minister said. He also called upon the people of Pune, specially the well-off people, to make it a habit to use Metro and other public transport.
The Prime Minister said growing urban population is both an opportunity and a challenge. In order to cope with the growing population in our cities, development of mass transit system is the main answer. He listed a vision for the growing cities of the country where government is committed to provide increasingly more green transport, electric buses, electric cars and electric two wheelers. "There should be Integrated Command & Control Center in every city to make the facility smart. Every city should have a modern waste management system to strengthen the circular economy. There should be enough modern sewage treatment plants to make every city water plus, better arrangements should be made for the conservation of water sources", the Prime Minister elaborated. He also hoped that such cites will have Gobardhan and biogas plants to create wealth from waste. Energy efficiency measures like use of LED bulb should be the hallmark of these cities. AMRUT mission and RERA laws are bringing new strengths in urban landscape, he said.
PROJECT's KEY BENEFITS
Ushering in New Urban Mobility Paradigm: With 12 km section becoming operational today and the remaining 21 km becoming operational by March 2023, the project will be a game changer which will re-boot the urban mobility paradigm of the city with a fast, comfortable, convenient, safe, secured, and affordable mobility solution which will also be inclusive, equitable and sustainable. This will mark a substantial upgrade of the public transport scenario upgrade in the city with an existing public transport share 12% and the highest two-wheeler population in the country and with the daily metro ridership is expected to increase gradually to 6 lakh per day.
Multi-Modal Integration: A key benefit is the seamless multi-modal integration of metro stations with railway stations, interstate city bus stops, airport, and other high footfall areas like city institutional, industrial, educational and health hubs, shopping, and key recreational units.
Economic Growth Propellant: Given various commercial complex development along the Metro corridor, economic growth is sure to happen. Maha Metro is already undertaking Property Development project at Swargate, Civil Court, Range Hills, Vanaz and Bhosari for the very purpose.
Orderly Urbanization: It shall facilitate orderly urbanization and better integrated land use mobility integration in the city whose population is growing fast.
Reduction in Road Accidents & Fatalities: With more people commuting by metro rail, the city shall witness substantial reduction in road accidents and the resultant fatalities from the current high level.
Reduction in Pollution: Given more use of Metro, people would use private vehicle to lesser extent. The Modal share of public transport is expected to grow from current 12 to 30 percent and hence the metro rail shall substantially reduce the pollution  by reducing the personal vehicles on city roads. Also Multi Modal Integration initiative taken by Maha Metro through Non-Motorised Transport would complement in reducing pollution. This will help in reducing Carbon footprint by approximately by 1 lakh Ton per year.
Urban Rejuvenation and Creating New City Centre: World class stations designed by international architects with substantial commercial development shall rejuvenate urban spaces and they in themselves will be new growth centers.
Employment Benefits: The project has given thousands of jobs during construction and will provide similar level of employment (direct/ indirect) during operational phase.
Leap for Make in India:  In a leap for make in India policy, Maha-Metro, through international competitive bidding awarded contract for supply of 102 modern aluminum bodied metro coaches for Pune Metro project to M/s. Titagarh Firema, an Italian subsidiary of M/s Titagarh, a Kolkata based Indian company in the field of railway coaches and wagons. This is the first time that new generation "Aluminum body coaches", (that are lighter, more energy efficient and have batter aesthetic than steel coaches) shall be manufactured in the country. It is an epoch-making game changer in the field of metro rail in the country. Pune Metro has exceeded the mandatory threshold requirement of Indian contents in all the packages there by strongly supporting Atmanirbhar Bharat initiative of Government of India.
DETAILS OF PROJECT
Pune Metro Rail Project was sanctioned by GoI & GoM in December 2016 and the foundation stone was laid by Hon'ble Prime Minister Shri Narendra Modi on 24th December 2016. The project work commenced on 3rd May 2017.
Pune Metro Rail Project consists of two corridors, North- South Corridor (Purple line) and East-West Corridor (Aqua line) with a total length of 33.2 km and 30 stations. The length of elevated section is 27.2 km and length of underground section is 6 km. There are 2 maintenance depots, one each at Range Hills and Vanaz. Once fully operational, its services will be run with 34 metro trains in three car train configuration.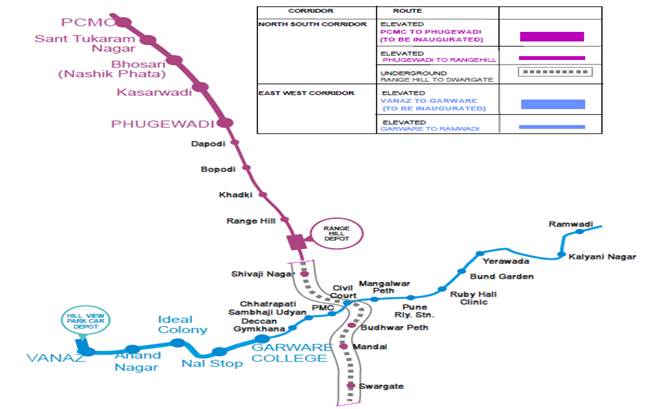 DETAILS OF CORRIDORS
North-South Corridor from PCMC to Swargate (Purple Line):

This Corridor passes through the industrial area of Pimpri-Chinchwad and further into old Peth areas of the Pune city. The Length of this corridor is 17.5 km with 14 stations. Due to extremely congested Shivaji Nagar and Old Peth areas with very narrow roads in most of the areas, 6 Km section from Range Hills to Swargate is underground.

East-West Corridor from Vanaz to Ramwadi (Aqua Line): This fully elevated Corridor starts from Vanaz Depot in east and passes through the densely populated residential areas of Pune city. There are total 16 nos. of Metro Stations and total length of this corridor is 15.7 Kms.

This Corridor also has a double decker flyover length 600 mts between Nal Stop and Abhinav chowk which is being constructed for Pune Municipal Corporation on deposit basis to deviate traffic congestion between important junctions at Nal Stop and Abhinav chowk.

Depots:

Pune Metro has two maintenance depots for up keep of trains. The depot on NS corridor at Range Hills is named as Range Hills Car Depot and the depot on EW corridor at Vanaz is named as Hill View Park Car Depot.
Corridor

Length/ Stations

Total

Section Inaugurated

North – South Corridor

(From PCMC to Swargate)

Length

Elevated – 11.4 km

Underground – 6.1 km

PCMC to Phugewadi (7km elevated section, 5 stations) – PCMC, Sant Tukaram Nagar, Bhosari (Nashik Phata), Kasarwadi & Phugewadi

Stations

Elevated – 9

Underground – 5

East – West Corridor

(From Vanaz to Ramwadi)

Length

Elevated – 15.7 km

Vanaz to Garware (5km elevated section, 5 stations) – Vanaz, Anand Nagar, Ideal Colony, Nal Stop & Garware

Stations

Elevated – 16

Total

33.2 km

30 stations

12 km

10 stations
PUNE METRO LINE-3 (Being implemented by Pune Metropolitan Region Development Authority on PPP basis) – Apart from 33.2 KM being implemented by Maha Metro, another elevated line of 23.3 km with 23 stations from Shivaji Nagar to Hinjewadi is currently being implemented by Pune Metropolitan Region Development Authority on PPP basis. The concessionaire contract for the same has been awarded to Tata-Siemens JV and work for the same has started in January 2022.
PROJECT FINANCING
         The project is being implemented by Maharashta Metro Rail Corporation a 50:50 JV of GoI and GoM. Project completion cost of INR 11,420 Crore is being funded by:
GoI & GoM- Equity and Subordinate debt (50:50) – ₹ 1,954.00 Crore each

Grant from GoM Entities – ₹ 28.50 Crore

GoM Grant for land and taxes – ₹ 302.20 Crore

Loan from EIB, Luxembourg – ₹ 4,140.71 Crore (Euro 600 million)

Loan from AFD, France – ₹ 1,690.79 Crore (Euro 245 million)

SD for Land including R&R and State Taxes from ULB – ₹ 1,210.80 Crore

IDC to be borne by GOM & ULBs – ₹ 139.00 Crore
UNIQUE PROJECT FEATURES
Lightest Metro Coaches in the country: Pune Metro coaches are made with Aluminum Body which has advantage of being 6.5% lighter than the conventional stainless-steel coaches. These coaches will have longer life and require low maintenance and are

more energy efficient. Pune Metro is the first project in the country having Aluminum body coaches, indigenously manufactured under Make in India policy of GoI. Indigenous components of the coaches is over 70 %. The designed speed of the coaches 95 kmph. Aluminum coaches being lighter are more energy efficient and in addition will have energy regeneration upto 30%.
Project Management Excellence through 5D BIM Digital Project Management Platform:

Maha Metro has developed a culture of implementing its good experience from previous projects and after successful 5D BIM implementation at Nagpur, it has implemented the same platform for Pune Metro as well. The 'Digital Project Management Platform', based on 5-Dimensional Building Information modeling (5D-BIM) has integrated with Enterprise Resource Planning (ERP) – bettering the international best practices in the field of integrating multiple software on a single platform. It has enabled real time effective cost, time and quality management and monitoring, with large scale mainstreaming potential in the country to improve critical cost, quality and time aspects of managing mega projects which is very challenging while doing it manually as is the case with most of projects in the country.

Integration of Rooftop, Grid connected Solar Energy since inception: 

Pune Metro has made provision for installation of 11.19 MWp Solar power generation on rooftop of the elevated stations and Depots right from the inception. The energy generated will be used in stations and in traction power for running of trains. The solar panels being installed will be grid connected, under RESCO model with NO CAPEX being done by Maha Metro. This will result in energy cost savings of ₹20 crores per annum and will help in achieving financial sustainability of the project. Also, approx. 25,000 tonnes of CO2 emissions will be prevented leading to a sustainable environment by reduction in carbon footprint.

National Common Mobility Card compliant Common Mobility Card

(named "EK PUNE" card)

:

Maha Metro has designed Open loop chip based Contactless Smart Card in compliance with the NCMC mandate of GoI. This EMV based Common Mobility Card – can be used for Transit as well as non-transit transactions. It would result in One card for Metro, Buses, Feeders, Parking, Utility and other Retail payment. The payment options can be either card or UPI based and is compatible for Mobile and web based transactions. One Pune card is compatible with One Nation One Card program of the government. In this initiative No CAPEX is done by Maha Metro.

Innovative design of UG station with NATM (New Austrian Tunneling Method): The Underground section of Pune Metro is passing through the most congested location in the city of Pune. The space availability in these areas is so limited that Conventional Cut & Cover method of building Underground Station was not possible.   To overcome this, Maha Metro came up with application of Cutting-edge technology in form of NATM. Two metro stations – Mandai & Budhwarpeth have been designed using this technology due to scarcity of space for construction. Also, due to use of NATM, Resettlement & Rehabilitation of about 200 residents was avoided.
Kachre se Kanchan tak – Transforming dumping site into Depot: The Kothrud Kachra dumping site at Vanaz, was a dumping ground for the last 50 years and was spread over 12.2 hectares.  Maha Metro inherited this site with a legacy waste of 3.8 lakh cubic meters of garbage. After initial studies, it was found that soil was rich in Total Organic Carbon (TOC) and Nitrogen, Phosphorous, Potassium (NPK) which are rich soil conditioners. 1.6 lakh cubic meters of screened material was found suitable for back filling and used for backfilling at the depot resulting in substantial savings. This depot has named as HILL VIEW PARK CAR DEPOT and Punekars are grateful to Maha Metro for the transformation of the dumping site.
100 % water recycling at stations with ZERO effluent discharge: Maha Metro has signed MoU with DRDO for installation of Anaerobic Biodigester Technology for 100 % Wastewater Management. This will result in Zero discharge in Municipal sewerage system for all stations of Pune Metro. Provisions are made at all stations roof tops, viaduct, and Depot building rooftop run-off for 100% Rainwater Harvesting. The collected water will be made to filter through Biodigestors. The system is fully sustainable, totally eco-friendly & helps to conserves water. The treated water will be used for Horticulture purposes & for flushing in toilets.
'No Tree cutting' Policy of Maha Metro: All Trees falling on Metro Alignments Transplanted. Maha Metro as a policy does not cut trees but transplants them using the root ball methodology. Pune Metro has Transplanted 2,267 trees falling on alignment by innovative root ball technology. Three trees are planted for every transplant undertaken and ten trees are planted for every failed transplant. Maha Metro has also planted 17986 new trees to make the city greener. 
Double Decker Flyover at Nal Stop: By working in coordination with Local bodies and to ease the traffic congestions at Nal Stop Square on EW Corridor, Maha Metro is constructing a double decker flyover. The Metro Viaduct & Road Flyover will be on single pier structure, resulting in saving of space, time & cost. After completion of the double decker flyover, the Nal Stop signal crossing is eliminated for through traffic on Karve Road, thereby smoothing the traffic flow.
Iconic Station design depicting Pune's historical & cultural heritage: Pune Metro has adopted unique architectural themes for the Stations. The designs include architectural designs depicting era of Chhatrapati Shivaji Maharaj, Chattrapati Sambhaji Maharaj in form of Fort theme Station at Shivaji Nagar Station and Pagadi theme at Sambhaji Nagar and Deccan Metro Stations. Modern Pune would be depicted industrial theme at PCMC and Bhosari Metro Stations. With Pune being one of the greenest cities in India, the leaf themed stations depicting the same are at Sant Tukaram Nagar, Kasarwadi and Phugewadi Metro Stations. Yerwada Metro Station has a design which resembles Charkha paying a token of respect & gratitude to The Father of Nation. Nal Stop Metro Station would resemble and film paying homage to history of Indian Cinema because of its proximity Film and Television Institute of India.
Multi Modal Integration: Stations have been planned with complete multi modal integration by provisioning of adequate parking spaces at stations, Pick Up/ Drop off points. MoU's have been executed for the implementation of E-Rickshaws, E-Scooters, sharing bicycles and feeder buses. Stations of Pune Metro would be well equipped with EV charging provisions. Apart from this Pune Metro is also building Multi Modal Integration Hubs at Swargate Metro Station and Civil Court Metro Station so that incoming interstate and intrastate buses need not come inside the city.
Station building confirming to energy efficient IGBC platinum rating standard: All Stations, depots and administrative buildings of Pune Metro have been designed as Platinum rated Indian Green Building Council (IGBC) buildings.
*****
YB