In a historic initiative, Hon. Prime Minister of India, Shri Narendra Modi launched the Ayushman Bharat Digital Mission today via video conferencing, in the presence of Shri Mansukh Mandaviya, Union Minister of Health and Family Welfare and Dr Bharati Pravin Pawar, Minister of State for Health and Family Welfare.
Addressing the nation on this historic occasion, the Prime Minister said that the campaign of strengthening health facilities that have been going for the last seven years is entering a new phase today. "Today we are launching a Mission that has the potential of bringing a revolutionary change in India's health facilities", the Prime Minister stated.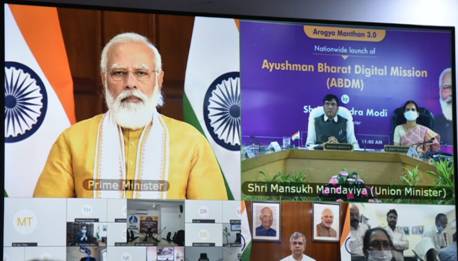 The Prime Minister remarked that the ArogyaSetu app helped a lot in preventing the spread of corona infection. He lauded Co-WIN for its role in making India achieve a record administration of about 90 crore vaccine doses today, under the free vaccine campaign. Continuing with the theme of the use of technology in health, the Prime Minister said that there has also been an unprecedented expansion of telemedicine during the Corona period, so far about 125 crores, remote consultations have been completed through e-Sanjeevani. This facility is connecting thousands of countrymen living in far-flung parts of the country every day with doctors of big hospitals of cities while sitting at home, said the Prime Minister.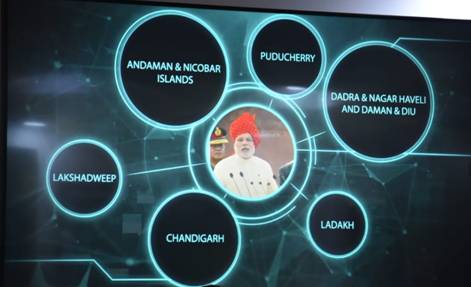 The Prime Minister said Ayushman Bharat Digital Mission, will now connect the digital health solutions of hospitals across the country with each other. The Mission will not only make the processes of hospitals simplified but also will increase ease of living, he added.  Under this, every citizen will now get a digital health ID and their health record will be digitally protected.
The Prime Minister stated that India is working on a health model that is holistic and inclusive. A model which stresses preventive healthcare and, in case of disease, easy, affordable and accessible treatment. He also discussed unprecedented reforms in health education and said a much larger number of doctors and par medical manpower is being created in India now as compared to 7-8 years ago. A comprehensive network of AIIMS and other modern health institutions is being established in the country and work on establishing one medical college in every three Lok Sabha constituencies is going on. He also highlighted strengthening health facilities in villages and informed that in the villages, primary health centre networks and wellness centres are being strengthened. More than 80 thousand such centres have already been operationalized, said the Prime Minister.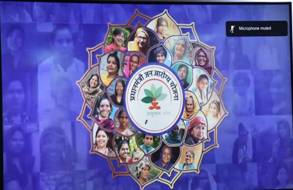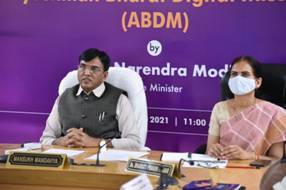 Union Minister for Health and Family Welfare Shri Mansukh Mandaviya thanked the Prime Minister for the continuous assimilation of Swastha Amrut and its distribution to the last citizen of India from the continuous Aarogya Manthan of Ayushman Bharat, now three years old. Recounting Prime Minister's address to the nation from the ramparts of Red Ford on Independence Day, 2020, he said, "This step of Ayushman Bharat Digital Mission would transform the healthcare sector and bring revolutionary change to the lives of all citizens."
Shri Mandaviya expressed his confidence in the scheme and noted its quick implementation in the six Union Territories. He observed that old medical records cannot get lost as every record will be stored digitally. The Digital Ecosystem will also enable a host of other facilities like Digital Consultation, Consent of patients in letting medical practitioners access their records, etc. All this, he expressed hope, make today's achievement a milestone in India's history.
The event was webcast at:     
https://www.youtube.com/watch?v=xvTq_N-Syas
****
MV/AL
HFW/ HFM Ayushman Bharat Digital Mission launch/27th September 2021/6