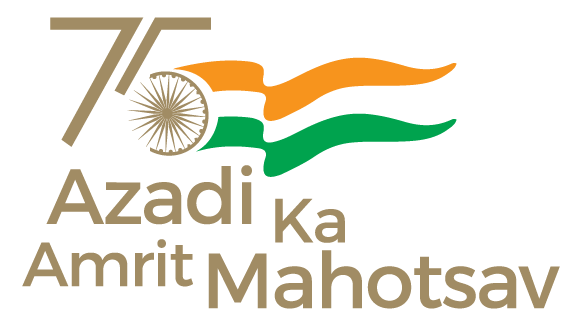 Prime Minister Shri Narendra Modi inaugurated the 6th edition of Advantage Healthcare India (AHCI) 2023, a G20 co-branded event here, today through a video message. Dr Mansukh Mandaviya, Union Minister of Health and Family Welfare & Chemicals and Fertilizers, Dr V K Paul, Member (Health), NITI Aayog, Shri Prem Singh Tamang, Chief Minister, Sikkim and Prof. Dr Manik Saha, Chief Minister, Tripura were present at the event. The event was also graced by Health Ministers of 7 countries (Bangladesh, Maldives, Somalia, Armenia, Bhutan, Nigeria and Egypt), along with Shri Keshab Mahanta, Health Minister, Assam, Dr Dhani Ram Shandil, Health Minister , Himachal Pradesh and Shri Bedu Singh Panth, Tourism Minister, Sikkim.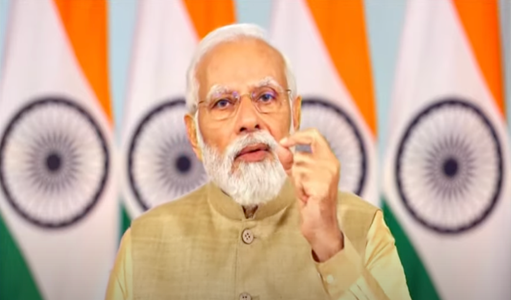 With the theme of 'One Earth, One Health', the purpose of the two-day AHCI event is to showcase India as the new hub of Medical Value Travel and its emergence as a major hub for world-class healthcare and wellness services. It also aims to highlight its significance in medical potential and create and explore opportunities for healthcare collaborations between the participating countries.
The Prime Minister invoked the inclusive vision of health promoted by India, taking inspiration from its civilizational ethos and ancient scriptures. He noted that "India's ancient vision of health was universal. Today, when we say 'One Earth, One Health', it is the same thought in action." He further pointed that "our vision is not just restricted to humans, it extends to our whole ecosystem from plants to animals, from soil to rivers. When everything around us is healthy, we can be healthy." Reiterating India's G20 Presidency theme of "One Earth, One Family, One Future", the Prime Minister emphasized that "India realizes the importance of resilient global healthcare systems in fulfilling this vision". He stated that "India sees Medical Value Travel and Health workforce mobility as important for a healthy planet. 'One Earth, One Health' Advantage Healthcare India 2023 is an important effort in this direction".
The Prime Minister highlighted that "it is a popular notion that lack of illness is a sign of good health". He stated that "India's vision of good health implies not just being free of disease but to ensure wellness and welfare for everyone". "The goal is to ensure physical, mental and social wellbeing", he stated.
The Prime Minister also highlighted India's strength in holistic healthcare, stating that "we have talent, technology, track record and tradition. He underlined that "when it comes to talent, the world has seen the impact of Indian doctors. Both in India and outside, our doctors are widely respected for their competence and commitment. Similarly, nurses and other caregivers from India are also well known. There are many healthcare systems across the world which benefit from the talent of Indian professionals. India has tremendous diversity in culture, climate and social dynamics. Healthcare professionals trained in India are exposed to diverse experiences. This helps them develop skills that can meet the needs of different situations. This is why Indian healthcare talent has won the world's trust".
The Prime Minister emphasized that India has a great tradition of preventive and promotive health with Indian practices such as Yoga and meditation now becoming global movements. He also touched upon Ayurveda which is a complete discipline of wellness and said that it takes care of the physical and mental aspects of health. "The world is looking for solutions to stress and lifestyle diseases. India's traditional healthcare systems hold a lot of answers", he emphasized.
Underscoring the impact of the COVID19 pandemic in the world, the Prime Minister said that borders cannot stop health threats in a deeply connected world. Emphasizing on equal access for resources for everyone, he stated that "true progress is people-centric. No matter how many advances are made in medical science, access must be assured to the last person at the last mile". He also said that India is proud to have been a partner to many nations in the noble mission of saving lives through vaccines and medicines gave examples of Made-In-India vaccines, the world's largest and fastest Covid-19 vaccination drive, and shipping 300 million doses of COVID-19 vaccines to over 100 countries. He reiterated that it showed a glimpse of India's capability and commitment and the nation will continue to be a trusted friend to every nation that seeks good health for its citizens.
Speaking on the occasion, Union Health Minister Dr Mansukh Mandaviya stated that "as the 'voice of the global south', we shoulder the responsibility of aspiring for a better future – a future where healthcare is service and not commerce." He also said that "under the dynamic leadership of the Hon'ble Prime Minister, Government of India has taken several measures for controlling the spread of the Covid-19 pandemic, addressing major gaps in the availability of life-saving healthcare facilities, while restoring normalcy in access to livelihoods".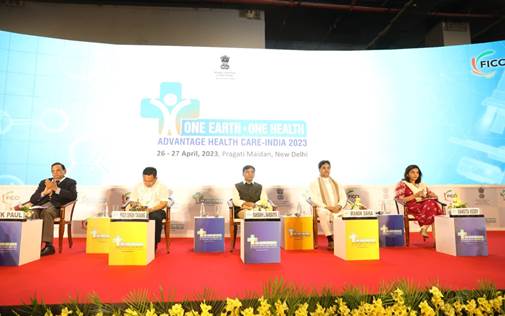 On the govt's efforts towards creating a resilient healthcare ecosystem in the country, the Union Minister stated that "India has taken a holistic approach to building a robust health infrastructure based on the four main pillars of Ayushman Bharat with a focus on Health and Wellness Centres for last-mile delivery, health insurance coverage, digital health and healthcare infrastructure upgradation. These four pillars of Ayushman Bharat are constructed with the intent of providing value-based, patient-centric healthcare".
Dr Mandaviya highlighted that given the acute shortage of the healthcare workforce following COVID-19, Indian healthcare professionals hold great potential to help save lives across borders. He stated that "there have been several success stories of patients all over the globe who have benefited from India's modern treatments and traditional medicine. The past few years have seen an increase in medical value travel and today, India is being recognized as one of the fastest-growing medical value travel destinations not only in Asia but also in the world. This can be attributed to the unique blend of modern medicine and traditional systems of medicine that the country has to offer." "India currently provides support to several developing countries lacking secondary and tertiary care facilities to facilitate capacity building of hospitals so that they can treat patients in their own country and send referrals of special care cases to India", he further stated.
On the role of industry in creating a healthcare ecosystem, Dr Mandaviya emphasized that "our industries play an important role in responsible service delivery. Industry wields the power of technological know-how without which capacity building of workforce and upskilling will remain a distant dream." "It is the collective efforts of the industry, civil society and associations which will help give a further boost to the Indian Medical Value Travel sector and realize the vision of the Hon'ble Prime Minister to make India the "Destination of Choice" for Medical Value Travel", he remarked.
The Union Health Minister also held bilateral discussions with the visiting Health Ministers from all the 7 countries on the sidelines of the AHCI event.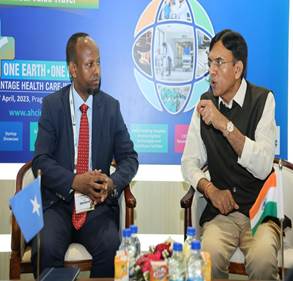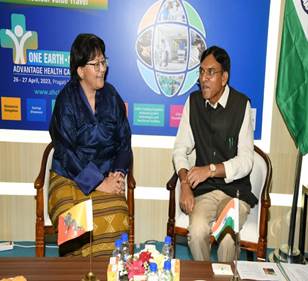 Dr V K Paul stated that India has gained a strong foothold worldwide as the "global medical destination" with Indian MVT market size expected to grow to USD 13 Bn by 2026 from present value of USD 5-6 Bn. Highlighting the multiple initiatives of the Union Government to build a resilient post-pandemic MVT and facilitate treatments of foreign patients to get treated in India, he stated that "India has launched Medical Visa & Medical Attendant Visa with e-medical visas offered to 150+ countries within 24-48 hours. The medical visa process has been simplified to allow multiple entries and long-term stay with Ayurveda treatment having also been included within the Medical Visa category".
Dr Paul also noted that "a Medical Value Travel Council has been constituted by the Government of India to promote India as a quality healthcare destination for patients across the globe. Furthermore, a comprehensive National Strategy for MVT & Wellness Tourism has been prepared to provide impetus to the growth of Medical Value Travel & wellness tourism in India & maintain India's competitive advantage". Moreover, Ministry of AYUSH has come up with a central sector scheme under Champion Services Sector Scheme – Medical Value Travel with components of skill development to fill the gap in the availability of skilled workforce, capacity building of existing skilled human resources & to promote export of services, he stated.
Prof. Dr. Manik Saha remarked that under the leadership of the Hon'ble Prime Minister, India's vision of "One Earth, One Health" which involves holistic healthcare for all creatures will help to prevent diseases, reduce cost, improve food security and save lives.
Shri Prem Singh Tamang elaborated on the positive impact of digital initiatives such as ABDM, tele-consultation services through HWCs, PMJAY etc in strengthening Medical Value Travel and ensuring Universal Health Coverage.
The World Bank praised India's lead on Pandemic Fund during the G20 presidency and noted that a strengthened Indian Pharma supply chain and raw materials availability was a great support to the world during the pandemic, truly living up to the tag of 'Pharmacy of the World'. While Ghana and Maldives also appreciated India's organization of such a global event and inviting partner countries for the same. They assured support for further collaboration in the field of healthcare service and training. Maldives specially thanked for India's medical assistance including drugs and vaccine. Both countries are actively looking to collaborate closely on capacity building of med professionals and scaling infrastructure.
Around 125 exhibitors and 500+ hosted foreign delegates from 73 countries of Africa, the Middle East, CIS, and SAARC have marked their presence at the summit. Reverse Buyer Seller Meetings and B2B meetings have also been scheduled with delegates from more than 70 designated countries in the region of Africa, the Middle East, the Commonwealth of Independent States, SAARC and ASEAN to bring together and connect the Indian healthcare providers and foreign participants on one forum. A policy paper titled "Healthcare Beyond Boundaries" prepared by Federation of Indian Chambers of Commerce & Industry (FICCI) and Ernst & Young (EY) was also unveiled at the event.
The 6th edition of AHCI will also have panel discussions with eminent speakers and experts from Ministry of Health and Family Welfare, Ministry of Tourism, Ministry of External Affairs, Ministry of Commerce & Industry, Ministry of AYUSH, industry fora, startups, etc., along with interactive sessions with the stakeholders.
Shri Rajesh Bhushan, Union Health Secretary, Shri Rajesh Kotecha, Secretary, AYUSH, Smt. G Kamala Vardhana Rao, CEO, FSSAI, Shri Lav Agrawal, Addl. Secretary, Health Ministry, Dr Sangeeta Reddy, Joint Managing Director, Apollo Hospitals and Ex-President, FICCI and representatives from leading Indian Hospitals and Healthcare Wellness Organizations were also present at the event.
****
MV
HFW/AHCI Inaugural/26th April2023/2